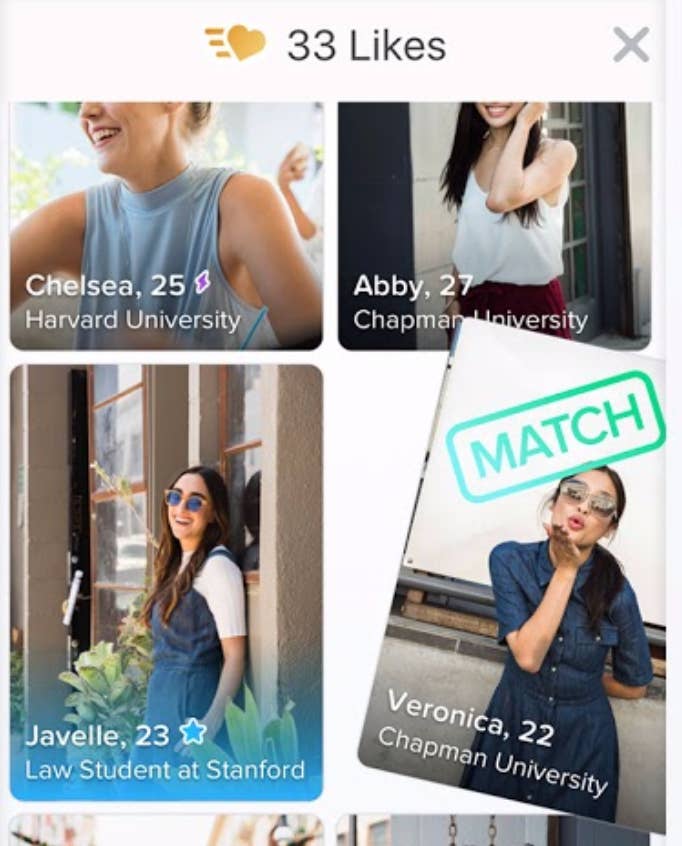 Tinder is going to start letting users in the US see who likes them — no swiping necessary.
The popular dating app, downloaded by over 100 million people, is offering this feature at around $4.99 for most users (but still testing) as part of its Tinder Gold product, which debuts in the US today. Already live in a number of countries including Australia and Germany, Tinder Gold nets its users an average of 60% more matches vs. users of Tinder's free version, the company told BuzzFeed News. Instead of swiping with suspense, these users can navigate to a "Likes You" section of the app where the company says they can see everyone who's liked them. "Think of it as your personal Swipe Right concierge — available 24/7 — bringing all of your pending matches to you," the company said in a blog post.
Tinder Gold, which bundles this "Likes You" feature with a handful of other paid enhancements like unlimited likes and extra profile controls, will begin rolling out to US-based users with iOS devices today. The company say it plans to bring Gold to Android in the US next month.
The move adds yet another paid option for Tinder, which already lets you pay to swipe in different geographic locations and to boost your profile's visibility. As it adds more of these options, Tinder risks alienating fans of its free version who must now compete for matches with users paying for an advantage.
Asked how Tinder will balance the needs of these two groups, Tinder Chief Product Officer Brian Norgard told BuzzFeed News the company wants to keep both happy. "We're always working hard to be sure that being a subscriber adds value to your Tinder experience — and that not being one doesn't detract from Tinder's core purpose: to connect you with new people," he said.

Tinder's enjoyed success in the online dating app market, but it is currently beset by competitors looking to gobble up its market share. Bumble, one of those competitors, is white hot. Founded by former Tinder marketing VP Whitney Wolfe, Bumble is adding 50,000 people per day and has 20 million users, according to Fast Company.

UPDATE
This story has been updated to note that users of Tinder Gold net an average of 60% more matches than users of its free version.