Review: Apple News Is Nothing Special (Yet)
We took an early look into Apple's much-hyped news consumption app and found mixed results.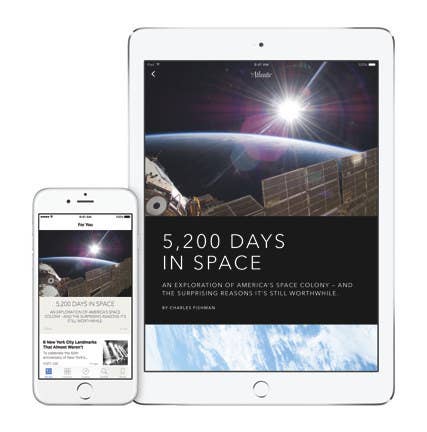 The Apple News app shows a lot of promise, but will only shine if publishers embrace it.
The soon-to-be-released, future-of-publishing app has a ton of potential. More than 50 media companies, including BuzzFeed, have signed up to publish stories directly to the app. And its vibrant formats shine when utilized in that native way. But when it comes to delivering content that isn't optimized for its platform, the beta version of the app that BuzzFeed News previewed this week leaves much to be desired.
The Apple News app is, essentially, an all-in-one news reader. It ingests content from publishers and is meant to give people a way to read stories within it instead of jumping from site to site. Its promise is to serve as a central home for all the stories, from all the publications, that you may want to read. Many stories, one app.
The idea makes sense for today's mobile-driven world, where people spend most of their time in a select few apps rather than hopping between an infinite number of websites. Apple News strives to be the one, canonical source for news delivery. It aims to be the one app that you can fire up, and always find new, interesting, relevant news stories from a wide variety of publishers. Success in this mission would be a major win for Apple, readers, and publishers, too.
The "unified news reader" concept has been tried before by a number of companies — Flipboard and Pulse, to name a few — with varying levels of success. But no company with Apple's size and distribution power have attempted to create anything like this, which makes the effort especially intriguing.
Before we get into the product itself, a quick caveat: The app we saw was in beta, i.e., a still-unfinished version. And it can — and likely WILL — get better. But we're only able to review what we saw, and what we saw was an app with enough functionality to delight you once in a while, but not consistently.
Product Dive
The News app itself is beautifully designed. Once you pick three "favorites," which can be news sources like ESPN or topics like sports, the app generates a tab of story previews called "For You." As you engage with these stories, the app learns what you like and shows you more of it. There's a heart button on each story that lets you tell Apple which stuff you really like, giving it a strong signal for other stories you might want to read in the future. You could think of it like Pandora, but for news.
The premise is great, but it stumbles in the most basic of tasks: delivering actual stories. We expected to read a complete article every time we tapped on a story preview or headline. But far too often, the app served a single-sentence story preview and directed us to swipe again to read the full story in a browser. And when the browser loads within the app, it was a different and less satisfying reading experience.
For example, in our "For You" tab, a story from the Sporting News displayed the headline "Andrew Luck says Reggie Wayne is no traitor." Tapping the headline took us to a story page where the entire body text read: "When former Colts receiver Reggie Wayne signed with the Patriots, some Colts fans were angry, but not Andrew Luck was not." Not only did the text not make any sense (probably not Apple's fault), but it would have been wholly unsatisfying even if it did. When you're in the app, you want to read the full story, and you have no signal when you'll get it. Each encounter with a story preview, no matter how good the preview, is bound to disappoint. Only after swiping to the browser did a detailed story show up. This was a too common experience.
In another instance, a tweet from the @breakingnews Twitter handle was republished in full over and over. The tweet was the headline, the tweet was the subhead, the tweet was the body text. After swiping into the story and swiping again to the browser, a Reuters story finally loaded on France24's website.
OK, the strictly good stuff: There's a section within the app called "Apple News Selections" that shows what the News app could eventually become. It only shows stories from publishers using what's called "Apple News Format," a framework Apple designed for stories to work best within its app. These stories are beautiful, visually appealing, vibrant, a pleasure to read, and all the other superlatives you can come up with. There are no story previews. The articles load almost instantly. If the entire Apple News app would simply work like the Apple News Selections, it would be a much better product.
For the app to succeed in the long run, it will need publishers to buy into the Apple News Format, and buy in hard. Troy Young, president of Hearst Magazines Digital Media, said he believes they will. "You'll see full articles from everybody," he said in an interview. As far as Hearst goes, Young said he was comfortable syndicating the full text: "We believe that our brands and content need to live in a lot of places."
Again, the app is still in beta, so there's a chance more publishers will adopt Apple News Format and render the main complaint in this review void, and of course it's possible Apple will fix the weird rendering and loads that made so many of the story previews we saw frustrating. But if News launches without much greater adoption, it's likely headed for a very bumpy start.