If you hopped onto Periscope Wednesday afternoon, you might have encountered KSL 5 News reporter Mike Anderson streaming outside of a Utah courthouse. Viewers at home saw one side of Anderson, a polished newsman discussing an attempted murder case, but you would have seen something else entirely.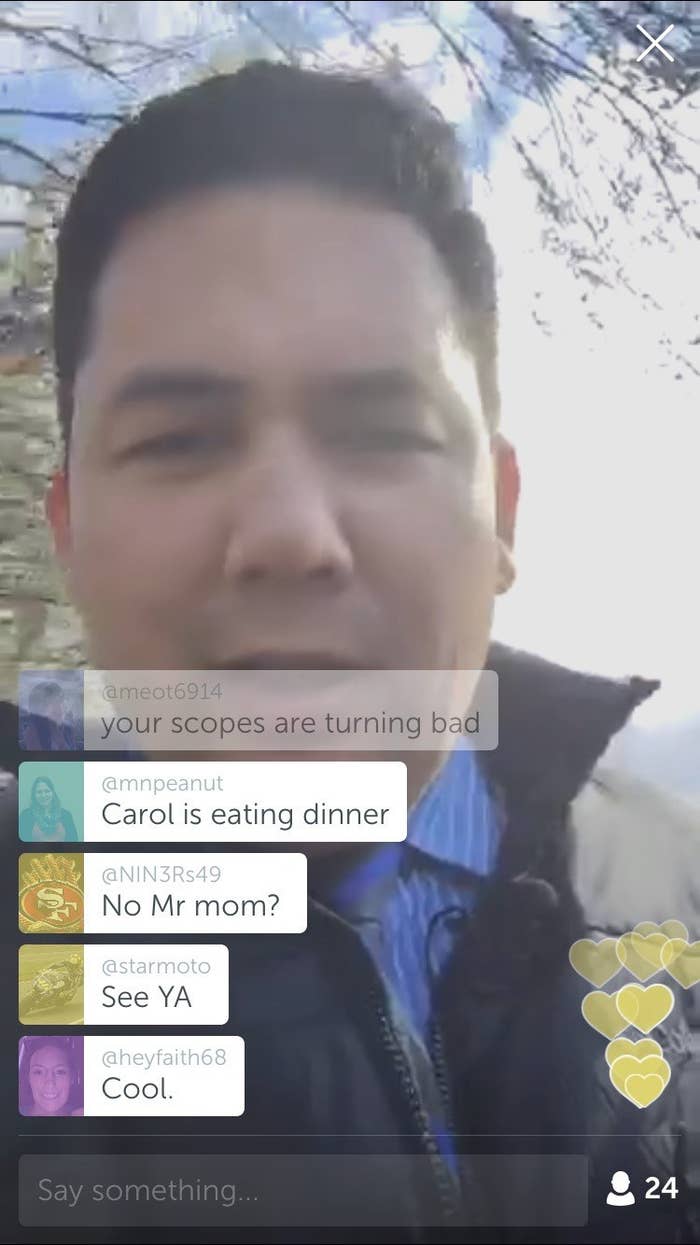 Before and after speaking to the TV camera, Anderson gazed into his phone and joked around with the few dozen people watching him on the Twitter-owned app. Told he was a "turnt up geezer" by one commenter, Anderson replied with verve. "Heck yes I am," he said. "I'm 40 years old and I don't care what no one thinks. Not even you, beeatch."
"40 year old virgin," another viewer wrote.
"How do I have four kids then? Explain that!" Anderson retorted.
The brief exchange, consistent with the rest of Anderson's stream, displayed everything live social video has lacked until recently: It was high quality, engaging, and, most important of all, interesting.
The history of live-streamed online video is littered with more than a little boring material. Outside of rare news events like Occupy Wall Street, where the gravity of the situation brushed aside concerns about quality, it's often been a struggle to find good stuff beyond droning talking heads. But, as Anderson's video and the many on par being created every day show, live is finally getting interesting.
Periscope CEO Kayvon Beykpour says videos like Anderson's are evidence of the "perfect storm" that's brewing for live video. Among Beykpour's list of factors responsible for the turnaround, the most convincing might be the shortening of latency, or time between when you write a comment and the broadcaster sees it, which has tightened significantly since the early days of live social video.
"[If] I have to wait 25 seconds, 45 seconds [for you] to respond, that's not live," Beykpour told BuzzFeed News in a recent interview. "I don't care what it says in the app, I want to be able to comment and have you address that in two seconds. That's the magical feeling we've tried to create."
This dynamic was evident in Mike Anderson's stream. The comments reached him within seconds and he replied just as quickly, adding a conversational rhythm to the video. Were it to take longer for comments to reach Anderson, these exchanges wouldn't work nearly as well. Advances in wireless connectivity make them almost seamless, preventing dialogues from straying into monologue territory.
Conversational streams also take some performance pressure off the broadcaster, keeping them engaged and providing fresh material to riff off of. "It's terrifying to be live," Beykpour explained. "If not treated in a heavily thought-through way, the idea of being onstage using your mobile device can be pretty exhilarating, but also scary if not handled well. And so we put a lot of thought from design and user experience in how do we make that experience feel charming."
Beykpour cited three key factors responsible for making the experience charming: hearts (which people can use to react to videos), comments, and low latency. "If we're nailing that experience, then people will broadcast more, people will watch the broadcasts that are being created more," he said.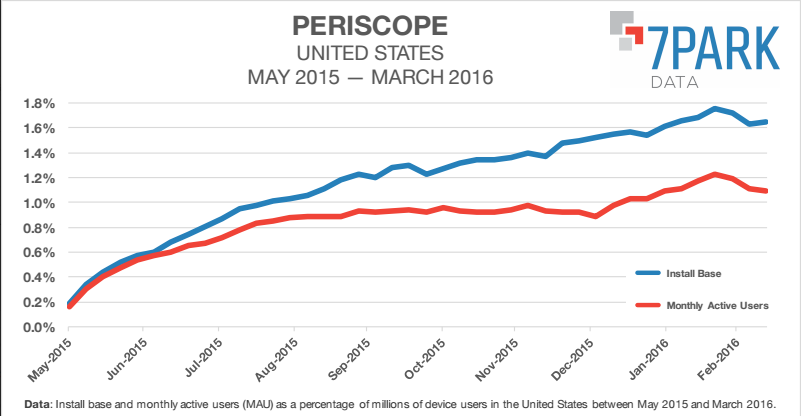 The objective data backs up Beykpour's argument. Periscope, according to the research firm 7Park Data, has increased its installed base eightfold since May 2015. It now reaches an estimated 3.34 million downloads in the U.S. alone. Earlier this week Periscope said that 200 million broadcasts have been shared on the platform, up from 100 million in January.

Facebook, of course, is entering the live-streaming game too. The company recently introduced live video broadcasting to all users and is prioritizing these videos in its News Feed. But Beykpour insists that's not cause for concern at Periscope. "The fact that more people are thinking creatively about this space is not something that we feel threatened by, it's something that we think is exciting," he said.