Paula Deen Scandal Eats Away At Ratings Of Her Sons' Shows
From June 20 — the day after accusations of racial insensitivity against Paula Deen emerged — through the end of October, ratings for her sons' shows on the Food Network and Cooking Channel have plunged between 20% and 25%.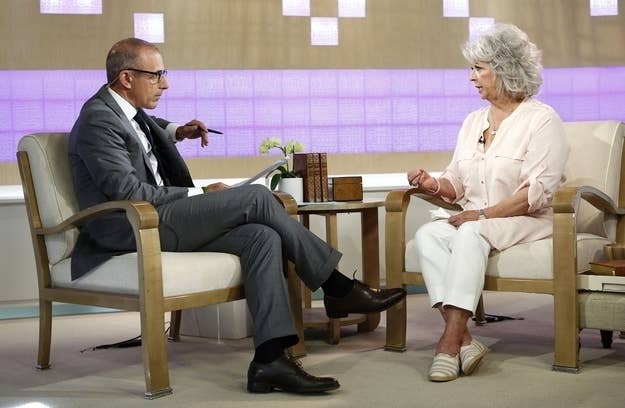 Ratings for shows on the Food Network and Cooking Channel hosted by Jamie Deen and Bobby Deen have plunged since news of the scandal that enveloped their celebrity chef mother, Paula Deen, erupted over the summer.
The accusations made by Lisa Jackson, a former manager at one of Deen's restaurants, that Deen used the N-word and joked about throwing a party where workers would dress in slave costumes not only led to her being taken off the air, but have also resulted in viewers fleeing from her sons' shows as well. Ratings for the primetime airings of Jamie Deen's Home for Dinner on Food Network dropped 18%, from 109,000 homes tuning in before the scandal to 89,000 after, according to Nielsen. Viewers for Not My Mama's Meals on Cooking Channel have dropped from 78,000 homes pre-scandal to 58,000 homes now, a 25% decline. The numbers through October 27 are the most recent available.
The Food Network had actually decided prior to the news of the scandal not to renew Paula Deen's contract after she endorsed a diabetes drug while announcing she had the disease herself. Though the discrimination case against Deen was ultimately dismissed after she and Jackson reached a settlement, the allegations were weighty enough to severely dent her brand, with estimates suggesting that she has lost at least $12.5 million in earnings.
Though Jamie and Bobby are reliant on their mother's brand — to this day the Food Network website still prominently features photos of them with their mother (see below)— the Food Network and its offshoot Cooking Channel decided to stick with them. And despite the plunging ratings, that still seems to be the case.
"Both boys are active talent with their respective networks," said a Food Network representative in response to a question about their status at the company amid the ratings decline.
Indeed, the Deen brothers remain a core brand at Food Network and still play heavily off their mother's fame. Referring to network brass, Allen Salkin, author of the recently released book From Scratch: Inside The Food Network said, "It's a way for them to have their Paula without having their Paula. It's the Paula Deen they want really." The gambit, Salkin explained, was to ax Paula but keep her enthusiastic fan base by giving them "bite-sized pieces" of their beloved host through her sons.
"In some ways," Salkin said, "keeping the boys on gives Deen fans a grain of hope that their hero will return."
A perusal of the Food Network's website supports Salkin's thesis — for instance, Home for Dinner's page plays up Jamie Deen's connection with his mother. "Cooking is a family affair in the Deen household," reads the show description, which adds that viewers can expect "Grandma Ginny," meaning Paula, to stop by and put the finishing touches on dishes. The page also promotes Paula's Best Dishes, his mother's cancelled show. A few clicks away, a photo of a beaming Paula and Bobby Deen can be found on the page of Road Tasted, another Food Network program.
The drop in viewership for the Deen boys' shows suggests that the Food Network's strategy is not working out as planned.
"Television is about ratings," said Salkin. "Food Network is not in the business of teaching us to eat better or teaching us to cook better. Food Network is in the business of selling Corollas, toothbrushes and breath mints."
For the Deen brothers, the ratings decline brings up the unappetizing notion that they can no longer attract the audience to get that done.