On Sunday, Instagram is set to become the latest big social player to curate video from live events on its platform, joining Snapchat and Twitter, the latter of which began doing so when it introduced Moments last October.

Instagram will curate video from the Golden Globes on Sunday, and will do the same on Monday with video from the college football national championship. ESPN is a partner and will create content that will appear in Monday's curated product.
Instagram's team of curators is composed of less than a half dozen people, according to a company spokesperson. The videos they decide to include can be accessed by tapping a banner on top of the app's Explore tab. When that banner is tapped, Instagram puts a video in the center of the screen and blacks out the rest, rolling the next video in the set after the playing video is finished or the user decides to skip.
Layla Amjadi, the product manager at Instagram who leads the platform's curated video efforts, told BuzzFeed News that "we can definitely look forward to doing this more and more often."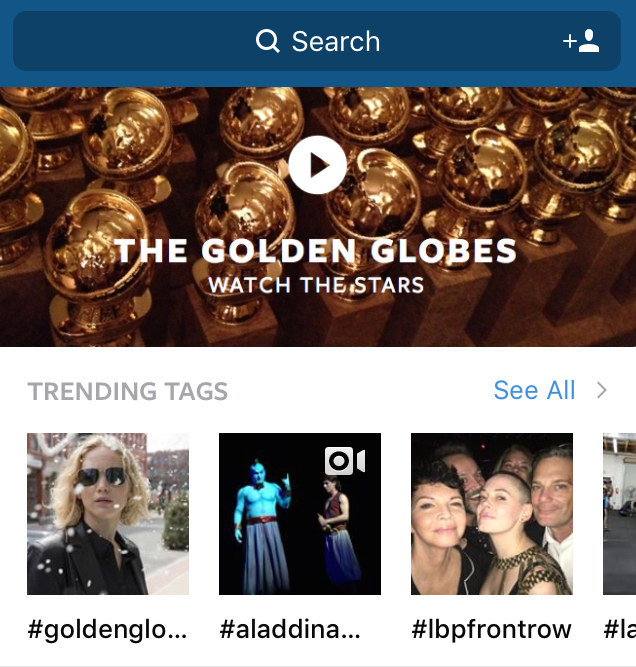 Curated video is not new for Instagram. The Facebook-owned platform has been curating topic-based video for some time now, including "live" curation of videos from holidays starting with this past Halloween. But this marks the first time the platform will curate video from an actual, planned event taking place in a specific location.
Snapchat, which began publishing curated video in 2014, is the leader in this area at the moment. Its global Live Stories are consistently viewed by millions. If it wants to challenge Snapchat, Instagram has a long way to go. It will, for instance, need to curate these videos on a more consistent basis. When asked whether the platform plans to curate these types of videos daily, Amjadi declined to specify.