As the baseball season opened one year ago, New York Mets principal owner Fred Wilpon heard some unpleasant news. A group of young tech types visiting the Mets' Citi Field alerted him to a new app called Periscope, which anyone with a smartphone could use to stream video of whatever was front of them, even a professional baseball game.

Wilpon, a broadcast rights holder, freaked out. "At any location?" he asked, "In my territory?" Exasperated, he added: "A live game?"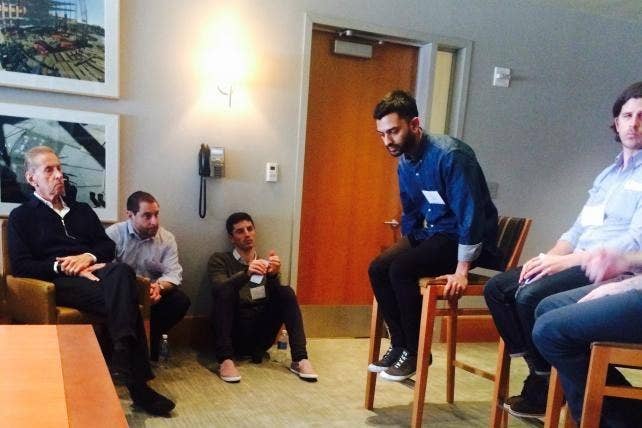 Rising for his chair, Wilpon indicated he would address the problem: "You don't know how quickly, by the way, when I get out of the room…" he said, letting the sentence hang.
Fast forward 12 months and the once worrisome threat is now being embraced by Major League Baseball as a critical partner. Across the league this week, teams are filming and pushing out Periscope broadcasts showing Opening Day from every angle, a practice they'll continue throughout the season. And not only that, the league actually bolstered stadium wifi connectivity so more fans can easily share Periscopes of their own.
"We understand in today's game people sharing those experiences is part of what they want to do when they go to a game," Andrew Patterson, director of new media at MLB Advanced Media told BuzzFeed News in a phone interview. "Any time there's an opportunity on the baseball side to do a Periscope and push it out we'll definitely do those."
So what changed? Well, despite Wilpon and others within the league's initial skepticism, MLB went full blast on the Twitter-owned Periscope because it decided its value as a marketing tool far surpassed its potential to cannibalize broadcast revenue. And, as it turned it out, the league discovered Periscope didn't pose much of a threat to broadcast anyway.
"If you think about what the broadcast experience is, it's very produced, you see the close-ups, you see highlights, you see all those pieces, and that's not mimicked in any way on Periscope," Patterson explained. "We don't think it's going to be a replacement for broadcast."
The league bought in on Periscope's potential so much that Bob Bowman, President of business and media at Major League Baseball, personally became involved in the push for Periscope adoption, according to Patterson.
Danny Keens, Twitter's director of North American sports partnerships, said Major League Baseball, which was the first sports umbrella organization to embrace Periscope, realized it could give it a leg up against rival sports in the intense competition for market share. "Major League Baseball is up against a hell of a lot of competition. Hundreds of sports brands, some major global leagues, competing for fan attention," he said. "Ultimately, the most successful leagues are the ones that are able to able to keep fans engaged with the sport in real time."

And so teams have "gone live" from pretty much any scenario imaginable. They've streamed the mascot, conducted live Q&As, and broadcasted stretching drills, bullpen sessions, and the batting cage. This year, they're planning to get even more creative now that Periscope integrates with GoPro, which produces a camera easy to mount on, say, a catcher's mask.
It's not all roses, of course. Hop on Periscope any day during the baseball season and you're bound to see a handful of broadcasts from inside living rooms, showing little more than a TV screen with the game on. Tuning into these Periscopes is actually kind of fun; the comments make the broadcasts feel like live video chat rooms, and you can experience the inevitable agony of the game along with whoever's pirating it. But they are of questionable legality, and not what the league is endorsing.
Keens said Twitter and Major League Baseball have a healthy relationship when it comes to copyrighted material, like re-broadcasts. "We take that content down," Keens said. "That's not the content we want to see on Periscope. It's not the content we allow on Periscope."
MLB's Patterson wouldn't comment on the Periscope from a living room TV scenario, but said whatever concerns Major League Baseball ownership had about Periscope faded fast. "There were conversations had about it, and we kind of reached a place where we were happy with how it's being used and what we were doing going forward," he said.
So as this season sets forth, expect to see a lot more Periscope action from across Major League Baseball. And yes, that even from Wilpon's Mets.