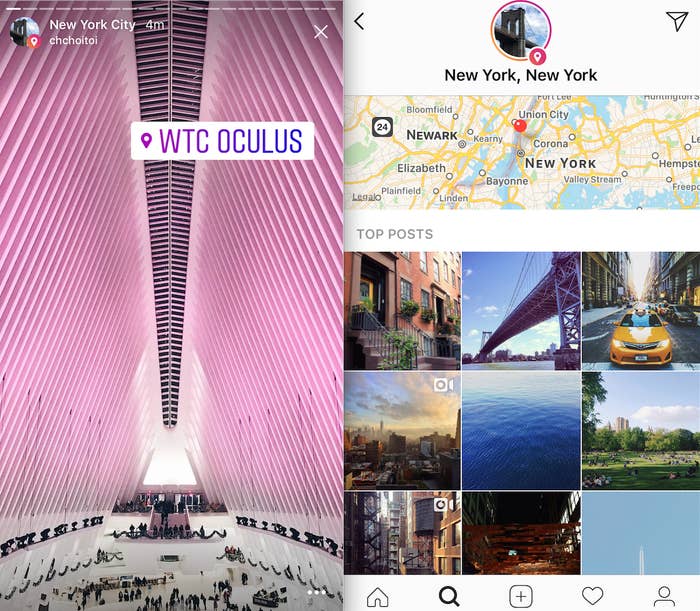 Instagram is at it again, reaching into Snapchat's bag of features and pulling out yet another for use in its own product.

Today, the Facebook-owned app is introducing Location Stories and Hashtag Stories, its version of the algorithmically curated stories you can find via Snapchat's search feature. These new features consist of images and videos gathered from public stories, and stitched together based on hashtag and location. They'll be watchable as cohesive, curated videos in Instagram's Explore tab and on location pages — much like Snapchat, which does this with keywords.
With Instagram's stories, the algorithm is the editor; it scans all public images and videos posted using hashtags and locations, decides which images and videos to highlight for each specific hashtag and location, and picks the order they play in.
"There will be no human editing," Blake Barnes, the director of product leading Instagram's Explore tab told BuzzFeed News.
A look at Snapchat's keyword-based Stories shows the divergent and sometimes discomfiting direction algorithmically curated stories can take. Searching the keyword "Syria" this weekend, for instance, revealed a number of users trivializing the brutal civil war in that country. One Snap played footage of Grand Theft Auto with a caption that read "Live footage of a USA soldier bombing Syria." Another showed a man in a Trump jersey with the caption "YASSSS FU Syria." Yet another showed a person in Ohio wearing a gas mask with the caption "Waking up in Syria like."
Instagram will likely also be home to a mix of fun stories and complicated and potentially disturbing ones. The fun stories won't be difficult to find. As an example, Barnes played a few, including a Hashtag Story for #ootd, or "outfit of the day," — a compilation of people posting well, the outfit they wore that day. He also showed Location Stories from Tokyo and Paris — compelling peeks into cafes and city life. But when BuzzFeed News asked him to show Location Stories from Tehran and Kabul, Barnes demurred. "Maybe you can try it when you get it," he said.

Instagram, which has more than 700 million monthly active users, is much larger than Snapchat, and simply by the nature of that scale, it's likely its stories will contain violent, graphic, and upsetting images. This means that through Location and Hashtag Stories, Instagram will likely have to wrestle with the murders and gruesome violence that are now a major problem on Facebook proper. And with algorithms making the calls, there will be little safeguard against them. Asked about this, Barnes said users can report concerning content and the platform will review it. "Our focus will be to make sure the content that the content we show and pull together into these stories conforms to our policy guidelines," he said.