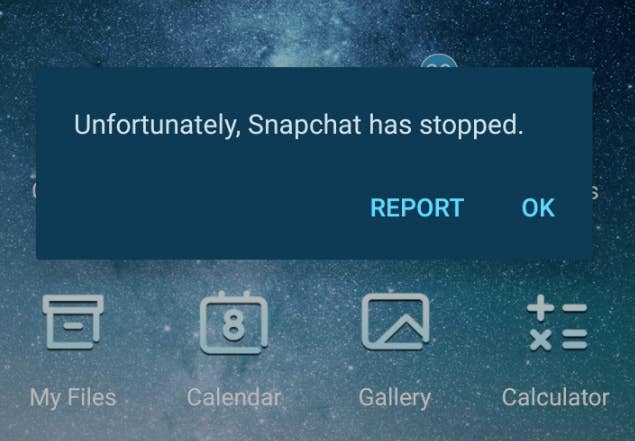 During a November 2014 trip to Los Angeles, Boston-based Snapchat "creator" Mike Platco stopped by Snap's Venice, California, offices to say hello. At the time Platco had amassed a sizable audience of followers — large enough that he was preparing to leave his day job to create content for Snapchat full-time. He figured a casual visit to Snap HQ, while perhaps unexpected, wasn't untoward given his profile on the platform. But after trading messages with a few Snap employees, Platco was turned away at the door. There would be no visit.

"That was the very first in a long history of instances where Snapchat really solidified its position as giver of zero fucks," Platco told BuzzFeed News. With approximately 500,000 Snapchat followers, he now works regularly with brands who pay him as much as $80,000 for a series of posts.
To paraphrase Platco, Snapchat hasn't done much to foster a good relationship with creators — people who specialize in making the raw, goofy content that feels native to social media. These creators — particularly those who've emerged as social media personalities — can be quite powerful in aggregate. Many have passionate audiences willing to follow them from platform to platform. Now, after years of feeling neglected by Snapchat, some of these creators are fed up and taking their work and their fans elsewhere. That could be problematic for the newly public company — just ask Vine, which last year suffered a catastrophic migration of top Viners to rival platforms like Instagram and, yes, Snapchat for similar reasons.
"Creators are starting to post less on Snapchat."
"Creators are starting to post less on Snapchat," said one manager of well-known social creators. "Where it used to be the primary platform they were making content for, now it's like a secondary platform where they'll make content for other platforms and repost it on Snapchat."
Platco, who says he owes his fame to Snapchat, is now working to move his followers to Instagram. He feels it offers the type of support Snapchat hasn't — listening to product feedback, providing post analytics and promotion. "I love Instagram," Platco said. "Every single bad thing I could possibly say about Snapchat, I could say the opposite of how my relationship is going with Instagram."
Platco spent the two weeks before Christmas pushing his Snapchat followers to his Instagram account with artistic posts and offers of "epic" Instagram-only giveaways. The campaign tripled Platco's following on the photo-sharing service, though it's still far smaller than the one he's amassed on Snapchat. "I'm just going to keep grinding it out and come up with new and engaging ways to get my followers over to Instagram," he said.
Sallia Goldstein, another widely followed Snapchat creator, said she moved to Instagram two weeks ago — reluctantly. "It's not because I necessarily want to move everything over to Instagram," she told BuzzFeed News. "It's because I have to."
"It's not because I want to move everything over to Instagram. It's because I have to."
Goldstein shifted her work to Instagram because Snapchat's pokey performance on Android made the app effectively unusable for her. She was unable to work through those issues with Snap (messages to support went nowhere), so now she uses her Snapchat account to push her followers to Instagram. She'll often start a story on Snapchat and tell her followers to head over to Instagram to watch the rest. "I would much rather make stories on Snapchat than Instagram," Goldstein said. "Snapchat has so many more creative tools than Instagram." But she's had great success migrating followers from Snapchat to Instagram; each promotion reliably sends between 500 and 1,000 followers across. Goldstein figures her Instagram following will match her Snapchat audience in a matter of months.

Many other creators BuzzFeed News spoke with are fond of Snapchat and the opportunity it's provided them. "I think it's a really great platform for being unique and creating content." Shaun McBride, an outspoken Snapchat creator who goes by the name Shonduras, told BuzzFeed News. "I like Snapchat," said Cyrene "CyreneQ" Quiamco, another creator. "I'm an artist and Snapchat is the paint."
But these creators are also dismayed by Snapchat's seeming unwillingness to collaborate with them — specifically to refine its publishing tools to help them work more closely with the brands that pay them. For many creators who make their livings posting branded content to social media platforms, a toolset that helps them to measure and dissect the audiences they reach is crucial. According to the creators interviewed for this article, Snap doesn't have that, nor is it particularly attentive to their requests that it develop one. "If Snapchat would just open up the lines of communication with creators and help us understand the platform better so we could work [more easily] with brands, we'd probably focus more on posting our best content on Snapchat," said McBride.
So far that hasn't happened. And creators are growing antsy; McBride has recently been focusing his attention on YouTube, where's he's built a following of nearly 1 million users. Meanwhile, Story views on Snapchat have declined precipitously, according to the social analytics company Delmondo. They slipped 40% from July 2016 to November 2016, a fall that began roughly with the introduction of Instagram Stories. "There is a very defined path to monetization for the aspiring online video star outside of Snapchat rather than on Snapchat," Delmondo CEO Nick Cicero told BuzzFeed News.
Snapchat parent company Snap Inc. — which will begin trading publicly tomorrow at a heady initial share price of $17 — declined comment on record about creator claims of neglect. But longtime observers of the company say its lack of engagement with creators is strategic — a purposeful move to give Snapchat a friends-and-family feel that will differentiate it from rivals.
"This isn't some mistake that Snapchat is not seeing," Jason Stein, CEO of the advertising agency Laundry Service, told BuzzFeed News. "They're making a thoughtful decision to be something different than the other platforms."
A Snapchat spokesperson confirmed that the company's focus is on friends and family, not influencers. And that's intentional.
Question is, can Snap continue to pursue that strategy and shoulder the associated risks, with public market investors demanding that it live up to its sky-high valuation? You only need only look to Twitter for how a scenario like that can quickly turn ugly.
"While there are certainly cons to what they're doing, there are also many pros," Stein said. "That's what's made them successful to this point. The question is how does that scale as a public company."