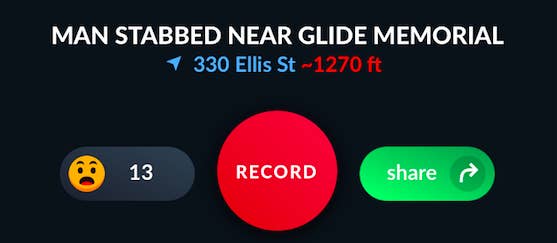 San Francisco seemed like a pretty dangerous place this Wednesday — at least according to the notifications firing off from the app Citizen. Just after noon, an alert said a person with a knife was spotted downtown. A few hours later, another update said police were responding to a fight in a nearby hotel. Within the half hour, a report of a man blocking a doorway and throwing garbage showed up. True, downtown San Francisco is kind of a shitshow, but Citizen — which was originally and tellingly named Vigilante — isn't really trying to make that case. The point of all these updates is not merely to notify people about danger in their area; it's to have them go out and film it.

Citizen is but one player in a new generation of always-on, digital neighborhood watch apps, that work largely on proximity. There's Ring Neighborhoods, an app that updates millions of people about local safety issues — such as nearby package theft and home break-ins — via notifications that often link back to video from Ring's camera-outfitted doorbells. And on Nextdoor, people alert their neighbors to recent or ongoing crime via "Urgent Alerts" that blast out short warnings via text and email — a feature that's received its fair share of criticism for its persistent issues with racial profiling.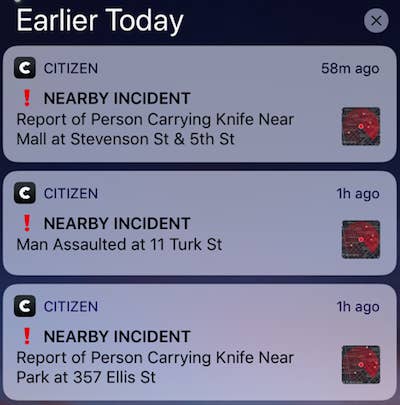 But while those apps give people ways to pass on warnings and information, Citizen has a far more Nightcrawler-esque quality. Inside the app, Citizen plots incidents on a map and builds dedicated story pages for each. The app's typical story page ticks off updates like "police on scene," features livestreams from users, and posts a running count of "Whoa" reactions (registered when users tap a shocked-looking emoji). Onlookers are also asked to stream video. "If you can safely record, press the red button," the app prompts.
Watching Citizen's videos can be an exercise in voyeurism. Want to see police officers search for an assault suspect? Citizen has you covered. How about a man being stuffed into a cruiser after a high-speed chase? Citizen has that too. A video of a shaken man titled "Dog Stolen at Knifepoint"? You're in luck.
"If you can safely record, press the red button."
Currently live in New York and San Francisco, Citizen is building momentum by offering a real-time picture of local crime. Its alerts certainly do provide a real service: most famously notifying a school principal in New York City of a nearby terrorist attack via a push alert. It has also helped people avoid an ongoing hostage situation.
Grace Gatpandan, public information officer at the San Francisco Police Department, told BuzzFeed News that the department is aware of Citizen, and that people should take the information they see on the app at face value, not necessarily as fact.
"If you're acting on information that's provided by a third party, make sure to not forget your own safety," she said. "If people are at a crime scene and they witness something happen, we encourage you to call the police."
Citizen debuted less than a year ago in New York. It was intended to "open the 911 system," Lea Artz, its head of newsroom and central operations, told BuzzFeed News. It aims to build "a global safety network of people who will protect each other," Artz said, by offering the public information on nearby dangerous situations they can avoid. "We hope that as Citizen grows, and someday grows throughout the world, we've got a network of people who are informed, who are empowered, and make it so that nobody is ever alone when they need help," she said.
Citizen claims to have approximately 250,000 people using it each month and has sent a total of 26.5 million notifications, Artz said. It plans to expand to several cities this year.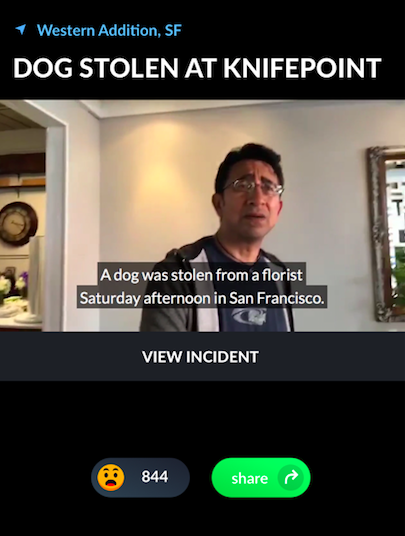 And, if all goes as planned, it will have more people livestreaming at active crime scenes. These video stories — promoted in Snapchat-style circles at the top of the app — are there to provide "total transparency," Artz said, "a complete record of what happened as it unfolded in real time."
There is a hell of a lot to see unfold in real time in cities like New York or San Francisco. Spending a day with Citizen can feel like a whirlwind. In a span of 24 hours in San Francisco, it fielded reports of a street brawl, a fight in a laundromat, a flare gun shooting at a McDonalds, a trespassing incident, a truck crash, and more.
Citizen asks users to go out and film these events as it alerts them to their existence. This is quite different from the ways crime video is shared on Ring Neighborhoods or Nextdoor, where users can post video after the fact.
"This is about keeping people safe," Ring President Mark Troughton told BuzzFeed News of his app's approach. "This is not about people taking anything into their own hands. This is about informing people so they can stay safe and protect themselves."
Artz argued that Citizen keeps people safe, and pushed back against the suggestion that its users might get hurt while filming a crime. "Give people some credit!" she said. "Since we launched almost a year ago, we have seen the Citizen movement mobilize on both coasts, powered by users who exercise common sense, use Citizen to protect each other, and keep themselves safe."
What's more, for Citizen, nothing so far has been deemed too violent or over the top to ask its users to report on. "I can't say I can think of an example where something has been too violent for the app," Artz said.
Since its launch, Citizen has aired footage of people being stretchered away from a fire that killed multiple people, the aftermath of multiple shootings, and a pedestrian receiving medical attention after being hit by a car.
Citizen declined to comment on how it selects the crimes it promotes. (The incidents are not user-generated, but rather added by a central operations team.) But however it's selecting them, it's doing so very quickly, alerting people well ahead of the local news. "We're consistently breaking every single big story that we report on in the app by like 10–20 minutes," Artz said.

That speed can be useful. Abby Brody, principal of the World School in New York City, said she acted on information from Citizen to keep her students safe during the terrorist attack on the West Side Highway last fall. "We heard of the terrorist attack from Citizen first," Brody told BuzzFeed News. "It was the end of the school day and we were taking children to that area. We were able to make a judgment call and hold the buses," she said, sounding relieved.
A little after midnight on Thursday, Citizen broadcast an alert for yet another incident. "MAN BREAKING INTO LAUNDROMAT," the app said, noting that a user named CookEMann was streaming live from the scene. In the video, shot from a distance, police repeatedly yelled "Put your hands up!" before apprehending the suspect. With or without the footage, an alert would've likely been enough for users to avoid the area. But CookEMann filmed on. The tension-packed episode ended calmly, but the footage made clear that a peaceful resolution was hardly certain and hinted at the fraught tradeoffs and uncertainties of encouraging citizens to film crimes in process and their aftermath.