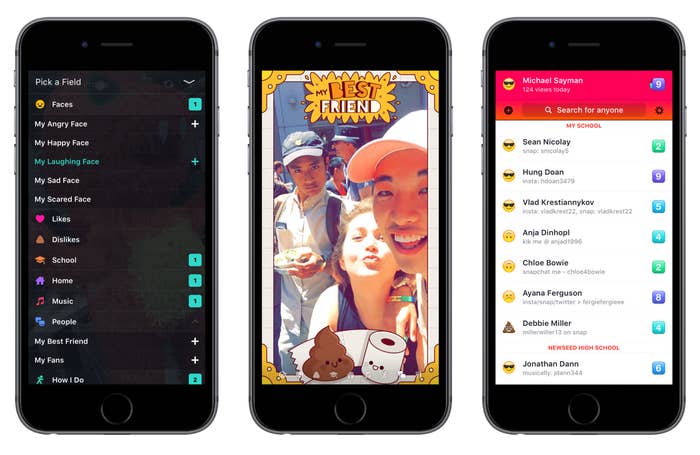 Facebook is introducing a stand-alone, camera-first app that it hopes will spur teens to share short video about themselves. Sound familiar?

The app, called Lifestage, is not a Snapchat clone; it does not support messaging, a key Snapchat feature, and Facebook says it's not planning to change that any time soon. But after Facebook copied Snapchat twice in the past month — with Instagram Stories and its new video composer experiment — the similarities between the two are bound to raise some eyebrows.
Both apps are camera-first (meaning the start screen is a camera), both feature fun overlay filters, both encourage video sharing, and both are designed to appeal to teens.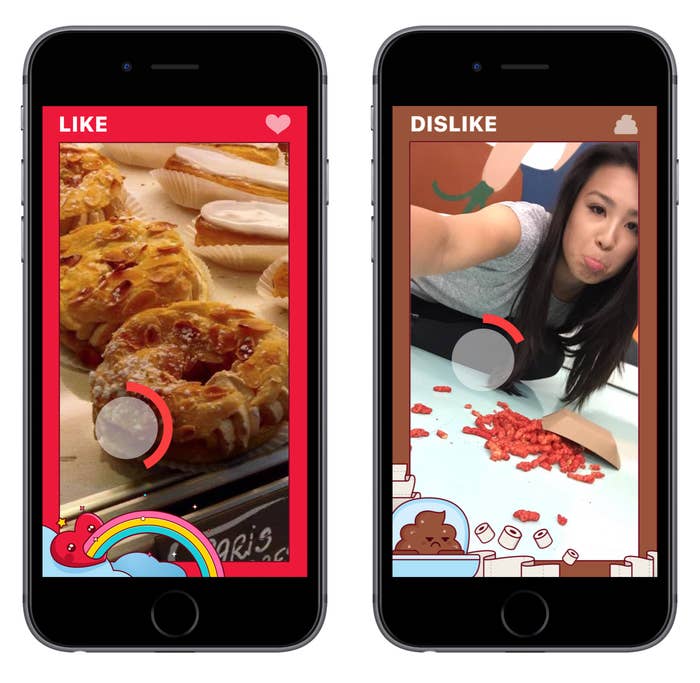 Lifestage is essentially a reimagined version of the early Facebook profile with short videos replacing photos and written descriptions. Instead of a Facebook profile picture, Lifestage features profile videos showcasing your happy face, angry face, laughing face, and sad face. Instead of the traditional set of textual Facebook likes, Lifestage will feature videos of things you like.
Michael Sayman, the 19-year-old Facebook product manager behind Lifestage, told BuzzFeed News that he wanted to create what the old Facebook experience would look like if it were to be built from scratch today. The app opens up with a camera screen, a key Snapchat similarity that Facebook admits is a more natural starting point for people looking to share video, which the company believes will soon become its primary content type.
Though Facebook is now a $350 billion company with 1.7 billion monthly active users, that evolution has dulled some elements that drove its early success. Original sharing, for instance, is declining on its platform. These days, the goofy candids and personal posts that defined Facebook's first iteration are increasingly crowded out by posts from brands, celebrities, and professional media outlets. In June, Facebook changed its News Feed algorithm to emphasize stories from friends and family, a clear move to restore balance and a throwback to its early days. Lifestage is geared to bring back some of that early magic too.
Facebook is pitching Lifestage at high schoolers: When 20 or more students from the same school register for the app, they'll be able to start browsing through their classmates' profiles. The app, which debuts today, will initially be available only in the United States and on Apple's iOS platform.

While Facebook has released a number of stand-alone apps, only one has truly succeeded at market — Facebook Messenger, which debuted as a forced download for existing Facebook users. Meanwhile, the poor performance of experimental apps like Slingshot, Riff, Rooms, and a disappointing Snapchat clone called Poke led Facebook to shut down the Creative Labs division responsible for making them last year.
So launching an app like Lifestage after a string of stand-alone app failures seems a daunting prospect indeed. But creator Sayman is confident the app's camera-first design will resonate with its intended audience. And if it doesn't make a huge splash, there's always version 2. "More than anything, I'm really curious to see what will happen and how will people react to this kind of experience," he said. "It's really an exploration of that [camera-first] world."