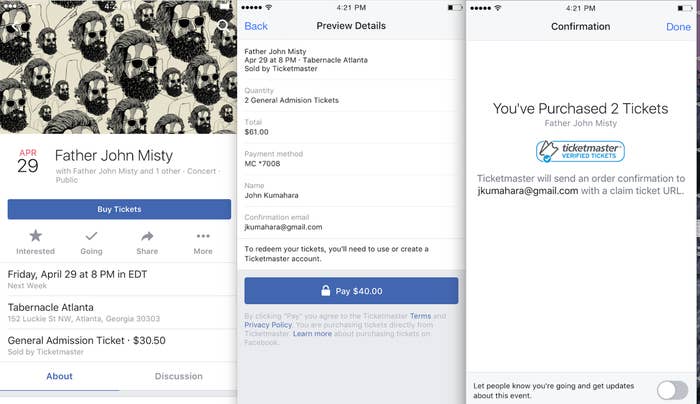 Ticketmaster will start selling event tickets directly on Facebook by the end of April, joining the growing number of companies placing core parts of their businesses inside the social giant's walls.
Ticketmaster and companies like it, largely online commerce outfits and web publishers, are willing to go direct-through-Facebook since they see their customers spending less time on websites and more within a handful of mobile apps, with Facebook often the top destination.
"By putting the ability to buy tickets directly within Facebook we hope that we're going to provide a more seamless purchase experience and sell more tickets," Dan Armstrong, VP and GM of distributed commerce at Ticketmaster, told BuzzFeed News in an interview.
The amount of time the top mobile apps command from those who use them is staggering. 84% of all time spent in non-native apps on mobile devices is spent within just five apps, according to Forrester. This positions Facebook as a channel for all types of business to reach their customers and audiences.
To date, Facebook's willingness to bring other businesses inside its walls has largely been limited to its main app. The main Facebook app hosts publisher content via its quick-loading Instant Articles product (BuzzFeed is a partner). And the company is also experimenting with online shops built into 'pages.' Now, with Ticketmaster, it is extending its reach to event ticketing as well.
Outside of its main app, Facebook is experimenting with a similar strategy for Messenger, You can now, for instance, request an Uber or Lyft from within Messenger, or check in to your flight on KLM, or ask a retailer like Everlane to send you another shirt.
You can also buy tickets through Facebook Messenger's experimental virtual assistant M, which will send you images of your tickets before an event upon request. Adding Ticketmaster support to further undergird that feature -- or spinning it off in a Ticketmaster chat account -- seems an obvious next move, but Jon Park of Facebook's Product Partnerships team says it's not currently on the road map. "I think it's something that we'd be interested in exploring," he said, adding that it's too soon to tell whether Facebook will do it.
When someone purchases a Ticketmaster ticket on Facebook, the social network will collect a standard affiliate fee from Ticketmaster. Asked what the fee is, a Ticketmaster spokesperson said the company does not comment on contractual agreements. Also, while Ticketmaster purchases occur on Facebook, tickets must be "claimed" via TIcketmaster's website and app. To start, the buy-on-Facebook option will be limited to a select group of general admission events. But look for that to expand should the initial phase go as expected.