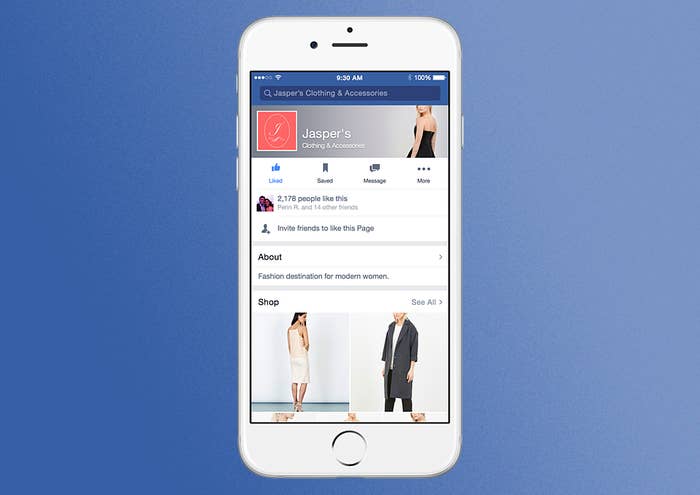 Facebook wants to be more than a place to socialize, share, and discover content. It wants you to shop inside it as well.
The company is building out shops within Facebook Pages, essentially mini e-commerce sites that give businesses a chance to set up second homes within its walls. The shops are still in the testing phase, but some already feature "buy" buttons that allow the entire shopping experience to occur within Facebook — from product discovery to checkout.
"With the shop section on the page, we're now providing businesses with the ability to showcase their products directly on the page," Facebook product marketing manager Emma Rodgers told BuzzFeed News.
If it works, bringing storefronts directly to Facebook Pages could have a transformative effect on online commerce, as retailers embrace the platform not just to inform their customers, but to sell directly to them.
Though the performance of social commerce is still unproven, Facebook is intent on this program's success. The digital advertising market, which Facebook relies on for most of its revenue, is predicted to reach almost $60 billion in 2015, according to eMarketer. Online commerce, on the other hand, is estimated to reach around $350 billion this year.
The shops are part of Facebook's big push into commerce, one that extends to its popular Messenger app. The company recently introduced money transfer functionality in Messenger and is reportedly working on a virtual Messenger assistant that will help people research and buy products. Last year, Facebook introduced the buy button that lets people complete purchases on Facebook itself. These are currently independent initiatives, but could easily be groundwork for a more robust, integrated shopping experience across Facebook's properties.
Facebook does not currently take a percentage from product sales on its platform, but the company's history does contain instances where it's rolled out products with favorable terms for businesses only to roll back those terms when it decides it needs to make more money. Companies, for instance, once paid Facebook to build up likes on their page so they could communicate with their "likers" in their newsfeeds. But then their posts stopped showing up as often, so they were compelled to pay to reach the same people with advertising. Given the size of the commerce pie, the temptation to circle back and monetize will be there.
Commerce Changes
Facebook's shops are debuting at a time when it's fashionable for nontraditional commerce players to build out the functionality. Commerce has come to social — Pinterest and Twitter have introduced their versions of shops — and search, where Google today unveiled a buy button of its own.
These initiatives are happening at a time of transition for online commerce. Though we may visit a seemingly unlimited number of websites on desktop (including lots of online shops), we spend 80% of our time on mobile apps within the top five apps, according to Forrester. On phones then, which are increasingly sucking up our time, there's little room for the array of online shops to enter our consciousness. So these businesses are playing ball with the most popular apps to find alternate routes to reach us, and our wallets. And Facebook's app is one we use an awful lot. According to Forrester, 13% of all time spent in mobile apps is spent within Facebook's apps.
The plight of commerce companies, outside of goliaths like Amazon and Walmart, is not dissimilar to that of content companies, some of which recently made a similar move, hosting their content within Facebook through the company's Instant Articles product.
Facebook's shops currently number in the double digits with plans to expand, according to Rodgers, who said the project is in such an early stage that she could not share the names of any business currently piloting the program. (A mock-up Facebook created of a shop for a fake brand is what you see above.)
On mobile, Facebook is displaying these shops very prominently, right underneath the standard toolbar and about section. The setup may cause brands to use Facebook in a way more aligned with what they do, selling stuff, than the content-driven approach they embraced by chaining graphic designers to desks during the Super Bowl and having them create real-time marketing memes.
There won't be a search component to start, but you can imagine uses of Facebook's graph search where typing "shops with sales" or "stores that sell T-shirts" might return a list of such stores. The data collected on completed purchases may also be a valuable asset for advertisers, as definitive purchase data can be a better signal than the demographic and behavioral data Facebook currently gathers.
The shops may eventually expand beyond commerce businesses and to public figures, sports teams and groups, through Rodgers would say only that it's early on in the product's development, without ruling those possibilities out. "We'll continue to add incremental features and capabilities to Pages because they are such an important part of the consumer experience on Facebook," she said.