Facebook has suspended 10 large groups for helping hundreds of thousands of people trick Instagram's algorithm into showing their posts to more people.

The groups — some with memberships in the hundreds of thousands — artificially inflated the popularity of member accounts and posts, tricking Instagram's algorithm into further promoting them. With names like "Instagram Like and Comment" and "Instagram Followers Exchange," the groups were filled with threads in which members coordinated like and "follow for follow" trades, often around shared interests like beauty and fitness.
Instagram confirmed the 10 groups violated its terms of service, and that they had been taken down as a result.

The groups were sometimes used to create "Pods" (basically group chats) on messaging app Telegram as well, intended to efficiently coordinate like and comment exchanges. A BuzzFeed News–created Instagram account, ViralHippo, joined a pod via one of the Facebook groups above and quickly began receiving likes on a post dropped in the chat.
Instagram's algorithm uses the number of likes and comments on a post to assess its popularity and determine whether or not it's a candidate for top-of-feed boosting or placement on the service's popular Explore page. It's hardly surprising that Instagram users looking to create a personal brand or promote a new business are intrigued by groups promising to help them game the company's algorithm.
The algorithm-gaming groups make no effort to disguise their purpose. "It's hard to beat Instagram's algorithm and get your post to the top of the feed," one group, Daily Instagram Engagement, explains in its description.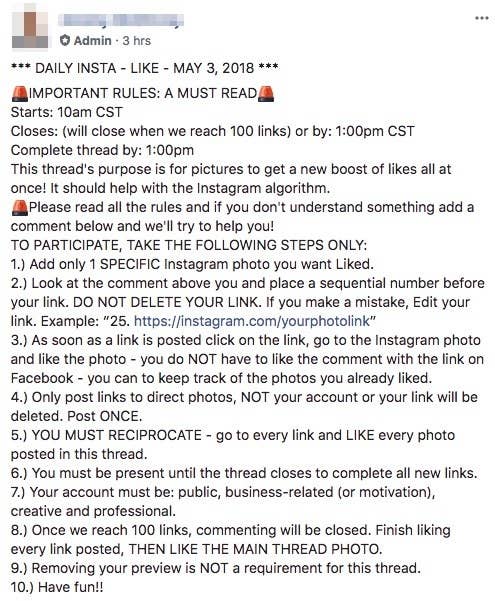 The 10 algorithm-gaming groups were growing quickly at the time of their removal. "Instagram Growth - Engagement Pods" had 31,413 members, with 4,119 new members added in the two weeks prior, according to publicly available Facebook metrics. Meanwhile, "Instagram Like & Comment" had 45,364 members, with 1,771 new members added in the two weeks prior to removal.

Sign up for Tech Giant Update — a newsletter on Amazon, Google, Facebook, and Apple.
The size and number of these groups reveal a pervasive and daunting problem for Instagram. As BuzzFeed News reported last month, Instagram's system for rewarding and monetizing popularity has birthed an entire ecosystem devoted to exploiting it. Within that ecosystem, these groups seem rudimentary compared to services like Fuelgram and Boostgram, which transform real Instagram accounts into engagement-juicing bots. But they're also more difficult to combat.
They're not tools to be banned or shut down, they're Facebook groups — swap meets. And there are many of them. Facebook didn't even notice the 10 that inspired this article until we pointed them out. Surely there are others, presumably a few without easy-to-identify names like "Instagram Followers Exchange." Because there is certainly a lot of interest in them.
If you want to keep up with the latest on Facebook, Amazon, Apple, and Google, subscribe to Tech Giant Update, a BuzzFeed News newsletter by the author of this piece, Alex Kantrowitz.