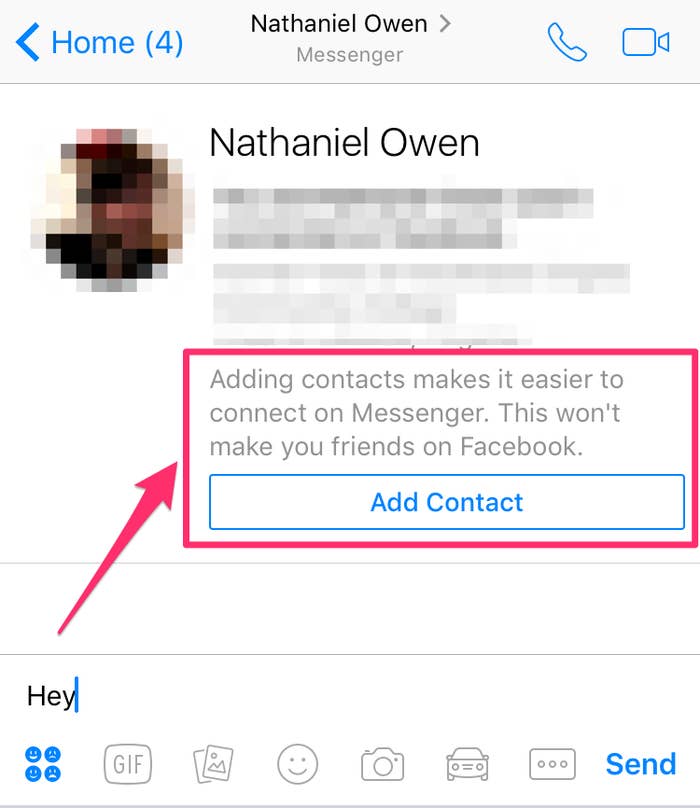 Facebook is testing an "Add Contact" feature in its Messenger app, the company confirmed to BuzzFeed News today.
The feature allows people to connect on the popular messaging app, used by more than 1 billion people, without becoming friends on Facebook itself. Facebook already allows non-Facebook friends to message each other on Messenger, via message requests, but if the company rolls out Add Contact broadly it could lead to a new network forming on Messenger and outside of the main Facebook product.
Messenger, though still behind Facebook's monthly active user count of 1.7 billion, is growing faster than the main product, and will likely increase in importance to the company now with original sharing down on Facebook proper and its ad load nearing capacity. In an April earnings call, Facebook CEO Mark Zuckerberg was clear about the importance of Messenger to his business: "A lot of people want to share messages privately, one-on-one or with very small groups."
With Messenger on the rise, Facebook is clearly thinking about how it help develop the app into its own ecosystem, untethered in some respects to the Big Blue App. And the "Add Contact" request is one more tool to help accomplish that.