Facebook Builds A Rough Road Back For Those Booted By Its "Real Name" Policy
Process hell and faceless bureaucracy may await those locked out of their accounts — even when they use their legal names.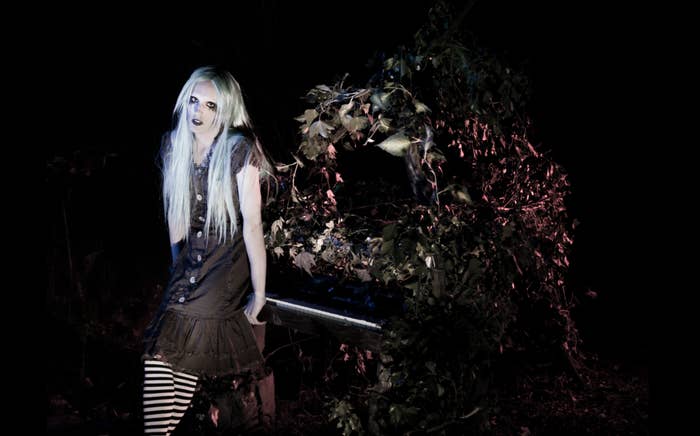 Until recently, Daniel Wilson, a transgender musician based in England, went by the name Chalcedony Angel on Facebook. The moniker, a stage name, worked fine for a while, but as he — a pronoun he suggested we use — grew more comfortable with his identity, Wilson legally changed his name to Eveshka Ghost, and then made the change on Facebook as well.
Ghost's new legal name displayed briefly on Facebook without issue. But then, like many in the trans community, he ran into trouble. On June 19, a message arrived in his inbox demanding he provide proof that Eveshka Ghost was indeed his real name. If he could not, he'd be kicked off the platform. When Ghost replied with his change of name form, he tumbled into a rabbit hole of Facebook bureaucracy. Nearly a month later, he still doesn't have his account back.
According to Mark Zuckerberg, Facebook's CEO, this never should have happened.
In a Q&A on his Facebook page earlier this month, Zuckerberg said his company's "real name" policy -- which prohibits aliases on the platform -- should be workable for people in the trans community, who often go through identity transitions. But the reality is different. People who are reported as "real name" violators can find themselves locked in a bureaucratic mess, responding to emails that are essentially form letters from faceless Facebook employees, with no opportunity to talk live despite the complexities of the policy and the harshness of its enforcement. This system has hit the trans community particularly hard. But it's also made life difficult for activists and various others.
"Everyone I've ever met in my life and traced has gone -- with no list or reminder of where they are," said Ghost in an interview with BuzzFeed News. "Everything I have built up is just completely destroyed."
Zuckerberg has insisted that Facebook's policy is more relaxed than people think. "Real name does not mean your legal name," he said. "If your friends all call you by a nickname and you want to use that name on Facebook, you should be able to do that."
While that may be Facebook's policy, its enforcement can leave even those using their legal names locked out and facing a bureaucratic nightmare as they try to return.
Process Hell
Lady Soliloquy, an author of Christian and Southern literature, is also currently without her Facebook profile. She was reported to Facebook on May 22, she told BuzzFeed News, by people with whom she was in a dispute. In a subsequent email to her, these same people bragged about getting her kicked off. Lady Soliloquy's name is a legal one, and she has plenty of identification to prove it, much of which she sent to Facebook after it locked her profile without warning.
Documentation Lady Soliloquy provided to BuzzFeed News shows how frustrating the process can be. In an initial message to Lady Soliloquy, Facebook linked a list of accepted documentation, and wrote the following: "If this is the name you are known by in everyday life, please help us verify it by attaching a copy of an ID that shows your name, photo and date of birth in a reply to this email."
Lady Soliloquy then submitted multiple forms of identification -- a bank statement, a utility bill, an IRS employer identification number receipt, and a photo ID -- only to be met with a message from a "Jean" of Facebook's community operations telling her, "We received your ID but couldn't use it to verify your identity." Little further information was offered.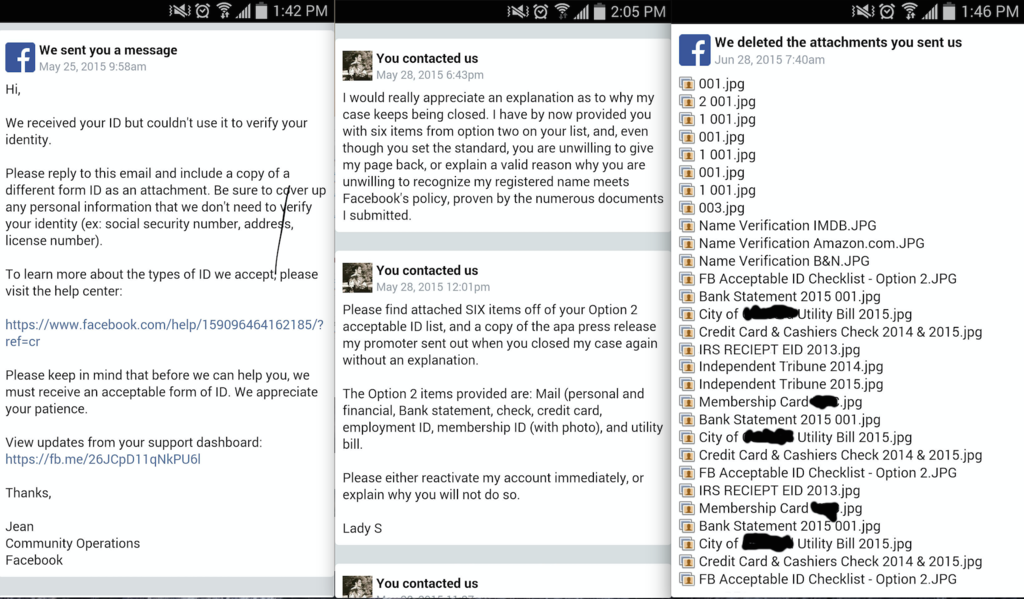 On May 27, Facebook changed Lady Soliloquy's case to closed. It also deleted a file cabinet's worth of identification she provided. "It is absolutely infuriating," she said in an interview. "They won't respond to me. They are just ignoring me."
Lady Soliloquy's case brings to light one of the uglier uses of the "real name" policy: that of a weapon. When someone seeks to do another person harm, it appears relatively simple to force that person into Facebook's name-proving process. And, as Lady Soliloquy's story shows, the struggle sometimes necessary to claw back can make the weapon very effective. For members of the trans community, who often have shifting identities, it can be devastating.
"I don't think the current policy is workable," said a former Facebook employee named Zip, who also goes by Zoë Cat, in an email interview with BuzzFeed News. "It still allows trans people to be reported and still erects huge barriers to getting back on the site. Users understand that reporting is a way to kick people off, and they use it that way – and won't use it to report their friends using joke names."
Zip has taken to Medium in recent weeks to rail against the policy, which was also the target of protests during last month's Pride celebrations. "Facebook has set itself up as a gatekeeper to determine our realness," she wrote in one post. "It has set its policy without any real understanding or analysis of how names work, and it's no surprise that there are a thousand edge cases."
Indeed, thousands of people have reached out to the #MyNameIs protest campaign to complain against the policy, according to Lil Miss Hot Mess, the group's organizer. "I've personally helped close to 1,000 people since October, and our group has probably helped 3,000 or more by forwarding their information to personal contacts at Facebook -- though we are no longer doing that," she wrote in an email.
The stories go on. One African LGBT advocate was locked out of his account last week and only let back in yesterday. Being gay in his country puts him at legal and physical risk, so he uses an alias on Facebook out of necessity. He has none of the supporting documentation Facebook requires to prove his name is authentic. "I am afraid my fellow activists will lose their accounts soon," he told BuzzFeed News. "Facebook has been an oasis of peace for us. We already live underground and if we lose that space then there is no way for [our country's] LGBT to get together." Fearing a backlash in his country, he asked us not to reference it or his name.
Kitty Stryker, a sex worker and advocate for sex worker rights, uses an alias on Facebook and elsewhere to prevent stalking and harassment of herself and her family. She has been locked out of her account four times over the past year. "My name hasn't changed, it's exactly the same," she told BuzzFeed News. "I don't know what information they think they're going to get this time that they didn't get last time."
Though Facebook understands there are problems that come along with the "real name" policy, the policy's flaws are likely viewed as stomachable by the company's brass. The real name policy has a legitimate good side: It takes away the usual guesswork required to find friends online and is arguably responsible for keeping behavior relatively civil within Facebook's walls (it's harder to call someone a motherfucker when your own name is attached to the post -- just ask Reddit).
Facebook has made small improvements to the process, giving people a week to prove their name, for instance, instead of shutting down their profile immediately.
In an interview with BuzzFeed News, Facebook Head of Global Product Policy Monika Bickert indicated that the company knows its current "real name" policy isn't perfect, though she gave no sign Facebook will rethink it. "We understand that people have had a variety of experiences and we know that not every experience has been where it needs to be," she said. "So our focus is on continuing to improve the enforcement and also continuing to improve the way we communicate the policy and its enforcement so that everybody has a better experience."
None of this is comforting to Eveshka Ghost. "Nobody gives a shit and everyone will continue to use Facebook until it affects them," he said, before signing off: "I really am feeling like absolute fucking shit."