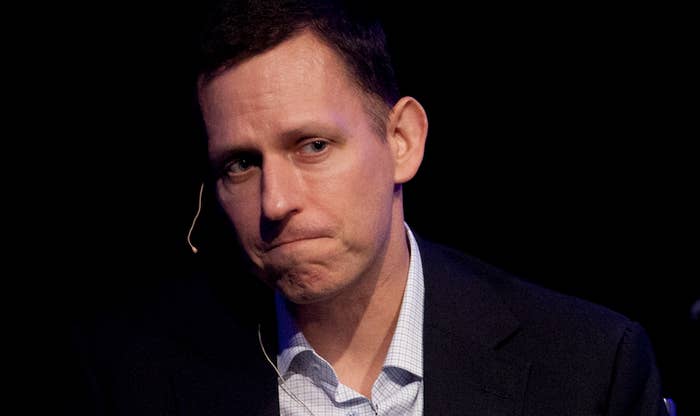 Facebook shareholders (at least the ones not named Mark Zuckerberg) didn't have a say in Peter Thiel's reelection to Facebook's board Monday, but it didn't seem to matter. At Facebook's annual stockholders meeting, shareholders applauded Zuckerberg's move to reelect the controversial board member. Some even cheered Thiel on in his campaign to destroy Gawker.
Thiel is at once funding lawsuits against Gawker, a Facebook publishing partner, and serving as a delegate for Donald Trump, who after the Orlando shooting suggested the children of Muslim immigrants are a security threat to the United States. These positions, to some, may appear to conflict with Facebook's mission "to make the world more open and connected." Especially since Facebook is a critical source of traffic to publishers like Gawker, and publishers help fill Facebook's News Feed with high-quality content. But to Zuckerberg, whose majority voting share means he has absolute power over these decisions, and to those in attendance, Thiel is still the right guy for the job.
Thiel's funding of the lawsuits against Gawker seemed popular among stockholders at the meeting. "I actually am glad to see Gawker go bankrupt," Mark Lewicki of Berkeley, Calif. told me in the lobby. "I think Peter Thiel should be commended for going after a person who negatively ran a story on him in regards to his possible sexuality."
Tara O'Leary of Walnut Creek, Calif. agreed. "I'm not a big fan of Gawker," she said. "If Peter, or any human being that has the money to support somebody that they feel has been wronged — if that's their opinion, it's fine with me."
Others attendees didn't seem to care about Thiel at all. Robert Logan, a stockholder from San Mateo, Calif., said he's read about Thiel but hasn't been following closely. And Patti Hade, from St. Paul, Minn., said she's just been observing. Martha Law-Edwards, from Carlsbad, Calif., said she trusted whatever Zuckerberg decided to do.
Others said they cared only about Thiel's business sense. "I think he is a very competent person, and I support him," Pradeep Tiptur, another stockholder, said on his way out. "I'm not really focusing on the politics side of it. From a business perspective, I see he's really competent guy."
Christine Janz, the chief investment officer at NorthStar Asset Management, decried the lack of stockholder voting power to do anything about Thiel (and essentially everything else when it comes to Facebook) since Mark Zuckerberg, as the controlling shareholder, has the only opinion that matters. "I think shareholders believe that it's a part of good governance to at least be able to weigh in on various issues including such things as Peter Thiel," she said. "When you get into those issues, all it takes is one vote for Peter Thiel to be nominated, accepted, etc. Essentially, until you correct the situation of the inequality in shareholder votes at Facebook, no one else's opinion is going to matter."