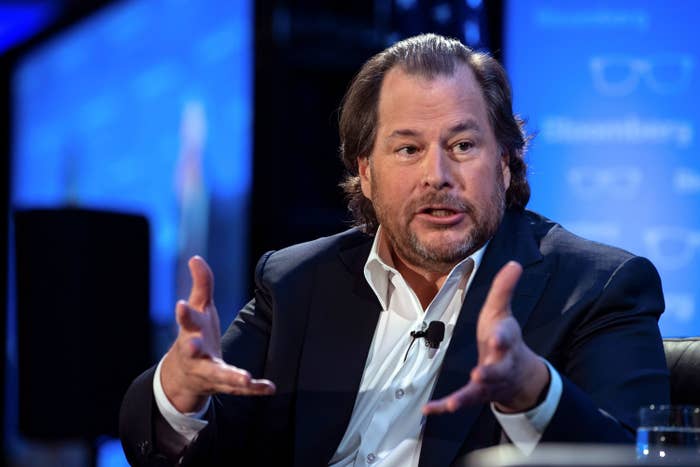 This week while promoting his new book, Trailblazer, Salesforce founder and co-CEO Marc Benioff went on a bit of a rampage. He railed against Facebook ("the new cigarettes"), Section 230 ("we need to abolish"), and the public sector ("As governments fiddle, there are steps that business can take").

But on the very same day Benioff called for Section 230 to be abolished, his lawyers cited it while defending the company in a lawsuit in which Salesforce is accused of providing its tools to Backpage for use in sex trafficking. It was one of a series of gaps between Benioff's reality and rhetoric that raised questions of whether he knew what his company was doing, or if he was simply ignoring it for the sake of publicity.
Benioff's opposition to Section 230 of the Communications Decency Act — which allows technology platforms to moderate their services without being held liable for the content their users post there — is puzzling. "Facebook is a publisher," Benioff said in a tweet on Wednesday. "We need to abolish section 230 Indemnifying them." Without Section 230, Facebook might succumb to death by lawsuit' but Salesforce might too.
On Wednesday, as Benioff was sending his tweet, Salesforce lawyers were citing the piece of legislation in their defense of a lawsuit against the company. "Salesforce objects to the Requests on the ground that it is entitled to federal immunity from suit under section 230 of the Communications Decency Act, 47 U.S.C. § 230, with respect to the claims in this action," Salesforce's lawyers wrote in a response to a discovery motion in a case in Harris County, Texas, one of seven lawsuits it's dealing with regarding Backpage. In all seven cases, Salesforce has claimed protection under Section 230, Annie McAdams, the lead trial lawyer for the plaintiffs, told BuzzFeed News.
"If Salesforce had any legitimate concern about the abuse of the [Communications Decency Act], it should have not supported serial abusers of the CDA. For example, while state [attorneys general] were actively and publicly trying to shut down Backpage, Salesforce entered into a lucrative contract with Backpage," McAdams said. "I look forward to asking him about his recent comments in court one day. Perhaps he is ready now to apologize to my clients."
"Perhaps he is ready now to apologize to my clients."
Salesforce did not respond to multiple requests for comments, and an email to Benioff's account went unreturned.

Were Section 230 to be abolished, as Benioff wants, it might actually hurt Facebook's competitors more than it would hurt Facebook — not exactly the outcome Benioff seems to be hoping for. "Just crossing out 230 and leaving the courts to figure it out, I think, would be catastrophic," Daphne Keller, the director of intermediary liability at Stanford's Center for Internet and Society, told BuzzFeed News. "We would have years and years of uncertainty. And that uncertainty would hurt little companies, who can't afford to litigate things, worse than big companies."
Benioff's attack on Facebook is also inconsistent with Salesforce's advice to its clients regarding the site. In a September blog post, Salesforce encouraged its customers to spend money with the social network, naming three separate Facebook products (as well as Twitter) in a single paragraph: "Today, a customer can discover a product on Facebook and buy it later on Instagram," it said. "They can enter upsell journeys on Twitter, and engage in customer support chats on Messenger."
Whereas Benioff called Facebook "the new cigarettes" — Salesforce works with actual old cigarette makers, and invited tobacco company Philip Morris International to present at the Dreamforce conference. "The organization PMI is incredible," said Randhir Kalsi, the Salesforce vice president, at a recent Dreamforce event. "The focus on the customer and the customer journey and the customer experience is absolutely relentless. And that's actually what's so exciting about working with PMI."
Kalsi added that his goal was to get an executive from Philip Morris International onstage with Benioff.
And to cap it all off, amid his calls for business to take action that the government would not, Benioff named someone he thought was a "great entrepreneur": ousted WeWork CEO Adam Neumann.