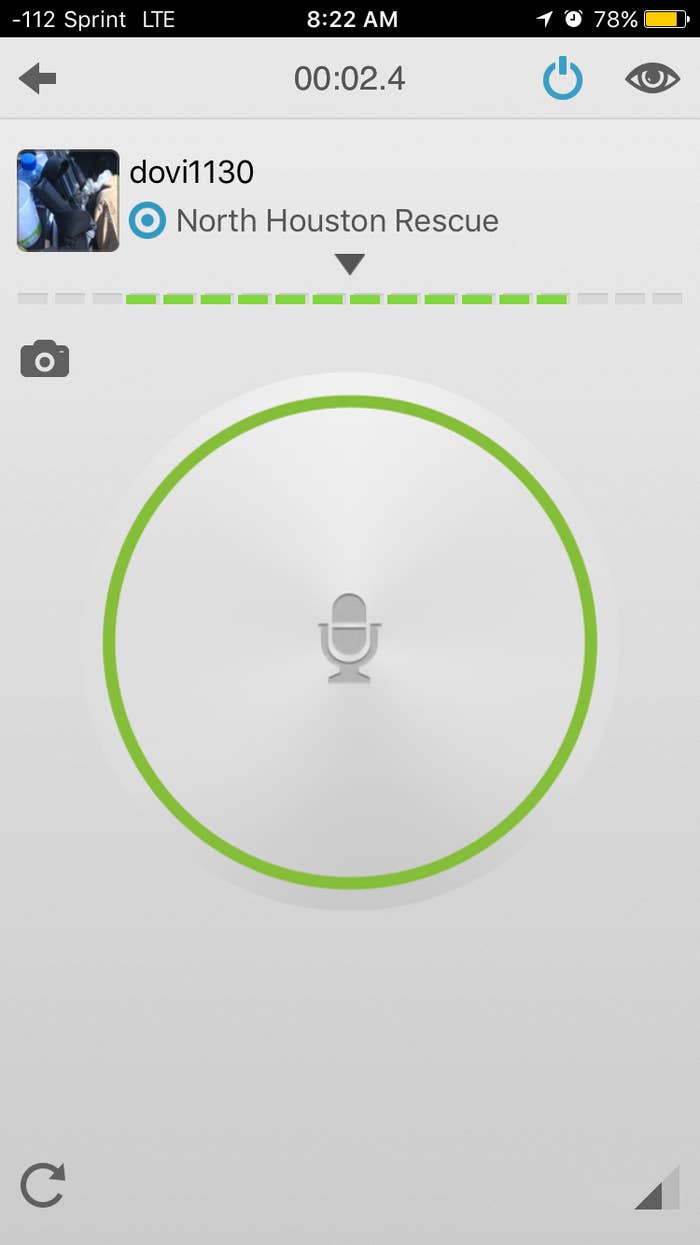 On Wednesday morning, with floodwaters still rising in Houston, voices bubbled inside the relatively obscure walkie-talkie app Zello, coordinating a volunteer effort to get help to those in need.

"I have an 18-foot flat bottom aluminum boat, I need to know where to go this morning," one member of the app's 500-plus person North Houston Rescue channel told the group.
"Is there any need for a couple of jet skis and four guys?" another asked. Almost instantly and with calm precision, group administrators directed them to areas that could use their help.
In the aftermath of Hurricane Harvey — which has left thousands seeking shelter — small, locally oriented social networks like Zello are showing their strength as organizing tools. Though social networks are an imperfect substitute for rescue infrastructure, a listen into Zello, or a peek into Nextdoor (where neighbors are working to inform and help each other), or even a visit to Harvey-related Facebook groups shows why people are relying on these networks. They are focused and intensely local, and put critical information in front of the right audiences quickly with little distraction or noise.
"It's not 911, but it's pretty effective," Zello CEO Bill Moore told BuzzFeed News. The app, used exactly like a walkie-talkie, is filed with channels made up of dozens of members spread far apart, something the traditional devices cannot support.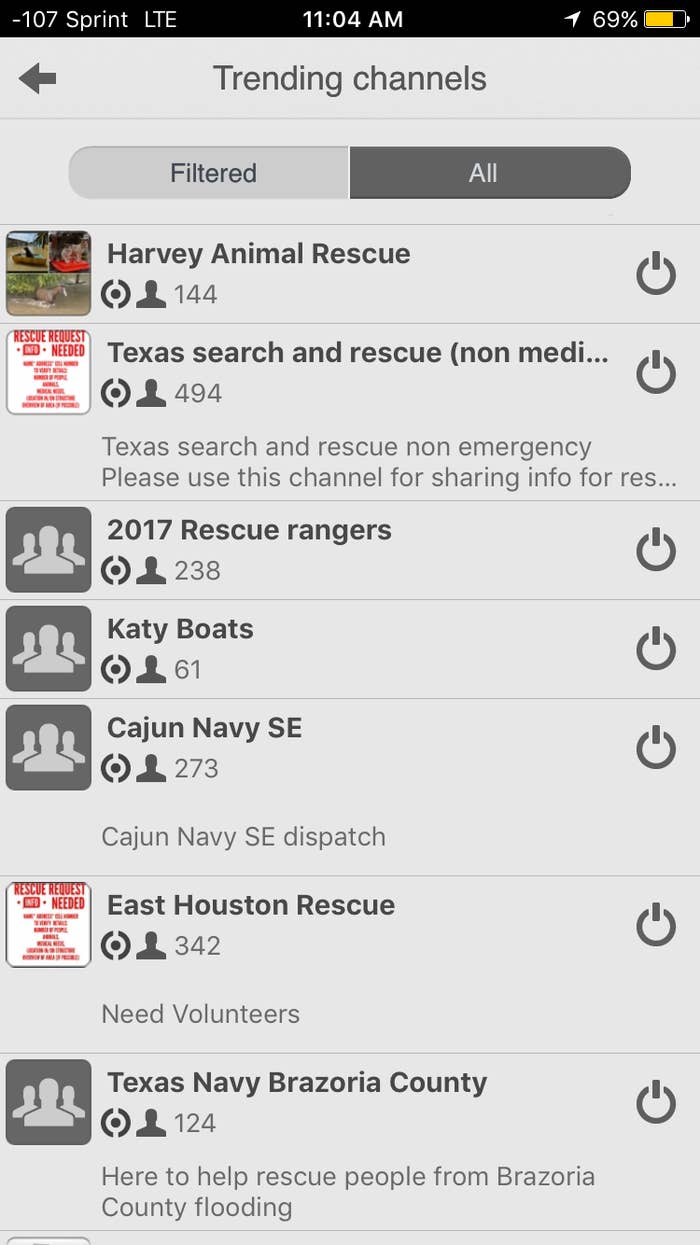 Houston volunteer organizations seem to think so too. Houston-area app opens on Zello are up 600% compared to last week, with an average session time of more than 22 minutes, Moore said. The app's new user registration in the Houston area is up 20 times over last week.
Moore said Zello is effective because it helps people convey a sizable amount of information, along with emotion and level of urgency, quickly — so responses come fast. "It's a higher burden but because of that it's pretty effective and it creates a level of trust."
Zello is working so well that some people are using Facebook to direct people to the download the app. "I am overwhelmed and can't coordinate the amount of volume of requests for rescues....here is a better way... Download the Zello App," Tricia Bell Montalbano, a Houston resident helping with the relief effort, wrote on Facebook this Monday. "There are boats and rescuers responding thru this app to help people. Please share so people know how to get people on a rescue list!!"
Houston-area residents are also flocking to neighborhood-based social app Nextdoor, using it to share updates with their neighbors and offer help. On Sunday, Houston resident Joseph Graham tweeted a screenshot from a Nextdoor community where one resident's home was filling up with water. "A rescue is desperately needed," the resident wrote. "Have been calling for help but can't get through." Within an hour, a fellow Nextdoor member got them on a boat and they were off to safety.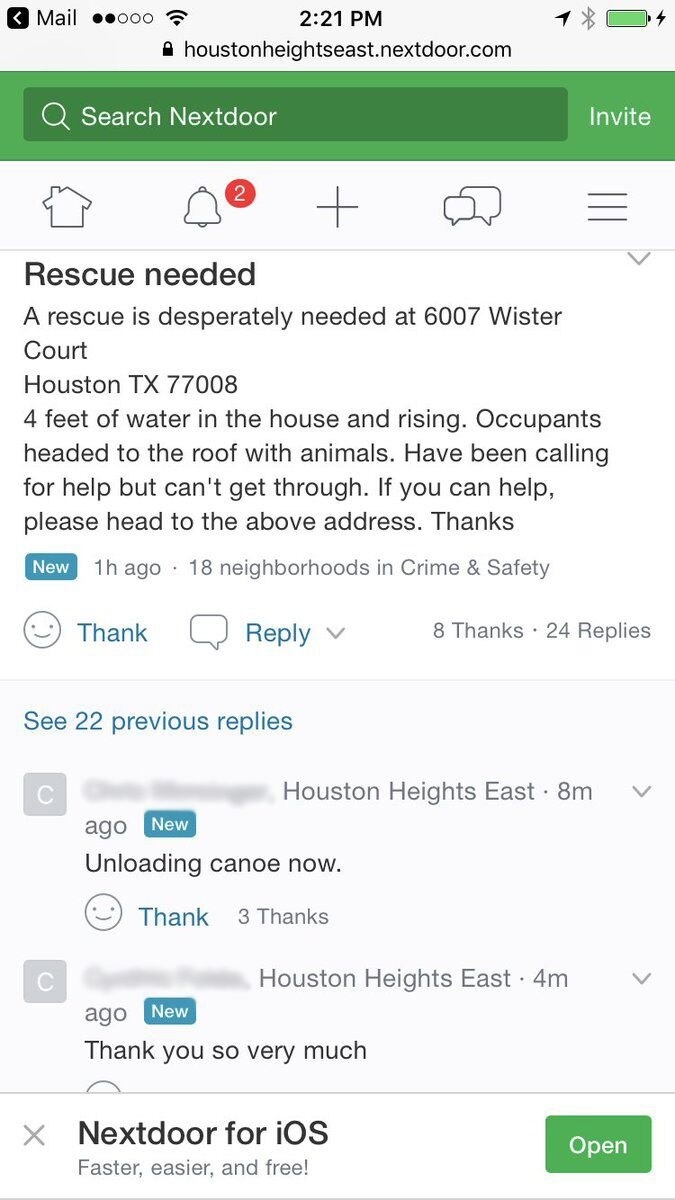 "That was one of several moments that made me tear up," Graham, who lives in Houston's Historic Heights neighborhood, told BuzzFeed News. "We live in a big city, so it's not super neighborly. When you're online and everyone's in need, everybody drops that big city mentality. It's a very Houston moment, everybody dropping everything to help each other."
Taylor Darnell, a resident of Houston's East Downtown district, told BuzzFeed News that her Nextdoor community has featured running updates on flooded streets, volunteer requests, and places to give donations. She's solicited donations inside Nextdoor herself, for a nonprofit she runs that's providing backpacks to students impacted by the storm. Darnell, an infrequent Nextdoor user before Harvey, said she regularly checks the app before other social platforms and the news. "Everyone that you're connecting with is in a radius where the same thing that's happening to you is most likely happening to them," she said. "It helps a lot."
Nextdoor has been proactive too. The company partnered with the National Weather Service months ago to distribute weather alerts. Before Harvey hit, the NWS used Nextdoor to notify Houston-area residents of the incoming storm, sending them information to prepare for it and take action when it arrived.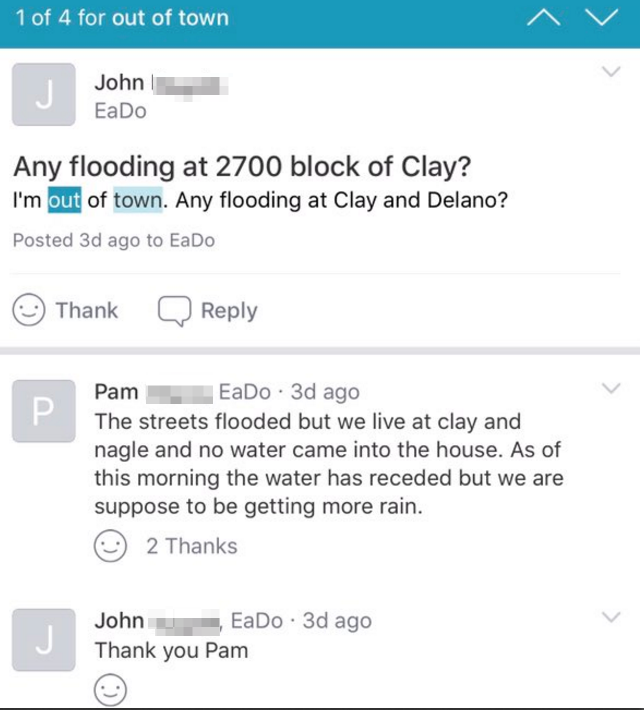 Member activity in the affected areas is five times greater than normal, Nextdoor told BuzzFeed News, and its membership in those areas is up 650%. Close to 100 local agencies are using Nextdoor to connect with residents in the affected areas, the company said.
Though Facebook is a major social platform of more than 2 billion members, its groups form individual mini social networks of their own, operating outside the usual broadcast-style method of sharing content on the platform. And these groups have been active too, used to coordinate everything from animal rescue to boat dispatch.
Though small social networks have proven indispensable to some, they also come with risks. The hype around their utility can cause people to view them as a savior, even though they don't employ the tried and true methods of a system like 911.
There is also a risk of vigilantism. In Zello's North Houston Rescue channel, for instance, the discussion Wednesday turned to looters after one member of the group suggested shooting them on sight. "Where are the looters located? We do have weapons on board," one group member volunteered. Eventually, a trickle of group members insisted looters be left alone. And the topic was dropped.
"Oh, it's used for bad, yes. Cartels, gangs, ISIS, and others. Like any communications tool, it's used for good and evil both," Zello's Moore said. "It's a net positive but it's not without risk. It doesn't replace law."
Lam Thuy Vo and Blake Montgomery contributed reporting to this story.