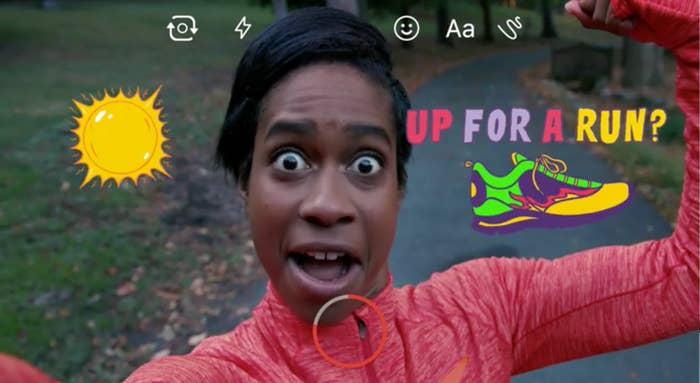 A week after Snap Inc.'s high-profile IPO, Facebook is going for the jugular.

The social giant on Thursday introduced yet another copy of Snapchat's Stories feature — this time to its wildly popular Facebook Messenger app and the 1 billion people who use it.
Called Messenger Day, the new feature — which allows users to post photo and video snippets of their day in updates that appear at the top of the app — rolls out globally to Android and iOS users starting today. It could further undermine Snap's growth prospects just as the nascently public company is getting its footing on the New York Stock Exchange. As BuzzFeed News reported last month, Snap has been falling behind Instagram in time spent per user on Android devices after leading it in the category prior to Instagram's introduction of Stories.
With the addition of Messenger Day, Facebook now offers three major products featuring obvious copies of Snapchat's Stories — Instagram (600 million users), WhatsApp (1.2 billion users), and now Messenger (1 billion users). Facebook is also currently testing a version of Stories in its 1.82-billion-user main app. Snapchat, by comparison, has 158 million daily users.
Though it did provide a feature-rich camera filled with fun lenses and stickers similar to the ones on which Snapchat built its success, Messenger previously did not offer a means of broadly sharing the photos and videos created with it. Now, thanks to some more shameless borrowing from Snap, it does. Facebook has been testing Day since last fall.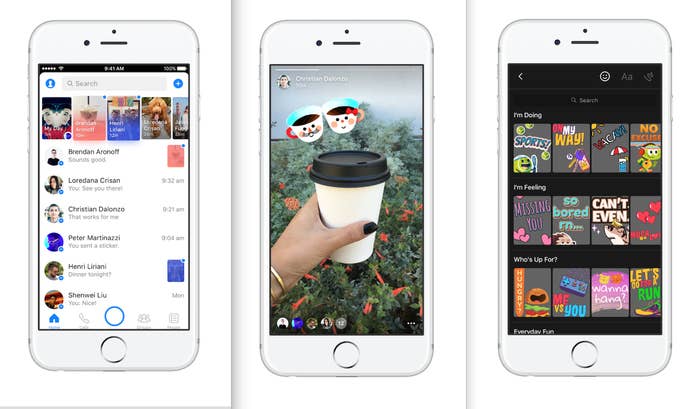 Snapchat's Snap Inc. parent company has been largely silent about Facebook's copying of its signature feature with the exception of an acknowledgement in its S-1 IPO filing that the company "may be directly competitive." Not so model Miranda Kerr, fiancé to Snap CEO Evan Spiegel. "How do they sleep at night?" Kerr said of Facebook in a February interview. "When you directly copy someone, that's not innovation."
Facebook seems largely unbothered by such accusations. Asked for comment on perceptions that it is aggressively cribbing from an emerging rival, a company spokesperson offered a statement that essentially shrugs them off.
"The way people share today is different than it was five or even two years ago, not only on our platform, but across any social media platform," they said. "The stories format is popular and we've seen it work in a variety of contexts. We're now making that available in a way that we think people who use Messenger will enjoy. Just as News Feed eventually became a standard industry format to display updates from multiple people or sources, stories-style formats that allow people to post a collection of snapshots of their day in an ephemeral way are now a prominent way that people want to share."
Though the "stories-style format" is indeed a prominent new method of sharing, it's prominent across a number platforms largely because Facebook brought it to so many of its own. And while the social giant was once quick to give credit to Snapchat for developing Stories, it's since abandoned that talking point. Pressed about Snapchat's influence during Facebook's rollout of the Snapchat-inspired "Status" on WhatsApp, for instance, a WhatsApp product manager would only say, "I don't think the format exists in just one app at this point."
It's worth noting that Facebook is launching Messenger Day with a strong nod to the social media influencers and creators that built up massive followings on Snapchat but have recently become disillusioned with the platform's lack of analytics and technical support, and how hard it is to find their content there. As part of its rollout plan for Day, Facebook is promoting a handful of popular influencers. The implicit pitch: There's a home for you on Messenger.
From a financial standpoint, the introduction of a Snapchat Stories clone to Messenger could be a boon to Facebook, which has yet to make meaningful revenue from Messenger. That said, the company has said it has no immediate plans to sell advertising inside Messenger Day, though the feature does seem a good candidate for generating both advertiser interest and inventory.