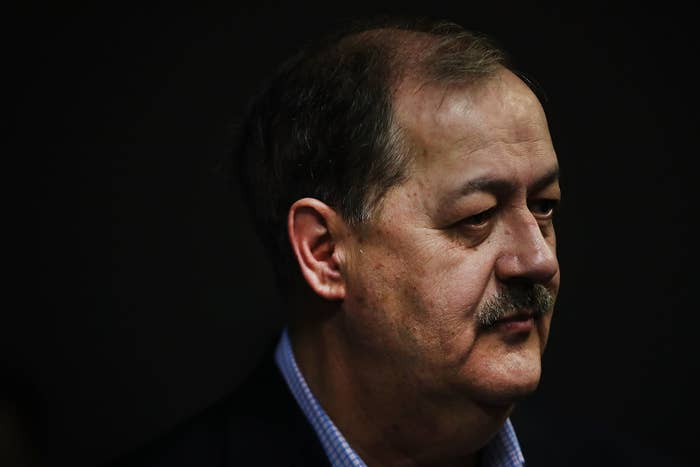 Republicans breathed a sigh of relief Tuesday, when West Virginia Attorney General Patrick Morrisey won the Republican Senate nomination to challenge Democratic Sen. Joe Manchin.
He bested Rep. Evan Jenkins and coal baron Don Blankenship. The race gave some Republicans heartburn in the final weeks, as Blankenship, an ex-convict who has made race-baiting remarks in his campaign ads, appeared to be surging in internal polling the final weekend.
Morrisey was elected attorney general in 2012, the first Republican to hold that position in West Virginia in over 80 years. From that post, he was party to a number of lawsuits against the Obama administration, leading a charge to stop an Environmental Protection Agency regulation on coal-fired power plants. He had the endorsement of a number of Trump allies, including former deputy campaign manager David Bossie and former administration official Sebastian Gorka. He touted himself as the true conservative in the race, boasting endorsements from Republican Sens. Ted Cruz and Rand Paul, and repeatedly pointing to the fact that Jenkins was once a Democrat.
But Morrisey is not without baggage: He made his first — unsuccessful — bid for office in New Jersey, before moving to West Virginia. He is also a former lobbyist, which can be a dirty word in politics. He did some lobbying for the pharmaceutical industry, a potentially potent attack in a state that has suffered from the opioid epidemic.
But that is normal political baggage; Blankenship's prison time is not.
Republicans watched in horror five months ago as a flawed nominee cost them what should have been a safe Senate seat in ruby red Alabama. Blankenship, some Republicans felt, would have been Roy Moore redux, squandering their chances to win the West Virginia Senate seat. Blankenship "can't win a General Election," President Donald Trump tweeted on Monday, in a last bid attempt to slow that momentum.
Blankenship served a year in prison after being found guilty of engaging in a conspiracy to violate mine safety regulations in the lead up to the 2010 Upper Big Branch mine disaster, which killed 29 people. He dubbed Senate Majority Leader Mitch McConnell "Cocaine Mitch," and said in an ad he was beholden to his "China family," a derisive reference to his wife, Transportation Secretary Elaine Chao, who is Taiwanese born.
Several Republican senators said they would not back him in November. Earlier in the day, McConnell declined to say if he or the Senate Republican campaign arm would back Blankenship if he won. "We'll wait and see who wins in West Virginia and have more to say about tomorrow," he said.
Luckily for them, they now won't have to contend with that future.
"We ran against the establishment, and the establishment is not going to give up their position very easily," Blankenship said in a concession speech Tuesday evening.
He predicted Morrisey would win in November. "The Republican establishment will beat the Democratic establishment," he said. "But that doesn't mean that we've made any meaningful improvement to the country."
Senate Leadership Fund, the super PAC affiliated with McConnell, pledged its support to Morrisey Tuesday evening, as it became clear he would be the nominee. And McConnell's campaign gloated over his would-be tormentor's loss on Twitter.
Blankenship, though, may not be entirely out of the race: Even as he loses the Republican nomination, he has suggested he may try to run third-party for the seat. But doing so looks legally tricky — West Virginia has a "sore loser" law that forbids candidates who lose after running for office under one party affiliation to change affiliations to a minor party or become an unaffiliated candidate in a general election.

Manchin is one of Republicans' top targets in 2018. He represents a state that went 68 percent for Trump in 2016, and where the president remains very popular, boasting a 61 percent approval rating. Manchin was a well-liked governor before he ran for Senate, and he remains well-known in the state, but Republicans believe he is beatable. Manchin is the lone remaining Democrat in the state's congressional delegation.
Morrisey previewed what will likely be a driving theme of his campaign against the incumbent in his Tuesday night victory speech. "When President Trump needed Joe Manchin's help on so many issues, Senator Manchin said no."