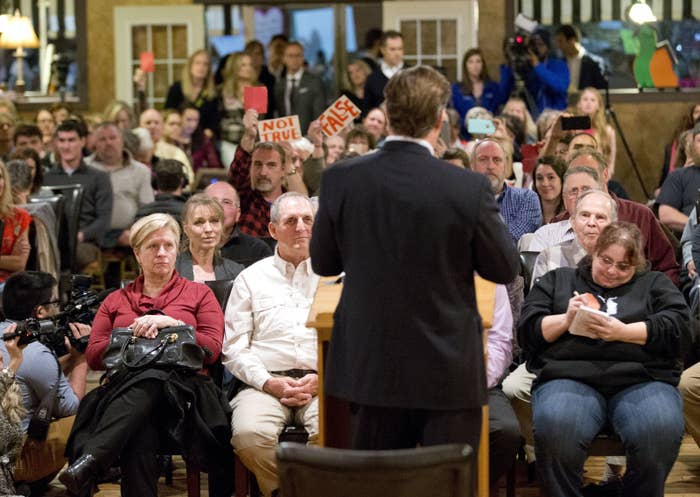 SHIPPENSBURG, Pa. — Rep. Lou Barletta sat on a stage in front of about hundred attendees in a half-filled gym, wearing a yellow and blue striped tie and white shirt, a pen clasped in his hands. He wrote a few things down. He took his thick black-rimmed glasses off, then put them back on. He leaned back in his chair. He stroked his chin.
The audience, several of whom had been part of a 40-person protest, chanting "Hey Lou, get a clue!" before the event started, sat quietly listening to Barletta and the rest of the eight person panel discussing the opioid and heroin addiction epidemic in the area. At times, several people raised signs in silent protest: "Obama Cared," "ACA Saves Lives." At no point did any of them utter a word in disagreement.
The relative lack of protest that greeted Barletta, one of President Trump's earliest and staunchest supporters stood in stark contrast to the raucous and often hostile crowds that greeted some of his colleagues at public events around the country this week.
The current political climate poses a quandary for Republicans, home in their district for the 10-day recess. Schedule no public events, and spend the recess being dogged by protests and stories about avoiding one's constituents. Schedule a town hall, and risk a gaffe in front of a raucous crowd and a growing number of cameras. Risk that anything you say will be used in attack ad in a few years, or don't show up and get attacked for that instead. Video of former Rep. Ann Kirkpatrick hastily leaving a 2009 town hall, for instance, appeared in her opponents' campaign ads in several elections.
Those members who have opted to do public town halls have largely been those who readily wade into combat. Take for instance South Carolina GOP Rep. Mark Sanford, who held a three hour and 38 minute series of town halls on Saturday morning and is a member of the Freedom Caucus, a group of conservative hardliners and libertarians both who find themselves regularly warring with their own party. Others, perhaps less sure in their footing, have steered clear, opting to take questions on telephone, Facebook, or radio town halls. Barletta's choice to focus on a single, serious issue affecting his constituency, perhaps dissuaded any kind of open demonstration.
"I believe they saw the seriousness of the topic that we were talking about today," Barletta told reporters afterward, applauding the protesters for remaining silent and not disrupting the event.
But those members that waded into the fray have worked to find ways to control the situation — with varying levels of success.
The first person to get in line for Virginia GOP Rep. Dave Brat's 7 p.m. town hall on Tuesday had arrived at the Herb Cottage restaurant in Blackstone, Virginia at noon, wearing a sweatshirt from the Women's March. A self-proclaimed grandma carried a sign with a catcher's mask in the middle, aping Brat's recent comment that there were women "all up in my grill" at another event.
"I was a supporter of upending Eric Cantor because he had been there way too long and was too cocky," Terri Dougherty told BuzzFeed News while waiting in line for the event to begin. "But the more I listened to what [Brat] said, the more I realized, I kind of miss Eric Cantor. I mean he was a weasel, but…"
When the event hit capacity at about 200 people that evening, the crowd left outside roared with each of Brat's remarks, evidently able to hear the speaker system through the window. Inside, his comments were met with boos and jeers from the approximately half of the crowd that was there to object to his stances.
"Some of you are as boisterous as Trump, but I loved every minute of it," Brat told the crowd.
In Metarie, a suburb of New Orleans, Republican Sen. Bill Cassidy was greeted with jeers and boos by a crowd of more than 200. They were unhappy with the Trump administration and the Republican controlled congress, and they were newly unhappy with Cassidy, who arrived nearly 30 minutes late because he was touring tornado damage in East New Orleans. A mother confronted him as he took the stage, demanding to know what he would do to help her sick daughter if Obamacare was repealed.
Cassidy had originally hoped to start the meeting with a power-point presentation about his legislation to replace Obamacare. But the crowd was having none of it, and he struggled to be heard over the increasingly angry shouts.
Frustrated that his repeated pleas for calm went unheeded, Cassidy began answering a series of questions submitted before the event, starting with a question about his position on Trump's travel ban.
Cassidy, who has opposed the travel ban in the past, seemingly started to win over the crowd when he explained that his work with doctors from Iran and other countries had led him to believe that even those who are not full citizens are essentially Americans. "For all practical purposes they are us," Cassidy said to applause from the crowd.
But when the pre-prepared questions moved into repeal of Obamacare, he once again quickly lost the crowd, so much so that at one point police escorted a man out who demanded to know whether Cassidy would vote for repeal without first having a replacement plan in place.
Cassidy, maintaining a smile despite the insults and anger, dropped the cards and agreed to take questions from the crowd.
The decision seemed to pay off. Although still clearly angry, the crowd became increasingly more cooperative, quieting down to not only allow constituents ask questions — but to listen to what Cassidy had to say in response.
In Virginia, Brat's staff handed out pink note cards on which people could write down their questions before the event. The mayor of Blackstone acted as emcee, reading off questions and attempting to quiet the crowd when Brat began to answer. But his pleas went unheeded, so Brat finally took a different tack: when people got too loud and started shouting over him, he said, he would simply stop answering that question and move onto the next one.
"We're gonna have discourse and we're gonna have it one at a time," Blackstone Mayor Billy Coleburn, acting as moderator and enforcer, told the crowd when they grow too rowdy.
"That's fine, that's fine," replied Brat. "Let's just get through a lot of questions."
Barletta took a different approach. Though it was a public event, it was not technically a town hall, and in the lead up to the event, Barletta's office aggressively pushed back on the idea that this forum, a panel with a moderator asking questions, would bear any resemblance to the raucous town halls some of Barletta's colleagues were hosting.
"Just to clarify, our office is not hosting a town hall meeting on Wednesday, February 22nd. Rather, Rep. Barletta is hosting a heroin and opioid forum that evening," Barletta's chief of staff Andrea Niethold said in an email earlier this week.
"Press usually gathers after the opioid forum events, usually to ask questions pertaining to the opioid crisis," she added in a subsequent email.
"If they want to shout outside that's fine. It's America. It's great. They can do that. As long as they didn't disrupt the event, that's all I was worried about," Barletta said of the protesters who showed up.
Indeed, Betsy Riep, who stood outside protesting, attended the forum. "I'd like to hear what's said," she told BuzzFeed News before the event started. "I'm interested in solutions. And you know, this is a really big thing."
Cassidy had a similar experience. His town hall Tuesday in Livingston Parish was a largely calm affair, focused largely on the ongoing efforts to help rebuild the region after last year's floods. In fact, protest groups told the Advocate newspaper following the meeting they'd decided to not target the Livingston town hall so that residents could discuss the recovery efforts. By the time he made it to his town hall in Metarie, the cease fire had ended.
And Brat learned a similar lesson midway through his town hall, when the former economic professor began to talk in earnest detail about interest rates.
It was the only time the crowd fell entirely silent.