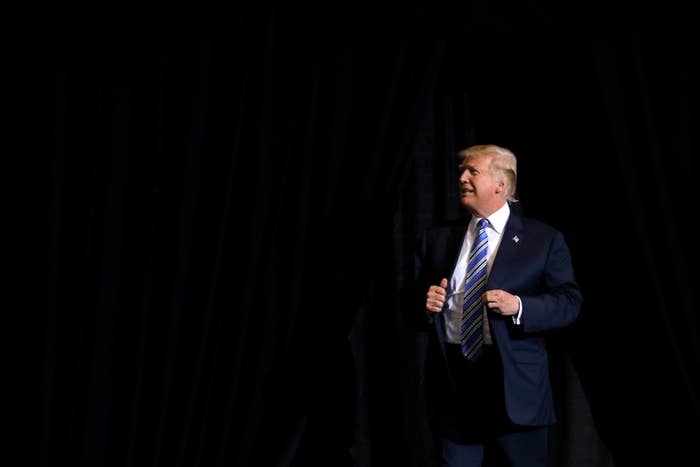 President Trump promised at Camp David this weekend that he would be "very involved" in helping Republicans in this year's elections.
In some places, helping might mean staying far away.
Republicans have a tentative plan for how best to use a president whose national approval ratings have fallen to historic lows and who has so invigorated Democratic opposition that many Republicans are preparing for a wave. As Republicans work to keep majorities in the House and Senate in a midterm year — historically a difficult year for the party in power — some Republicans facing tough challenges would prefer Trump stay home, even as Republicans have had little success dictating what Trump should do in the past.
"Each district is different, and probably in mine it probably wouldn't be helpful," Colorado Republican Rep. Mike Coffman, who represents a swing district that is a perennial Democratic target, told BuzzFeed News.
That position, though, is rarely said openly, with some Republicans careful to avoid publicly belittling a president who closely tracks slights. Coffman, just moments after making those comments, flagged BuzzFeed News down again to clarify. "Right now I don't think it would be helpful. I don't know what the future's gonna be, I mean, who knows what it's gonna be, six months from now whether it would be helpful or not," he said. "Certainly today it would not be. I mean, right now it would not be helpful."
Democrats need to win a net 24 seats in November to take control of the House, a big haul but far fewer than the net 63 seats Republicans won in the first midterm election under President Obama in 2010. Democrats' path runs through districts like Coffman's: Districts represented in the House by Republicans, but which Hillary Clinton won in 2016. In those districts, Republicans face a particular challenge: making sure that voters who have long cast ballots for Republicans continue to do so, even if they were turned off by Trump.
"If I was a Republican in one of the 23 districts that Hillary Clinton won, I'd be demanding to see Donald Trump's passport before he entered my district," said Steve Israel, a former Democratic congressman who chaired the House Democratic campaign arm during the 2012 and 2014 elections.
"In the Hillary districts, stay far, far away."
A Republican strategist who works with House campaigns agreed: "In the Hillary districts, stay far, far away."
That fact is not lost on the White House or Republican leadership. Majority Leader Kevin McCarthy told the House GOP conference Tuesday morning that he presented a "wish list" to Trump and other Republican leaders this past weekend at Camp David about "different levels of help and involvement" that he'd like to see from the president this campaign season, South Carolina Rep. Mark Sanford recounted to BuzzFeed News. McCarthy told his colleagues that Trump "was open and willing to do the full buffet of whatever it was that he was asking," Sanford said.
"I think, overall, the general premise is that Trump has agreed to go in and work on behalf of some of the House members who either may be in tough seats or open seats," North Carolina Rep. Mark Walker said.
The White House is still trying to figure out what, exactly, that will look like, an official told BuzzFeed News.
The White House has been keeping a close eye on the president's approval ratings in the House districts he won in 2016 as it sorts through Trump's political role this year. Although Trump's national approval ratings are low, his approval ratings vary widely from district to district and state to state. In some, he remains popular. For instance, in Pennsylvania's 18th district, which will host an increasingly competitive special election in March, Trump's popularity has led Republicans to believe he could be an asset.
One idea being discussed among Trump aides, sources in the White House and close to the administration say, is using Trump for "micro-targeting" voters through robocalls and mailers across the country. That way, he can reach voters who support him, especially in primaries, but avoid directly antagonizing voters who might be inclined to vote for a Republican House or Senate candidate, but would be turned off by the president's support for that person.
Trump rallies, which can radically diverge from their announced purpose, are another question. At times, the president might do campaign-style events to sell policy like the new tax law in a House district, rather than explicitly campaigning for the Republican member in that district.
"He's his own best defender and messenger," said a Trump aide.
Ohio Rep. Steve Stivers, who chairs the House Republican campaign arm, pointed out that the Georgia special election last year was perceived as competitive because it was in a district Trump had only won by one point in 2016, but that Republican Karen Handel won the special election by four points, in part with help from Trump. "We used him as part of that, so it's all part of a very complicated puzzle, and we'll run solid races and we're gonna hold the majority," he told BuzzFeed News.
Stivers declined to give specifics on where he would like to see the president campaigning for the Republican majority he is charged with protecting.
"I try not to publicly air my wish list," he told BuzzFeed News on the steps of the Capitol. "I send it straight to Santa."
That same type of strategy applies to the Democratic side in determining how, and where, to weaponize Trump. He will cast a huge shadow over every race in the country. But beyond that, each House district is likely to handle Trump in its own way. "It's rarely a net positive for Republicans, but I can't give you a one size fits all answer," said Meredith Kelly, communications director for the House Democratic campaign arm.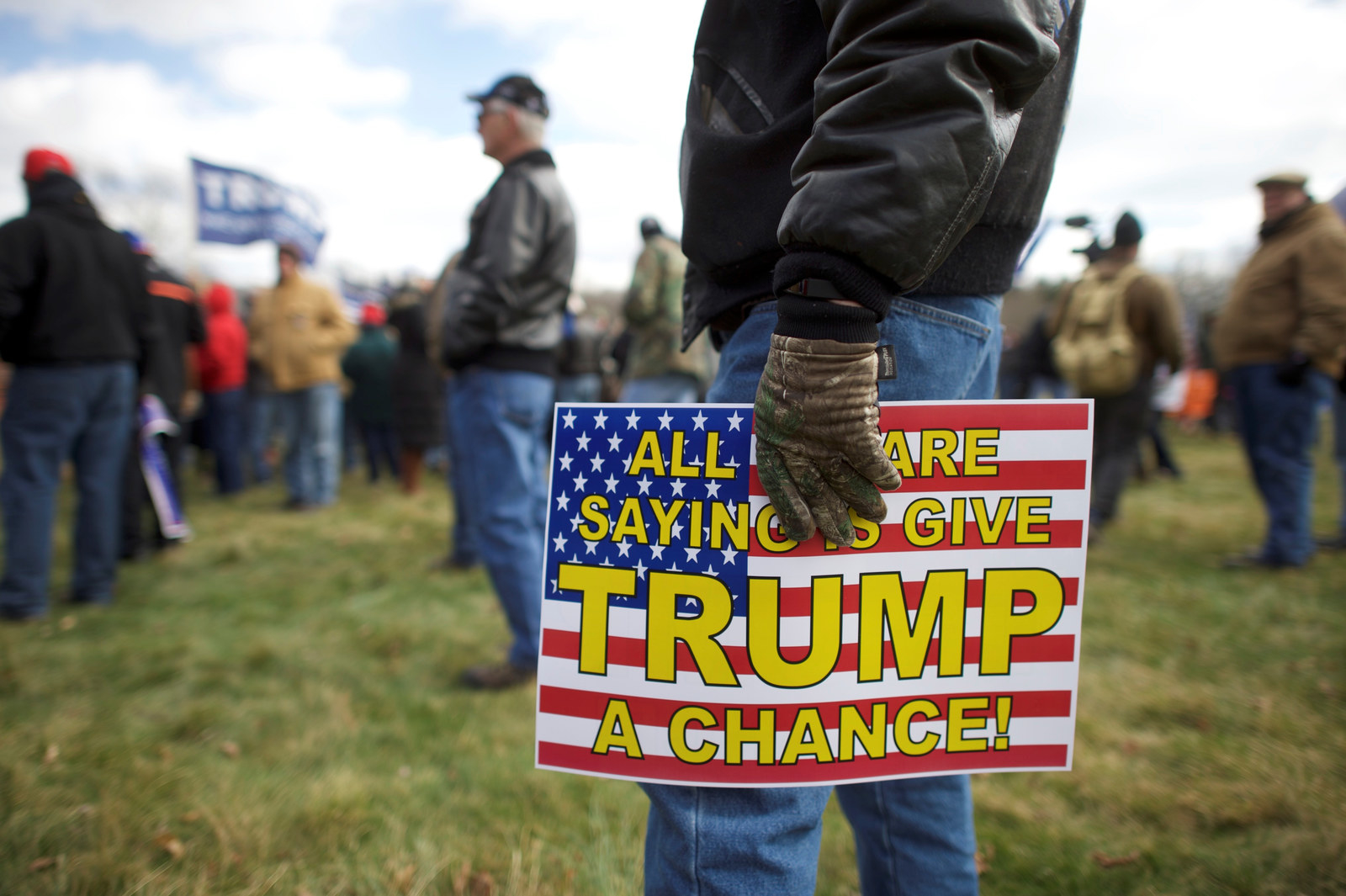 Senate races are a different story. The map this year is hugely favorable to Republicans, even as they are faced with protecting a slim 51–49 majority. As it stands now, they are defending just one Republican incumbent in a competitive seat — Nevada Sen. Dean Heller — and open seats in Arizona and Tennessee. But they are on offense against Democratic incumbents across the map in states where Trump won big, like West Virginia, Missouri, North Dakota, and Indiana.

Michigan Republican Party Chairman Ron Weiser told BuzzFeed News that he has spoken to Trump about campaigning for candidates in the state this year, and that Trump is on board. He believes the president can be helpful in several targeted House districts and in a Senate race where the party faces tough odds against Democratic incumbent Debbie Stabenow.
"We'd be happy to have him anywhere in Michigan," Weiser said. "He won a state that hadn't been won [by a Republican presidential candidate] in 30 years, and we have a Senate seat we haven't won in 18 years."
Democrats are skeptical. "No matter where you go, voters of all parties will choose a senator that will stand up to the president when he's wrong over a rubber stamp," said Democratic Senatorial Campaign Committee senior adviser Ben Ray.
But Republicans still have one big thing working for them in the Senate: Their best pickup opportunities are in states where Trump romped.
"Democrats can point to one seat that he won't be favorable in, and I can point to ten that he will be favorable in," said one national Republican involved in Senate races.
"Democrats can point to one seat that he won't be favorable in, and I can point to ten that he will be favorable in."
That one seat is Nevada, where Heller faces a tricky balance: he has to beat back a primary challenge from Danny Tarkanian, who is attacking Heller as insufficiently supportive of Trump and his agenda, and then beat Democratic Rep. Jacky Rosen in a state Clinton won in 2016.
There's no question, said Republican media consultant Nick Everhart, that Trump's involvement could help in a tough primary. But "the question then becomes, does that create some liability in the general election?"
"If you're Dean Heller, you don't want the president to endorse Danny Tarkanian, but the question is, do you want the president's endorsement, because then you are carrying it into the general election," said Everhart. "This White House — or, rather, this president — has to start considering the idea of playing by some of the same rules other unpopular presidents have played in the midterm: Don't engage and don't endorse."
The same is true in gubernatorial races. Trump already has waded into several closely watched gubernatorial contests. He has raised money for South Carolina Gov. Henry McMaster, and has tweeted support for gubernatorial campaigns from Michigan Attorney General Bill Schuette and Rep. Ron DeSantis in Florida. All three are facing competitive primaries, and all have been pleased to tout the president's backing in states he won in 2016. But if they win those primaries, Democrats will be eager to exploit that connection to Trump in a general election.
Of course, some Republicans argued, Republican candidates will be tied to Trump no matter what.
Tim Phillips, president of Americans For Prosperity — the Koch-backed conservative group that spent millions in 2010 and 2014 tying President Obama's unpopularity to congressional candidates — said he expected Democrats to associate vulnerable candidates with the president regardless of whether the president was actively helping their campaign.
In some cases, that could be effective. But in some Senate races, Phillips argued, it could have the opposite impact.
"He didn't just win," Phillips said. "He won handily so one would think that he would be helpful in states like Indiana and Missouri." Per a Morning Consult poll from late September, Trump's approval ratings remain above 49% in several states with competitive Senate races: Missouri, Indiana, North Dakota, and West Virginia.
The president can also offer vulnerable or competitive Republicans help without touching down in Air Force One. Some Republicans said Trump could give a boost by more widely promoting the tax law and by raising money for the Republican National Committee and groups spending on congressional races.
There's another option for Republicans who might be hesitant to go full Trump, but still feel like they could use some national power behind their campaigns: Vice President Mike Pence, whose presence brings some of the benefits of White House support, without some of the backlash unique to Trump. Pence is set to campaign for Heller this month, as well as Rick Saccone, the Republican running in the Pennsylvania special House election.
Coffman, in a district where Clinton won by nine points, also sees that as a solution. "I'm very close to the vice president, so having the vice president come to Colorado would certainly be helpful to me in my district," he told BuzzFeed News.
And there will be middle grounds for Trump's personal involvement as well.
Scott Jennings, who worked on the White House's political staff under President George W. Bush during the 2006 cycle when Bush was unpopular, said Trump can play a role in a tough election year in protecting GOP majorities if he's used carefully.
"A big rally won't be helpful everywhere, and they need to calibrate his expectations on how his time can be best spent," Jennings said. "You have to accept that some people won't want to touch you with a 10-foot pole, some people will want your help but as privately as possible, and some will want you to do anything and everything. The trick is accepting the advice your team puts in front of you and not letting it affect your attitude or emotional state. It's hard to hear that some people don't want you, but that might be what is best for that particular campaign."
There's an old politician joke, Jennings said, that the White House might do well to keep in mind: "I'll be for you or against you — whichever helps you the most."