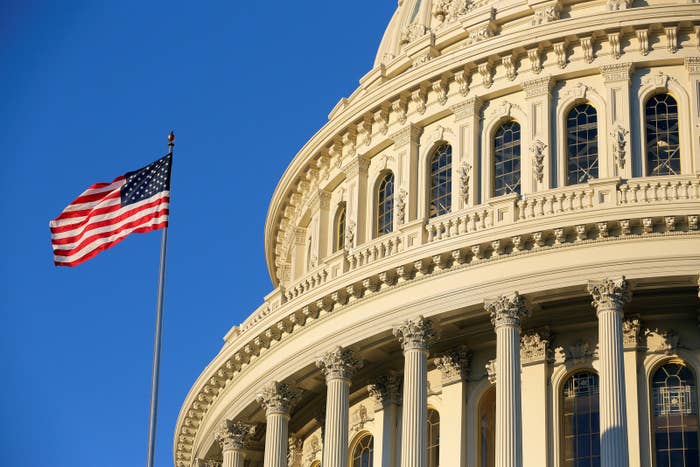 WASHINGTON — The Republican effort to repeal Obamacare is officially under way, after the House passed a budget resolution Friday that will allow Republicans to vote to undo the healthcare law.

Despite some hesitation from House Republicans earlier this week, the party banded together for the Friday vote, passing the budget resolution, 227 to 198, with not a single Democrat voting in favor. The vote comes after the Senate passed the procedural legislation earlier this week.
Various members of the Republican conference in both chambers had voiced concerns about moving forward with repeal without any concrete plan or deadline for replacing the healthcare law. But ultimately just nine House Republicans defected, a result that Majority Whip Steve Scalise deemed "better than expected."
"I don't think you want to be a Republican, go home, and say, 'I voted against the first step in repealing Obamacare because I wasn't sure what the last step would be.' I think that's a pretty weak position, and I think most of our members know that," Oklahoma Rep. Tom Cole told reporters before the vote.
What's more, President-elect Donald Trump made his support for the budget resolution clear in a Thursday, tweeting: "Congrats to the Senate for taking the first step to #RepealObamacare – now it's onto the House!"
The nine dissenters were Reps. Justin Amash, Charlie Dent, Brian Fitzpatrick, Walter Jones, John Katko, Raul Labrador, Tom MacArthur, Tom Massie, and Tom McClintock. The group is an odd mix of more moderate Republicans and more hardline conservative or libertarians. Among Senate Republicans, only Kentucky Sen. Rand Paul voted against the measure.
"I wanted to know what both repeal and replacement looked like before we started the process," MacArthur, a member of the Tuesday Group, a more moderate informal caucus of House Republicans, told reporters after the vote. MacArthur added that he felt there had not been enough clarity on what the substance of the replacement bill would look like.
Massie, a staunch libertarian who often votes with the conservative Freedom Caucus, though he is not a member, said his concern was about the cost. "I didn't like the vehicle. It was all the debt it would add to our national debt," he told reporters.
Dent, another Tuesday Group member, said moving so early to do repeal, with neither a set timeline nor a specific plan for replacement, left too many unknowns. "I thought it was premature to launch today," he told reporters.
A real concern, Dent said, was that having done repeal, Republicans would be unable to pass the replacement plan. Facing fierce Democratic opposition to the repeal effort, Republicans are using a procedural method called reconciliation, which will allow them to repeal Obamacare with a simple majority in the Senate, instead of the 60 votes that would normally be needed.
But Republicans cannot pass the replacement bill the same way, and will need to get 60 votes in the Senate to make that happen. "The question remains, who are the eight Democrats in the Senate who will help us to replace this?" Dent said. "That's a concern, they would repeal and not replace," he added.
What would happen in that case, Dent said, is "the question we all want to get answered."
"Before we take this plane in the air, I want to be sure where we're gonna land it. And right now I don't know where we're gonna land it," he said.
Paul McLeod contributed to this story.