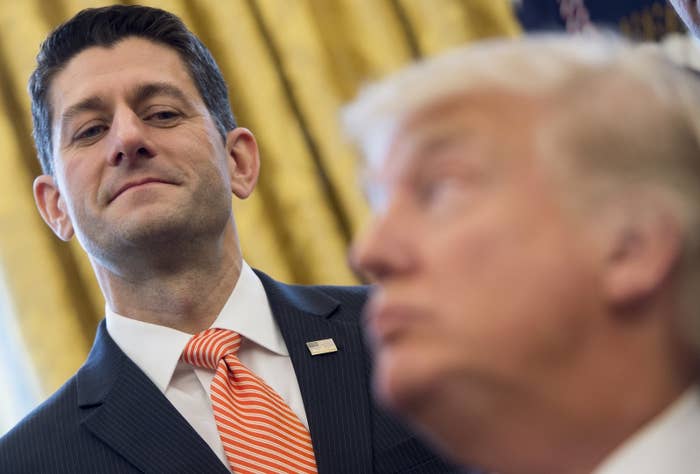 Donald Trump's decision to end protections for DREAMers means their fate is now with House Speaker Paul Ryan — who supports their cause, but may not be able to bring Republicans along.
The last three months have been a near-constant struggle for House Republicans and for Ryan. They've floundered on Obamacare repeal and fought to thread the political needle between a temperamental White House and the volatile environment it has spawned, and face a series of vital deadlines over the coming weeks.
Trump sent out an early morning tweet on Tuesday: "Congress, get ready to do your job - DACA!" But he left the details to others: deputizing Attorney General Jeff Sessions to actually make the announcement, and giving Congress the responsibility of figuring out a solution before nearly 800,000 DREAMers face deportation once the program expires in six months. Congress has struggled mightily in the past to pass any kind of immigration-related legislation, and the six-months-from-now deadline will fall in 2018, as many House members are fighting to win reelection.
For the legislative branch, adding another emotionally charged and highly contentious issue to the docket will likely prove difficult. And it's a particularly hard position for Ryan, who said recently that while he felt Obama acted unconstitutionally, DREAMers were "kids who know no other country, who were brought here by their parents and don't know another home. And so I really do believe there that there needs to be a legislative solution."
Ryan will almost certainly need Democratic votes to pass any kind of DREAMer legislation, and given that he has already expressed a desire to pass such legislation, Democrats appear unlikely to be willing to trade much for it. Democratic Rep. Luis Gutiérrez, who first introduced legislation to protect DREAMers in 2001, told BuzzFeed News it was time for Ryan to "put up or shut up" on helping DACA recipients.
"Speaker Ryan has to do more than talk, and actually stand up for his principles now," Gutiérrez told BuzzFeed News in an interview. "If you aren't ready to spend political capital on something you say you care about, then you don't really have principles."
Ryan, when he ran for speaker in 2015, also promised his conference to only bring immigration legislation to the floor if it could pass with a majority of Republican votes. But Ryan could struggle to get some members of his own conference on board if he cannot tell them that Republicans got something in return for passing policy that is such a high priority for Democrats.
"I don't think the speaker or the leadership or anybody else can lay out a solution and not at least be willing to tell Republicans, 'this is what you got in exchange for it,'" said Oklahoma GOP Rep. Tom Cole. "I think that'll make an enormous difference to the votes, I think that'll make an enormous difference to what the president will sign."
In a statement following the announcement, Ryan indicated that efforts to protect DREAMers would likely be a part of a larger package that dealt with other immigration issues that Republicans would like to see legislated.
"At the heart of this issue are young people who came to this country through no fault of their own, and for many of them it's the only country they know. Their status is one of many immigration issues, such as border security and interior enforcement, which Congress has failed to adequately address over the years. It is my hope that the House and Senate, with the president's leadership, will be able to find consensus on a permanent legislative solution that includes ensuring that those who have done nothing wrong can still contribute as a valued part of this great country," Ryan said, applauding Trump for rolling back what Republicans saw as executive overreach by the Obama administration in imposing DACA.
But what that "consensus on a permanent legislative solution" will look like is subject to debate.
"Why would Trump just allow this thing to continue instead of getting something for it, like funding for the wall or something like that? This is a deal that has been trying to be made for a long time, and this gives them an opportunity to do it," said former Virginia GOP congressman Tom Davis.
"Maybe DACA for border security or the wall," mused Cole. "I actually think that's something to look at pretty hard."
"If I were a Democrat and I could get some sort of satisfactory solution to DACA in exchange for that, I would think that's a pretty fair deal," Cole added.
It's not clear Democrats would feel that way. Earlier this year, several members of the Congressional Hispanic Caucus urged Democratic leadership to take a hardline stance on any kind of funding for the wall — Rep. Ruben Gallego even told BuzzFeed News that he would favor a government shutdown over the issue.
Gutiérrez told BuzzFeed News that on a recent conference call with House Democrats, he said protections for DREAMers needed to be addressed in the coming budget negotiations.
"We do well on standing on principals, this can be resolved," he said he told the caucus. "Ryan says he's ready to do something, so we cannot simply talk about defending DREAMers and not making an essential part of our talks."
Gutiérrez has long considered Ryan an ally: Following the Republican loss in 2012, where Ryan was the vice presidential nominee, Ryan traveled to an immigration event in Chicago with Gutiérrez. Ryan had been supportive of immigration reform and had told Gutiérrez during the 2012 campaign he planned to work on the issue if Republicans won the White House. In 2005, Ryan cosponsored an immigration overhaul in House, along with now-senator Jeff Flake and Gutiérrez.
The two haven't spoken recently, but Gutiérrez said the Congressional Hispanic Caucus was hoping to meet with Ryan and Pelosi to address DACA in short order.
But some Republicans fear it will be the internal GOP politics that prove untenable on an issue this emotionally charged.
For instance, Iowa Rep. Steve King, a hardliner on immigration issues, quickly indicated that he had no intention of voting for any legislation to deal with DREAMers' uncertain situation. "Ending DACA now gives chance 2 restore Rule of Law. Delaying so R Leadership can push Amnesty is Republican suicide," he tweeted Monday.
And in an election year, members with less vehement positions on the subject will be put in a tough spot.
It "sets House membership up for another confrontation between their hardline GOP base and their more moderate swing voters that are supportive of DACA," said one House GOP aide. "It's a fight we don't want right now and we don't need right now."
The aide predicted that with so many other things on the House's plate, getting something done on this subject was "increasingly unlikely."
The new DREAMers assignment also comes at a moment when members are still reeling from the summer's health care debacle, which put many House Republicans on the record in favor of an unpopular bill that many members viewed as imperfect, only to see it die in the Senate. There was some speculation that House Republicans might try to push for any kind of immigration legislation to start in the Senate to avoid a repeat of that situation.
And Trump's announcement Tuesday gave little help to congressional Republicans as far as leveraging their own conference. As with the health care bill, the Tuesday announcement on DACA provided little indication of what type of solution the White House would like to see come out of the Congress. Trump's hands-off approach was a problem for congressional leaders during health care negotiations, as it left them without the aid of the presidential bully pulpit when attempting to get members on board.
"At the end of the day, we do need to get some signal out of the White House, what's an acceptable thing for you," said Cole on Monday. "I don't think you just pitch it back to the Congress and say, 'good luck.'"