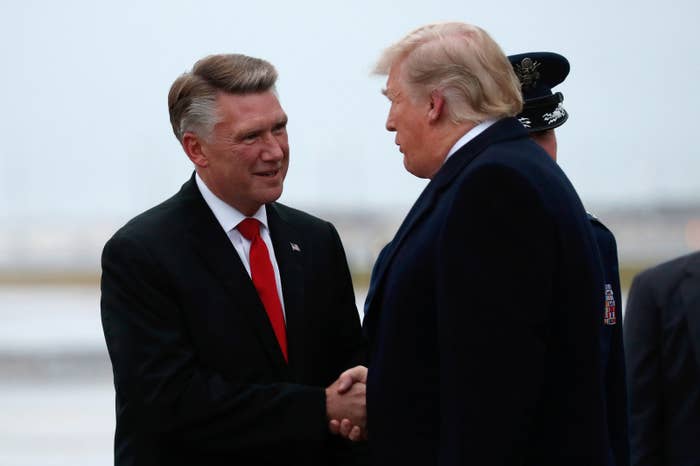 National Republicans are keeping their powder dry as an investigation into potential absentee ballot fraud in North Carolina throws into question a House seat that appeared to have been safely in Republican hands.
Last week, the North Carolina Board of Elections declined to certify Republican Mark Harris's victory in the 9th Congressional District, citing claims of systemic ballot fraud. The Associated Press, which had called the race for Harris, subsequently retracted that call. Harris currently leads Democrat Dan McCready by 905 votes. The details that have emerged since paint a picture of an absentee ballot operation in Bladen County that is, at the very least, sketchy, conducted by a man who worked as a subcontractor for Harris's campaign.
If the investigation turns up concrete evidence of fraud, the board could opt not to certify the election and instead call for a rematch between Harris and McCready. Alternatively, Democratic leadership could refuse to seat Harris in January — Steny Hoyer, who will be House majority leader in January when Democrats officially take the majority, suggested as much on Tuesday.
The National Republican Congressional Committee did not respond to multiple requests for comment Tuesday. The Congressional Leadership Fund, the super PAC affiliated with House Republican leadership, is not currently involved. The Republican National Committee did not respond to requests for comment Tuesday. A spokesperson for outgoing Speaker Paul Ryan's political operation declined to comment.
President Donald Trump, who has accused multiple elections of being tainted by fraud, has also so far stayed publicly quiet, not tweeting or speaking to press about the investigation. Most recently, Trump claimed on Twitter without evidence that there was election fraud holding back Republicans in Florida, as the state worked to count ballots in its Senate and gubernatorial races. Republicans ultimately won both those races.
In sworn affidavits, voters in one county in the North Carolina district alleged a woman collected their absentee ballots, some of which were incomplete. Dozens of absentee ballots reviewed by BuzzFeed News also featured the same signed witnesses, raising suspicion of a broader ballot operation.
National Republican operatives, largely, have said they're watching and waiting to see how this situation unfolds further.
"People are still trying to determine what exactly happened, and that's what we don't have clear," said Republican strategist Doug Heye, a veteran of several North Carolina campaigns. "I think you have some folks who, correctly, don't want to extend themselves and say that there's not a problem here when it may turn out that there's something very real there, and that's very understandable."
The Democratic Congressional Campaign Committee, the NRCC's Democratic counterpart, has lawyers and campaign staff on the ground in the 9th Congressional District, per a source familiar with its efforts.