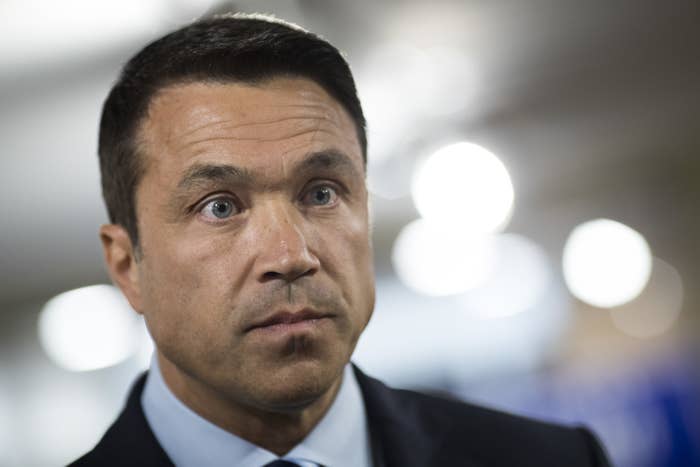 Rep. Dan Donovan won his primary Tuesday night, with a little bit of help from Donald Trump.
Donovan beat back a challenge from Michael Grimm, the former representative of this Staten Island and Brooklyn district that is Republicans' last remaining outpost in New York City.
Grimm conceded the race just a half-hour after polls closed. "When we make plans, God laughs at us. When one door closes, another door opens," he said, later adding, "Don't worry. This is just the beginning for Michael Grimm."
Grimm resigned the seat in 2014, shortly after pleading guilty to tax evasion. He subsequently spent seven months in prison. Donovan first won a special election after Grimm stepped down.
Despite Grimm's baggage, he gave Donovan a run for his money in a primary marked by nasty jibes and frequent use of the word "liar." Grimm was in office in 2012 when Hurricane Sandy devastated parts of the district, and his regular presence in those areas helping with the recovery, along with his personal style of constituent services, earned him plaudits from some in the community. He aligned himself with Trump, hitting the campaign trail with Trump associate Anthony Scaramucci, and handing out campaign signs with "Trump 2020" on one side and "Grimm 2018" on the other.
But less than two weeks after that rally with Scaramucci, Donovan secured the real deal: a tweeted endorsement from Trump.
That stamp of approval was amplified in ads from Donovan's campaign and from outside groups like the US Chamber of Commerce. America First Action, a Trump-blessed super PAC, spent on mail and phone calls to boost Donovan. Ten days out, Donovan held a campaign rally with Trump confidant and former mayor Rudy Giuliani, who remains popular on Staten Island. On Monday, the campaign began running a robo-call recorded by Donald Trump Jr.
It proved effective.
The Trump endorsement, Grimm said after conceding Tuesday night, was "definitely" the determining factor. "Looking back now, I think so. And I think that when we were doing our calls and knocking on doors, I don't think people wanted to tell us that the president's endorsement swayed them."

Trump won the district by 10 points in 2016, and he remains very popular in the borough among Republicans.
"If he recommends him, there's gotta be a reason," Jerry, who cast a vote for Donovan Tuesday afternoon at a Staten Island polling place, told BuzzFeed News.

"He's more for Trump as far as I know," said Pat, another Staten Island voter who picked Donovan. But she said it was Grimm's conviction that "made the big difference" for her.
"I love Michael Grimm. I think he's a great person," Abe Lederman told BuzzFeed News at a polling place. But, he said, Trump's argument that Grimm, like Roy Moore in Alabama, wouldn't be able to win a general election had really been "weighing on my mind."
"That's why I went for what Trump said" and voted for Donovan, Lederman said. Unfortunately, Lederman conceded, his vote might not count — he was a registered Democrat until Tuesday morning, when he switched his party affiliation to Republican, barring him from voting in the Republican primary under state law. He wrote Donovan in on his Democratic primary ballot.
The results are also a victory for the National Republican Congressional Committee, which made Donovan part of its Primary Patriot program for members whose competitive election is the primary more than the general.
Donovan will face Democrat Max Rose in November. To be sure, Grimm, as a felon, would have presented an easier target. Still, Democrats are high on Rose's candidacy and have expressed optimism about his chances.