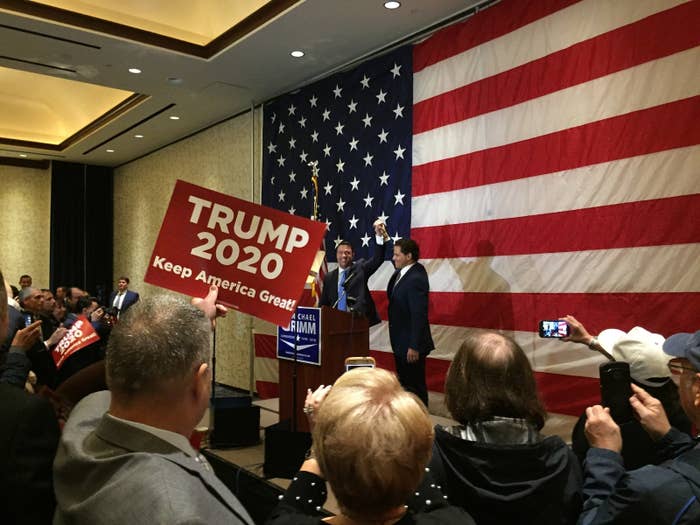 "I'm overblown here," former Congressman Michael Grimm declared, surveying the scene. It was just after noon on Saturday, and a long narrow ballroom at the Hilton Garden Inn Staten Island was packed.
There were men in American flag ties, women in evening dresses and high heels, a few sweat suits, and at least one Make America Great Again hat. There were mini cannoli and chocolate dipped cookies and pastries in the color of the Italian flag. There were two TelePrompTers, of which Grimm expressed skepticism. And to his right: Anthony Scaramucci, there to put the imprimatur of an 11-day White House employee on the former congressman's campaign to reclaim his old seat.
"You know, sometimes you just have to step back and say you're blessed. I'm so blessed to have such truly loyal and dedicated supporters. You know, without you I don't get to do this," Grimm told the crowd.
Grimm resigned in 2015 in the face of an FBI investigation. He ultimately spent seven months in prison, after pleading guilty to one count of tax evasion related to how his restaurant, Healthalicious, paid workers and handled its revenue. But in this room, it is still his seat. These are his people.
"If we get Mike Grimm, you know, we got somebody in Staten Island to help us," said Francesco Montemarano, an attendee. "Because pretty much nobody else does. Unfortunately, Staten Island is like—"

Malinda Montemarano, standing with him, finished the sentence for him: "The forgotten borough."
As much as anything, the Republican primary campaign for this district is a question of style. Rep. Dan Donovan, the Republican who won the seat when Grimm resigned, "seems like he's a good guy"; a "nice guy"; someone many of Saturday's guests said they supported when Grimm wasn't on the ballot.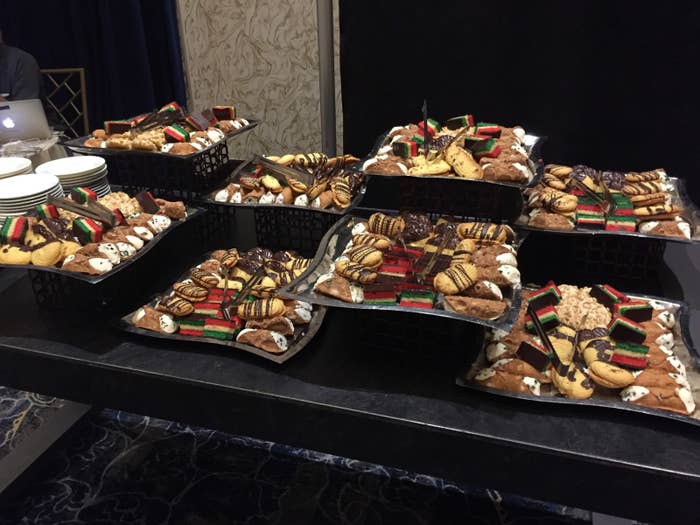 But "when Michael does something, he does it with a splash," said Anne, a volunteer for Grimm's campaign, who declined to give her last name. When he did something for the district, she explained, everybody knew about it; no one, she said, had heard all that much from Donovan.
Said Joe Granello, a Staten Island resident: "I think he's marching in place."
Grimm's colorful history, as a convicted felon who once threatened to throw a reporter off a balcony, is of no concern.
"I'm kind of tired of hearing them calling him a convicted felon over and over and over again," said Lisa Mazzu, a Staten Island resident. "The man, the guy did what every other restaurant owner does."
The fact that he's "passionate," says Anne, is something she likes about him, even if, she acknowledges, "His passion has gotten him in trouble."
Many have stories about how Grimm helped them personally.
"He's loyal to his people," said Mazzu. "Anytime I make a phone call, he's there. Within an hour I get a response back. And I didn't see that before. So I'm happy to have somebody who really does have our back," she said, quoting Grimm's campaign slogan. "Literally."
When Sean Curry's son was in the hospital, he said, "Michael, he helped me out because they were being very nasty to me. So I guess he knew somebody there. But that's it. He helped me out, I'm supporting him."
"He did more for Staten Island than most people," said Anne, the campaign volunteer, adding, "He represents us."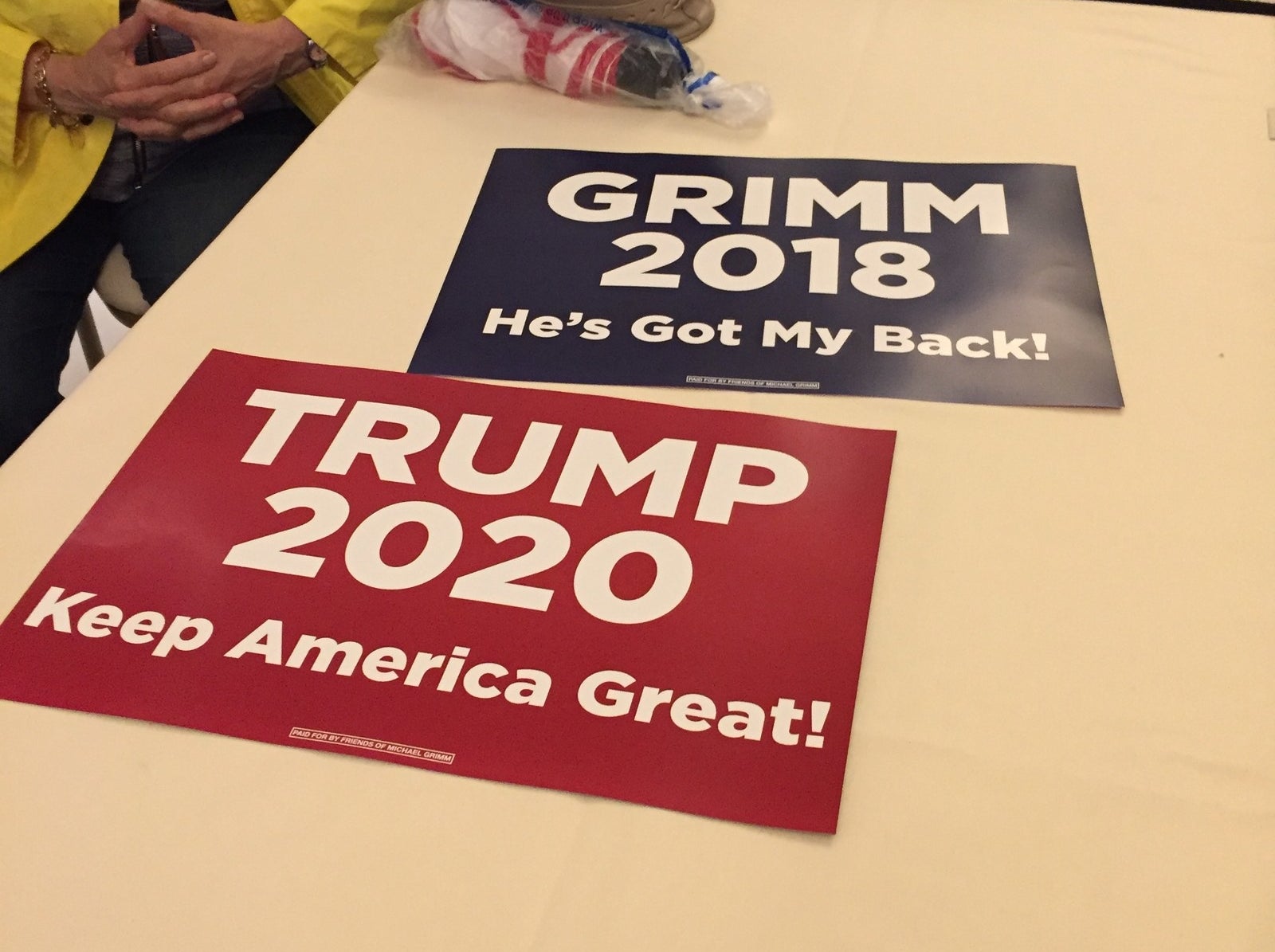 Grimm, too, uses that emphasis. The enemies are many: his opponent, whom he never names; New York City Mayor Bill de Blasio; former Attorney General Loretta Lynch; former President Barack Obama; the Washington elites.
But "we can ensure that our quality of life, here where we live, where we choose to live and raise our families, isn't the next casualty of the radical left agenda," he tells his supporters.
"We're not like the rest of New York City, ok? We are all the heart and soul of America. We are Small Town, USA, and we're not gonna give up," he said.
The backdrop for Saturday's rally is a giant flag — 25 feet wide and 15 feet tall. The same flag was used at Grimm's inauguration in the district when he first took office in 2011, an aide told reporters. In the interim, it had been stowed away in Grimm's garage. There is also a smaller flag on a flagpole, just for good measure.
Grimm and Donovan have been battling for the Trump mantle. Donovan has the endorsement of Rudy Guiliani, now Trump's lawyer, and the two attended a Yankees game together in DC earlier this month. Donovan also introduced a bill that would require post offices to display photographs of Trump and Vice President Mike Pence.
As guests entered Grimm's rally Saturday, they were handed signs for Grimm 2018, with his slogan "He's Got My Back!" On the other side: Trump 2020 — "Keep America Great!"
"We have the right president in Washington," Grimm said, standing between the massive flag and Michael Grimm campaign sign, hammering the point home. "And now we're gonna have the right congressman in Staten Island."
Trump has not endorsed in the race.
But Scaramucci went to Staten Island Saturday, in part, to drive Grimm's particular allegiance home. He worked for the president for almost two years, Scaramucci notes to reporters, even if he was White House communications director for less than two weeks.
"You should go back!" urges a man in the crowd, mid-speech.
"I should go back?" Scaramucci scoffs. "I'm trying to stay married."
The Long Island native's first applause line, though, has nothing to do with Trump. "I grew up in an Italian immigrant family," he says, earning cheers from the crowd.
The rally was preceded by a private breakfasts with Scaramucci and Grimm, open only to VIPs.
Around 10:30, reporters watched Scaramucci walk from the bathroom into a breakfast with Grimm and VIPs. At 11, Scaramucci tweeted a link about the Royal Wedding.
Meanwhile, in ballroom around the corner, aides to Grimm were flying a drone — a practice session for later, when they planned to "do some drone shots" to best capture Scaramucci and Grimm holding their clasped hands up in victory.