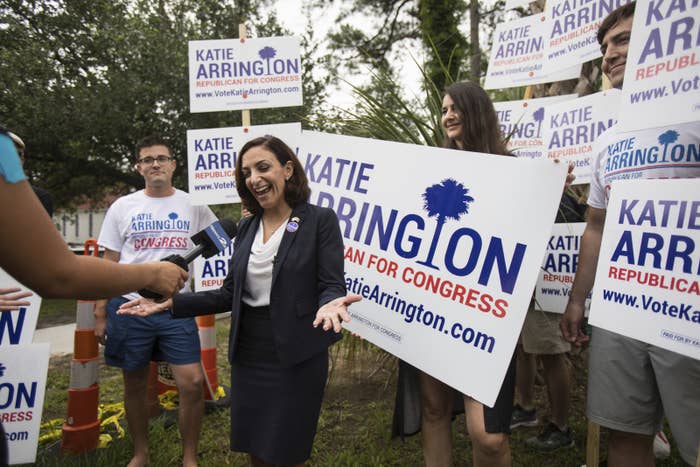 JOHN'S ISLAND, South Carolina — When Katie Arrington beat Rep. Mark Sanford in a Republican primary in June after months of attacking him for being insufficiently supportive of the president, she declared in her victory speech: "We are the party of President Donald J. Trump."
Now, with less than two weeks remaining in a more-competitive-than-anticipated House race, the poster candidate for the idea that Trump has remade the Republican Party is seeking to define that new party in a way that looks a lot like the old one.
"Trump is a factor in every political discussion these days. But it's more about the conservative agenda. The party of Trump is more the party of the conservative agenda," she told BuzzFeed News on John's Island, South Carolina, on Sunday morning. "And not every Republican was doing that the first year or so of his administration, but you're looking at everybody right now seeing the fruits of his hard work."
The very things that made Arrington's primary win such a coup have made her general election more complicated. As a first-term state representative and a first-time candidate for federal office, she lacks an incumbent's name recognition and financial advantage. (Sanford was sitting on $1.3 million in his campaign account at the end of last month, a fact that eats at some of his allies who don't see why he didn't spend that money in the primary against Arrington.) Her Democratic opponent, construction lawyer Joe Cunningham, has raised more money than she has, buoyed by the seemingly bottomless pit of Democratic money and a steady stream of potential presidential hopefuls eager for an excuse to visit South Carolina.
This weekend, Arrington got her own backup in the form of Sen. Lindsey Graham, the politician who has done as much as anyone else to fuse Trump to the earlier iteration of the Republican Party. Graham's angry defense of Brett Kavanaugh during the Senate Judiciary Committee hearings catapulted him from someone who some Republicans often dismissed as a moderate or a Republican in Name Only to the premier defender of the Trump presidency and prized Republican surrogate.
He was there, he said in North Charleston Sunday evening, to speak about "two things: Katie and Kavanaugh."
Later that week, he was setting off to stump for Republicans in 13 different states before Election Day. Democrats, he said, had been "willing to destroy Brett Kavanaugh's life" just to win an election. "I've got one simple message," he said. "Punish them. Don't reward them."
If the Republican Party is the party of Trump, Graham has become "the voice of the Republican Party," Arrington said in an introduction later that day.
Republicans have long been grim about their prospects in November. But with less than two weeks to go, they've found some cause for optimism. Many attribute it to the Kavanaugh confirmation hearings, which they say enraged and excited their base. Others say it's just the normal flow of people engaging in the final weeks. Whatever it is, Republicans are hopeful that it's coming at the right time. Trump's approval rating was at 47% with registered voters in a new NBC News/Wall Street Journal poll, the highest it has been since early 2017.
The hope is that in districts like this one, which the Cook Political Report rates as "Lean Republican," the increased Republican energy will put the seat back in the safe Republican column.
"Keeping the House is 50-50," Graham told the crowd of Republicans sipping coffee in their camp chairs on an uncharacteristically cold morning at the Bohicket Marina Sunday morning. "People are not talking much about this race, but they should be."
"It would break my heart if the 1st Congressional District," Graham said later that day, "went to them."
Cunningham has campaigned as someone who eschews partisanship. He has said he will not support Nancy Pelosi for speaker, and he suggests he would follow in Sanford's footsteps — not ideologically, but attitudinally, as "someone who will go up there and stand up to leaders of both parties and stand up for the low country." He decries Arrington's "divisive rhetoric," highlighting a comment she made recently that the race was "a war between good and evil."
"It's that type of rhetoric that is tearing people apart at the moral fabric," he told BuzzFeed News at the Fat Hen restaurant, a can of Westbrook Two Claw beer close at hand. "That's what people hate about politics."
Arrington does not shy away from that style of rhetoric. She drives around in a muscle car covered in campaign paraphernalia; her name is on the rear window and the side. The back bumper reads "Follow me to drain the swamp." She doubled down on that particular comment about a "war between good and evil" in North Charleston. And she cast the stakes of the election in Trumpian terms.
"Imagine: Nancy Pelosi as speaker of the House, Maxine Waters as committee chair," Arrington said in North Charleston.
"Boo," she said, echoing the crowd. "Boo."
"Imagine your tax dollars — your tax dollars that are already into the Mueller investigation continuing in perpetuity, never stopping," she went on. "Then working to find a reason to impeach Kavanaugh and impeach Donald Trump. We have better things to do."
Arrington would make history as the first woman Republican to represent South Carolina in a federal office, something she brings up regularly on the stump — along with the fact that she would be the shortest member of Congress, she says, in US history. (Arrington stands under 5 feet tall — at the event on John's Island in the morning, her husband picked her up to lift her off the stage because it was too high off the ground for her to negotiate easily.)
During the primary, Arrington made her support of Trump and his policies a central factor of her campaign. But one statement she made to that effect — that she "supported what he did, he lifted the ban on offshore drilling" — has created a vulnerability. She has since said that she does not support drilling off the coast of South Carolina, despite that comment. But it has been a central message for Cunningham, and one that she has had to grapple with.
"The issue that I hear the most about is the concern that people in the district have that she'll lead the charge to drill off the coast of Charleston when she joins the Trump caucus in Washington," said Rob Godfrey, who served as a top aide to former South Carolina governor Nikki Haley.
It was one of the first issues Arrington raised at two events with Republican voters on Sunday.
There a few bullet points she wanted the crowd to remember about her, she said at John's Island. The first? "Katie's not for offshore drilling in South Carolina," she said, as white boats bobbed in the water 20 feet to her right. "Just because Democrats say something doesn't make it real, OK? Remember that."
"Ladies and gentlemen, to be clear, to the media, to anyone in the room: I am not for offshore drilling," she said later that afternoon in a hotel ballroom in North Charleston. "Okay. Joe Cunningham is a one-issue candidate that's got no issue."
Candidates usually avoid repeating their opponent's attacks on them — some candidates don't even say their opponent's name. "Apparently it's gotten some traction," Graham acknowledged to reporters after when asked about Arrington's frequent mentions of the subject. "But she expressed herself very well."
Many Republicans think this is all semantic and nothing they have to worry about too much. Democrats have optimistically waded into this district before. The Charleston County area, with its more libertarian leanings and environmental concerns that tend to be more the purview of the Democratic Party, has made it seem appealing. But the district also contains Beaufort, which Scott English, a former longtime Sanford adviser who now runs the American Philatelic Society, described as "more red-meat conservative base … more the pulse of what I would consider to be the Trump movement."
In 2013, when Haley appointed then-representative Tim Scott to the Senate, the special election for this House seat pitted Sanford against Democrat Elizabeth Colbert Busch. Colbert Busch outspent Sanford — her brother, Stephen Colbert, was helpful in the fundraising department. And Sanford, making his first return from the political wilderness after the high-profile affair that temporarily derailed his political career, was dogged by still unfolding personal issues.
Sanford won 54% of the vote.
"You have to do a lot of the work to get a Democrat elected in that district," said English.
Trump has taken to saying that he's on the ballot in November. But which aspect of his presidency — his rhetoric and tweets, the Republican tax cuts, his foreign policy, his choice of judicial nominee — is on the ballot could make a big difference in how people cast their votes. Arrington, in the primary, came to embody the idea that the party of Trump was not defined purely by ideology — that it also required a certain amount affinity for the president.
In a district like this one that is accustomed to voting for Republicans but where Trump, and some of his policies, wear less well than they do in the rest of the state, Arrington and Graham's closing arguments focused on those traditional ideologies. Tax cuts. Stopping the caravan of immigrants processing toward the southern border. Pelosi as a bogeyman. And, of course, the Supreme Court.
Did Arrington, who won by fully embracing Trump, ever think that Graham, once one of Trump's frequent and vocal critics, was who she would be stumping with during the final days of this campaign?
"Heck no," she told BuzzFeed News.
"Didn't expect it," she said. "But really appreciate it."