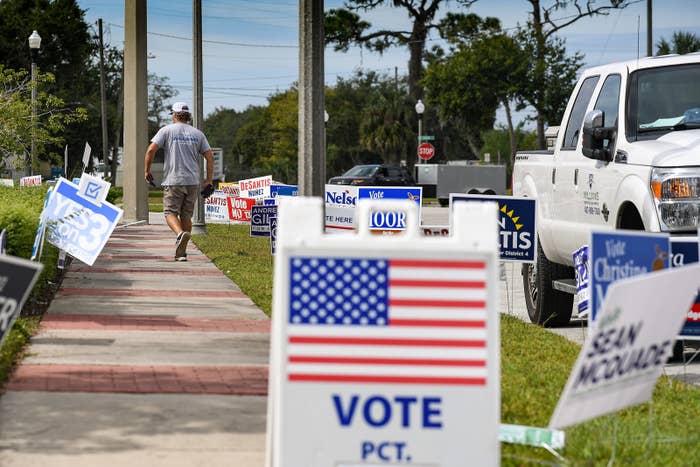 MIAMI — An unlikely crowd of young people sat in the back of a campaign office for Andrew Gillum last week. They looked like your standard group of Democratic volunteers — they wore Gillum campaign T-shirts and campaign buttons for Debbie Mucarsel-Powell, the Democrat running in the competitive House district here. But when they opened their mouths and started speaking with an Irish brogue, it all got a bit more confusing.
"Thought you needed some help," explained Jane Corscadden, one of the group.
They're in Miami for the month, volunteering for Gillum and Mucarsel-Powell as part of a program called Politrip, basically a political foreign exchange program. There's another group of volunteers in California volunteering for Katie Porter's House campaign, and another group is working on a Virginia House race.
Volunteers come on a monthlong visa. As foreigners, they're constrained by certain rules — they can't fundraise, for instance. But they can do things that other normal volunteers would do — make phone calls, canvass.
"We all have an interest in American politics, so we wanted to be part of a campaign to change the direction of American politics," explained Félim Ó Maolmhána.
As a case study for how the world sees US politics right now, the Politrip answer would be…not so good. Paddy Brown, the founder of the group, said the idea came out of 2016. He watched what happened with Brexit in the UK, and then when Donald Trump won the Republican presidential nomination, he hopped on a plane to Miami to volunteer for Hillary Clinton's campaign.
"I saw a lot of the same factors, dynamics, discourses, narratives happening with him as we saw in Brexit in terms of the xenophobia, the anti-immigration rhetoric, the sort of protectionist economics," he told BuzzFeed News by phone later in the week.
"We had the same sort of complacency in, 'oh, well, surely the good guys will win and Remain will win,' etcetera. And I did see a lot of that complacency in 2016 as well when I was walking doors," he said. "I remember speaking to people on Election Day, young people telling me they voted for Trump for the hell of it because they thought it was funny. And I just, yeah, could see in Brexit that a lot of the same stuff was happening in America. And despite a lot of people writing Trump off I did think he had a good chance of winning, which was scary," he explained.
He founded the program after that experience.
Initially the idea was to make the program bipartisan, and have some people work on a Republican campaign in Arizona, but he couldn't get any interest from volunteers.
"Which was a shame," he said. "I think that reflects a lot on how, you know, people back home feel about the Republican Party in the minute and the sort of values that it presents."
Right now, Brown said, they have nine people in Miami, 12 in Los Angeles, and five in Virginia. Next year, they're organizing for people from the US to work on local council elections in Northern Ireland, and then, Brown says, they're organizing to bring people back for the Iowa, New Hampshire, and South Carolina primaries in 2020.
Volunteers rarely get any kind of reaction to their accent.
Sometimes, said Jessica Lawrence, "when you're calling someone they're like, 'where are you calling from?' It's like, 'here! We're here!'"
Once, she said, someone told them "he didn't think we should be involved in US politics because we don't really know what's going on." But other than that, it's mostly been positive.
"It's part of your sell," Brown says he tells the volunteers. "They can say, 'you know, I flew all the way across the Atlantic to come and speak with you today. That's how important I think this election is.'"