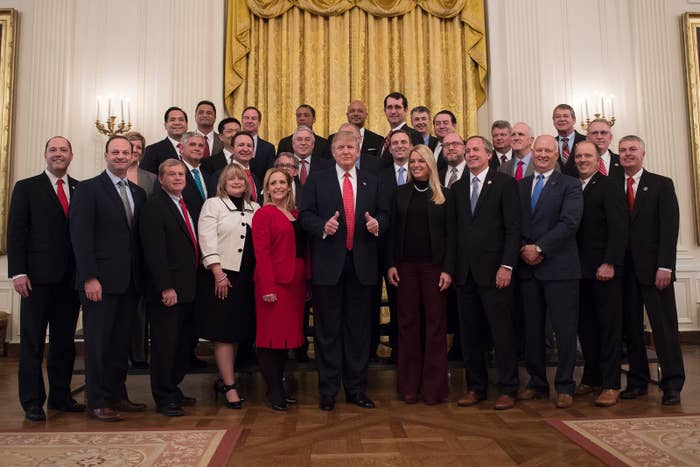 The 2016 election stripped Democrats of most any control in the lawmaking process. They remain the minority party in the House and Senate, and have zero influence in President Donald Trump's White House.
What successes they have had in holding up Trump's agenda have not been the work of Democrats in DC. Rather, they have come from the Democratic attorneys general, whose legal efforts — for instance, those in Hawaii, Washington state, and Virginia that have so far prevented Trump from enacting the travel ban that was one of his first executive actions as president.
But the added prominence of attorneys general has also put them squarely in the line of fire, as Republicans and Democrats gear up for campaigns in 2017 and 2018.
This year, there will be more money going toward the efforts to win attorneys general races. For years, the Democratic and Republican campaign arms of attorneys general had a kind of truce: They would compete aggressively for open seats, but neither would spend money to challenge a sitting attorney general. The intention of the agreement was to preserve bipartisan working relationships between attorneys general so that the campaigning did not hamper their abilities to do their jobs.
It's a rule that left campaign-minded operatives shaking their heads, as it in many ways obfuscated the need for having a campaign committee all together. "That's just a bunch of crap," said one GOP strategist who has worked on attorney general campaigns in the past.
And as of earlier this year, there isn't one. At the end of March, a vote by the Republican attorneys general ended the so-called gentleman's agreement. "From a political standpoint, the stakes are just too high for us to leave winnable races on the table," Scott Will, the executive director of Republican Attorneys General Association, told BuzzFeed News. (Will pushes back vehemently on a claim reported by Reuters that the decision was made to facilitate an effort to roll back marriage equality for same-sex couples, deeming it "a myth created by Democrats" and "not true."
Democrats, said Democratic Attorneys General Association co-chair Karl Racine, the attorney general of the District of Columbia, "are not going to fight with one arm behind our back," and will follow suit.
"I mean, in effect it was happening anyway, it's just the money was being funneled through different organizations and so I guess it basically gets rid of the pretend rule that we weren't funding races against Democrats," Texas Attorney General Ken Paxton told BuzzFeed News. "The reality is Democrats run against Republicans in every election, just about, and it's not surprising that people put money into those races, both ways."
Attorneys general races have increasingly become nationalized affairs. In 2015, the Weekly Standard's Fred Barnes deemed Republican attorneys general President Barack "Obama's most formidable opponents," noting the ways in which the were teaming up to try to block the Democratic agenda: suing over Obama's Clean Power Plant Act, the Waters of the United States regulations, some immigration actions and parts of Obamacare.
And it was a productive eight years for Republican attorneys general. "The one thing that I can say about the Obama administration is it created a lot of success for us in the states," Paxton said, noting that they increased the number of Republican attorneys general to 27, a record.
"The attorneys general during the Obama administration really served as the last line of defense against federal overreach," West Virginia Attorney General Patrick Morrisey, who now chairs the Republican Attorneys General Association (RAGA), told BuzzFeed News.
Now, with a Republican in the White House, it's Democrats' turn to play that role.
"Democratic attorneys general are the front line against the Trump administration," Sean Rankin, the executive director of the Democratic Attorneys General Association (DAGA), told BuzzFeed News. "But we believe this is about protecting the rights of the people and we believe in acting in the interests of people."
In some ways, the November election has proved the perfect storm for Democratic attorneys general. In the same way that Trump's election has sent unprecedented amounts of money to a 30-year-old former congressional staffer running in a Georgia special election, the current political environment has made Democratic donors more receptive to looking at AG races. And Democrats say that being able to cite the end of the incumbency rule, and Republican's expected efforts in upcoming elections, is a boon in convincing people to give money.
"If Republicans start picking us off, you're going to have a lot harder time, one, even convincing Democratic AGs to be out front fighting the Trump administration," said one aide to a Democratic attorney general. "And two, you're just going to have much fewer resources in those fights."
What's more, efforts against federal actions – something that was not necessary for Democrats under the Obama administration – have strengthened the ties between Democratic AGs. Those improved relationships, along with the professionalization of DAGA, have benefited the campaign efforts. Earlier this year, for instance, New York Attorney General Eric Schneiderman held a fundraiser for Virginia Attorney General Mark Herring, who faces the only competitive race in 2017.
The end of the "gentlemen and ladies agreement," as Racine terms it, will also potentially mean more money in 2017: on the Republican side in particular, it likely would have been difficult to convince donors to fund future efforts if the party was not aggressively attacking Herring — who also happens to be one of the attorneys general working to block Trump's travel ban.
Attorneys general often go on to be bigger figures within their party. The job can be a stepping-stone to governor, and several attorneys general posts will likely be open in 2018, with attorneys general in Ohio, Michigan, and Nevada eying gubernatorial bids and others looking at Senate bids. Others have becoming cabinet members, like Environmental Protection Agency head Scott Pruitt who was the Attorney General of Oklahoma or top 2020 prospects like former California Attorney General Kamala Harris, now a Senator.
But it also reflects their ability to influence policy.
"Congress, obviously, has very little ability to do anything against an administration and their executive orders. Attorneys general can," said Robert Uithoven, a top consultant for Nevada Attorney General Adam Laxalt.
Both organizations have also become increasingly professionalized as the business of electing attorneys general has come to be seen as less of a state issue and more of a national one. Until 2016, DAGA was effectively a "part-time committee," as Rankin put it. Headquartered in Denver, with no full-time staff, DAGA was ill equipped to compete with the Republican effort that was already there.
"To be honest, their strategic focus, their fundraising prowess, and their clear organization gave them significant advantage over the years," Racine told BuzzFeed News.
So in mid-2016, DAGA brought on Rankin to be the full-time executive director. The committee is now based in Washington, D.C., with a second office in San Francisco. They are growing a donor base and committing to play in races in a way they simply couldn't in previous years.
"I think that these races are increasingly becoming national races," said Racine, and that's at once a boon and a problem for both sides. It adds an urgency to races that were once fought on which candidate could best project an image of law and order, or on issues of consumer protection, vaunting them to the level of national policy. RAGA'S fundraising is "way up," Morrisey said, and he sees greater interest in helping Republican attorneys general. "We're finding there's an appetite for Democrats who are successful and are putting wins up when people are worried concerned and quite anxious about what the Trump administration could do to them or to people in their family," Rankin said.
But national attention and fundraising help comes with national baggage as well. In a moment when President Trump's approval rating sits just below 40 percent, Republicans in states that are not solidly red — like John Adams, Herring's Republican challenger in Virginia this year — might prefer to keep races localized.
What is certain is that attorneys general races will likely draw more interest and cash than they have in previous years. And both sides appear eager for the fight.
As Rankin put it, with the truce ended, "Cry havoc and let slip the dogs of war."
Zoe Tillman contributed reporting.