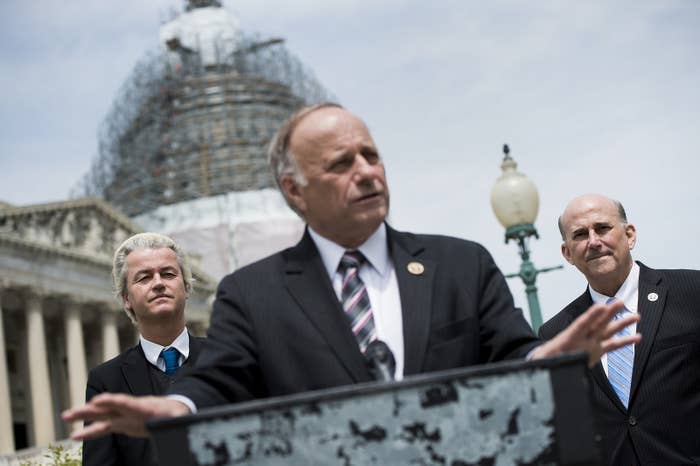 WASHINGTON — If Steve King loses his next election — and he probably won't — it likely won't be because of the racist things he says.
King managed to outdo himself this weekend with the comment that "we can't restore our civilization with somebody else's babies." But his views were news only to …well… the rest of America. On Capitol Hill, and in his older, conservative Western Iowa district, this is pretty much par for the course.
And because of Iowa's crucial role in presidential politics, King isn't just tolerated: Leading national Republicans have for years traveled to Ames and Sioux City to kiss his ring. In political circles, this is a kind of running joke — and indeed, King may have basically lost his ability to shock those insiders. Several years ago in Iowa, a then-likely 2016 presidential candidate was late to an event where he was to appear with Iowa Rep. Steve King. By the time they arrived, the candidate's aide deadpanned, the congressman would have probably offended half the audience already.
On Monday, as Americans newly familiar with King shook their heads and openly racist figures celebrated on Twitter, King took advantage of the moment to advance his racialist views. On CNN Monday morning, he said he had "meant exactly what I said" in the tweet, and added a comment that added to the uproar: "If you go down the road a few generations, or maybe centuries, with the inter-marriage, I'd like to see an America that is just so homogenous that we look a lot the same," he said.
And as even some Republicans who typically roll their eyes stepped out to denounce King Monday, there were signs these comments may be different. This one "leapfrogs into a really dark realm that Republicans can't just ignore but have to forcefully denounce," said one Iowa Republican consultant.
Still, the standard King has set in the past is pretty high. Here are some of his greatest hits:
In July of 2016, King asked on MSNBC what nonwhite subgroups have done for civilization. "I'd ask you to go back through history and figure out where are these contributions that have been made by these other categories of people that you are talking about? Where did any other subgroup of people contribute more to civilization?" he pondered.
In 2013, he was widely condemned when he declared of immigrant children who came to the United States illegally but were allowed to stay due to the DREAM Act: "For everyone who's a valedictorian, there's another 100 out there that weigh 130 pounds and they've got calves the size of cantaloupes because they're hauling 75 pounds of marijuana across the desert."
In March 2008, King said that if Barack Obama were elected president, "al-Qaida and the radical Islamists and their supporters … will be dancing in the streets because of his middle name."
Safe to say, King has been fodder for cable news before. Some Republicans even believe it's where he thrives. But it's certainly not a new scenario for people who follow his career closely.
"In Iowa we're kind of used to seeing this kind of stuff from Steve King kind of on a regular basis," said Craig Robinson, a GOP consultant who writes The Iowa Republican blog. "This incident has seen more hype from the get go. I was a little surprised by how fast and furious it all was."
Democrats always have a field day with King's comments, which seem readymade for Democratic fundraising emails and Rachel Maddow segments. But Sunday's comment from King has drawn a more sizable response than normal on both sides of the aisle.
A spokesman for House Minority Leader Nancy Pelosi denounced King's "vile racism" and called on Republican leadership to "decided whether white supremacy is welcome in the GOP ranks." Rep. John Lewis, a noted civil rights activist, deemed the remarks "bigoted and racist," saying that the ideas King was espousing, "have given rise to some of the worst atrocities in human history, and they must be condemned."
Several of King's colleagues on the Republican side have also condemned him.
"What exactly do you mean? Do I qualify as "somebody else's baby?" Florida Rep. Carlos Curbelo tweeted at King Monday. "Get a clue," tweeted Florida Rep. Ileana Ros-Lehtinen. "I'm an American no less than you are. I love our Constitution and traditions. Am I 'somebody else's' baby because my parents are immigrants?" tweeted Michigan Rep. Justin Amash. "America is a nation of immigrants. The sentiment expressed by Steve King doesn't reflect our shared history or values," said former Florida Gov. Jeb Bush. House Republican leadership issued statements citing disagreement with King's comments, though there was no mention of any kind of congressional censure, as some Democrats and commentators have suggested. Speaker Paul Ryan said on Fox News he disagreed with King but hadn't seen the "context."
"The American idea is this beautiful idea that's there for everyone which is the condition of your birth doesn't determine the outcome of your life," Ryan said. "That's what makes America great. I don't think that statement reflects what is special about this country … I'd like to think that he misspoke. I don't think it's meant the way it sounds. And hopefully he has clarified that."
Even Republicans in his home state of Iowa were swift to condemn his remarks. Iowa GOP Chairman Jeff Kaufman said he disagreed with the remarks. Rep. David Young, a Republican who represents a neighboring district, sent tweets that seemed aimed at King's remarks, tweeting: "America is not about any one color, or one ethnicity, or one faith."
Still, it's not clear this comment will do any more lasting damage to King than any of the past ones. An affable, chatty man prone to deliver lengthy narrative soliloquies in response to questions, King delivers his scathing commentary in a pleasant tone. And he remains highly respected among social conservatives in Iowa and he has a loyal following within the state. After the "cantaloupe calves" remark, House Speaker John Boehner called him an "asshole" behind closed doors, but he was not censured or punished in any way. Two years later, a number of Republican presidential hopefuls flocked to Iowa to curry his favor, first at a January 2015 cattle call, then at a pheasant hunt in Western Iowa. (The winner was Texas Sen. Ted Cruz, who ultimately won the Iowa caucuses). In a caucus where social conservatives remain sought after voters, King's larger than life influence every four to eight years looks unlikely to change.
His own electoral prospects are unlikely to be dampened: King won re-election with 62 percent of the vote last year in his deep red district, having easily bested a Republican primary challenger earlier in the year. And with no member of House Republican leadership making any serious move toward censure, as some Democrats have asked, it's hard to see how this will having any significant impact.
Longtime Iowa Gov. Terry Branstad summed it up at a press conference Monday morning, saying that he disagreed with King's comment, but that was just the way it was. "You know, Steve King is Steve King," he said. "We all know that."
King's office did not respond to two requests for an interview or comment.