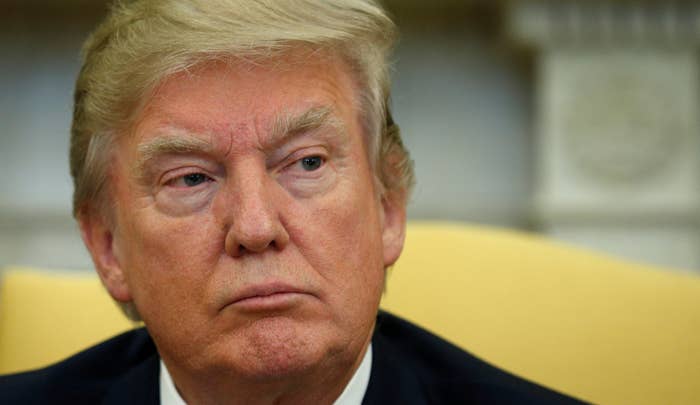 WICHITA, Kansas — "Today, the eyes of the whole country are on Kansas."

Take it from Ted Cruz, who was here to rally a crowd gathered in a private airplane hangar here on a windy Monday in an unexpected, last-ditch drive to save one of the safest Republican seats in America from the surge in Democratic activism that has followed Donald Trump's election to president.
The special election in Kansas's 4th District Tuesday will fill the seat left empty when President Donald Trump appointed former Rep. Mike Pompeo to head the CIA. Cruz had flown out here for an afternoon to help get out the vote for the Republican candidate, state treasurer Ron Estes.
"This election, the special election tomorrow, makes a difference not just for Kansas," Cruz intoned, "but for the whole country."
This is, in political terms, crazy. Trump won this district by 27 points in November. But the rumblings in Kansas could be — Republicans fear, Democrats hope — a sign of a gathering wave. It's the same reason a Georgia contest has become a cause for Democrats around America, who have put millions behind a 30-year-old documentary filmmaker who is trying to replace another Trump appointee, Health and Human Services Secretary Tom Price, in a district that has been held by Republicans since Newt Gingrich won it in 1978.
"It's taken on a life of its own," James Thompson, the hitherto obscure Wichita Democrat, told BuzzFeed News as he carefully removed the tomatoes from his sandwich at a downtown restaurant. "It's been a hurricane. And the calm eye in the middle is kind of where we're at and everything is just swirling around us."
Republicans have stopped trying to downplay their sudden worries about the Kansas seat, and the stakes are now as high as they get in national politics. In a recorded call that began going out to voters in this district on Monday afternoon — just hours before polls were scheduled to open on Election Day — Trump himself has gotten involved: "Republican Ron Estes needs your vote, and he needs it badly."
He does. Kansas Republicans concede that even in this heavily Republican seat, Estes is in a tight race with Thompson, a civil rights lawyer and army veteran, heading into Tuesday's vote. And it's left them in the unenviable position of scrambling to put enough money, personnel resources, and time into holding onto a seat that never should have been endangered in the first place.
Meanwhile, Thompson has gone from mere placeholder on the ballot to a real threat. He's a personable candidate whose ads and messaging have drawn praise even from Republicans. But as even he acknowledges, he's been swept up in a "perfect storm."
Most of all, Democrats across the country are looking for a way to take out some of their anger at Trump, and right now, the Kansas and Georgia elections are the only games in town. "People are trying to make a point about the current administration," said Georgia voter Tim Rivett, as he left a polling place in East Cobb County having cast an early vote for Jon Ossoff Saturday.
Ossoff, the Democrat, announced last week that he had raised $8.3 million, a staggering sum for any candidate over the course of a full election cycle, much less a political neophyte in a two-month–long special election. Though in his recent 48-hour financial report, only one in 15 contributions came from the state of Georgia, per one calculation.
It's a sum that leaves both Republicans and Democrats talking of this moment in politics as almost supernatural.
"$8.3 million can make a squirrel competitive," said Karen Handel, the former Georgia secretary of state and Senate candidate who is just one of 11 Republicans running in an all-party primary with Ossoff. Asked why a Democrat is so competitive in such a Republican district, Handel added: "Look, I have no idea."
"If a guy's gonna raise $8.3 million in a 19-person race as a 30-year-old in 55 days, something bigger is going on than what we can control," said Georgia Republican consultant Chip Lake.
The energy on the Democratic side across the nation, which has been on full display from the Women's Marches the day after Trump's inauguration and later at unruly Republican town halls, is undeniable. The question for Republicans now is how to combat this groundswell that appears unlikely to abate.
In Kansas, that meant a $92,000 ad buy from the House Republican campaign arm in the final week of the race, a visit from Cruz to rile up voters, robo-calls from both Trump and Vice President Mike Pence, and a last-minute $50,000 spent on get-out-the-vote efforts from a super PAC, Congressional Leadership Fund.
"This district is normally a Republican district, so we're focusing on how to get our Republicans out to vote," Estes told reporters in the simplest terms before the rally with Cruz.
Coupled with Democrats' unusual strength, Republicans come to both of these elections with some handicaps. In Kansas, that weakness, in part, is Estes himself. The 60-year-old, chubby-cheeked Republican is not the strongest on the stump — something that becomes quite evident when juxtaposed with Cruz, an exceptionally compelling speaker. During a press conference, Estes' answers sometimes ramble, and he at one point repeats one of Cruz' phrases wholesale.
"The issue in Kansas is that our candidate is embarrassing and the campaign he's run is a disgrace, and people in Washington were so worried about him that they wanted to send a doctor out to him to make sure he still had a pulse," said a Republican operative with experience in Kansas, in a particularly brutal assessment.
But Estes also has another albatross. Kansas Gov. Sam Brownback remains extraordinarily unpopular — an issue for anyone running as a Republican in the state.
"Brownback's been one of our biggest helpers for the campaign because he's done such a horrible job," Thompson said. Some Republicans worry that disillusion with Brownback could actually drive some GOP voters to the polls to vote for Thompson — just to make a point against the governor.
What the election in Kansas is not, Republicans and Democrats in the Sunflower State say, is a referendum on Trump.
"While a lot of people around the country see this as this big national referendum on him, we didn't really see that," Thompson said. "We see it more as a referendum on Brownback's policies and what he's done to the state." It's a sentiment Republicans agree with.
In Georgia, it's a somewhat different state of affairs. Trump barely won the district in November, which is what first brought it to the attention of Democrats. And Ossoff is in large part polling so well because people are looking for an outlet for their anger.
But with 11 candidates vying for second place on the Republican side, searching for the extra two percentage points that will bump them over the top and, potentially, into a runoff, Trump is not entirely toxic.
"It's an early bellwether of the president's popularity," said Dan Moody, one of the top Republican candidates (along with Handel and Bob Gray), when asked just how a Democrat had become so competitive in a safe Republican district.
"I don't think it really will be because it's a Republican district," he added later. "So when we win this district as Republicans, the Democrats will simply say, 'Well, it was a Republican district — we never expected to win.'"
But Moody is running ads touting areas where he and Trump agree, as well as his endorsement from Georgia Sen. David Perdue, who was one of Trump's top surrogates in the state. And he's not the only one.
"I'm pleased that it can be shaped on a referendum on Trump, and I think that plays well to my positioning," said Bob Gray, a former city councilman who takes every opportunity on debate stages to tell voters about points where he agrees with Trump and supports the president.
Looking back, Georgia Republicans say they aren't sure what they could have done differently so that, eight days before the election, they weren't focusing all of their energies on keeping a Democrat from getting 50% of the vote and winning the election outright. (In Georgia, candidates compete in an all-party primary. If no candidate gets more than 50% of the vote, then the top two candidates from any party compete in a runoff.) But the consensus is it would have been easier if there weren't 11 different Republican candidates splitting up the vote and vying for what little oxygen Ossoff hasn't already taken out of the room.
"There was no Republican God sitting on the back benches waiting. There was no incredibly strong Republican candidate who immediately emerged and quashed the field. [Georgia Sen.] Johnny Isakson already has a job," said Craig Kidd, the first vice chairman of the Fulton County GOP.
But Republicans, loathe to admit that Democrats might have outmaneuvered them strategically, insist that their way of doing things is still superior — even if it's giving everyone a lot of heartburn.
"I think there'll probably be a lot of debate about the process after this," said Handel. "But I don't support people sitting in a back room selecting an heir apparent to something — that's just not how we as Republicans do things."
One of Handel's opponents, former state senator Judson Hill, was more pointed, suggesting that the state switch to a traditional party primary for special elections, rather than a jungle primary where all the candidates, Republican and Democrat, appear on the same ticket.
The question is what these two races will mean — if anything — for 2018. Midterm elections are traditionally difficult for the party in power, and Republicans — who boast a historically large majority in the House — are likely to lose seats regardless.
Both Republicans and Democrats are hesitant to make sweeping conclusions based on special elections. Turnout is too hard to predict, as regular voters often don't show up to vote for oddly timed elections.
"I am not predicting this race. I refuse to 'cause I have no fricking clue what's gonna happen," said Kidd, the Fulton County GOP vice chair.
If Republicans were to lose these seats in the next two weeks, they'd likely get them back in the midterms, when turnout will almost certainly snap back to normal, reverting the districts to safe Republican seats. Certainly, losses in either state would be a narrative problem for Republicans. A loss, or even a tight race, in Kansas will be touted as a harbinger for what's to come one week later in Georgia. A loss in either will be touted as evidence that the Republican brand in the age of Trump is in trouble.
But coming off a major legislative failure in which House Republicans failed to make good on six years of promises to repeal Obamacare, some Republicans worry that these elections might not be mere omens, but accurate depictions of what the GOP will face in 2018 if they continue to struggle to get things done.
"That's the consequence of not passing [the health care] bill. We've materially weakened ourselves going forward. Plenty of time to recover — the election's a long way away. But we have a series of special elections now … What if one of those blows up in your face? And then it starts compounding itself," said Rep. Tom Cole, who chaired the NRCC during the 2008 cycle, when Republicans lost two safe seats to Democrats at the height of President George W. Bush's unpopularity and displeasure with the Iraq War. "That could happen again."