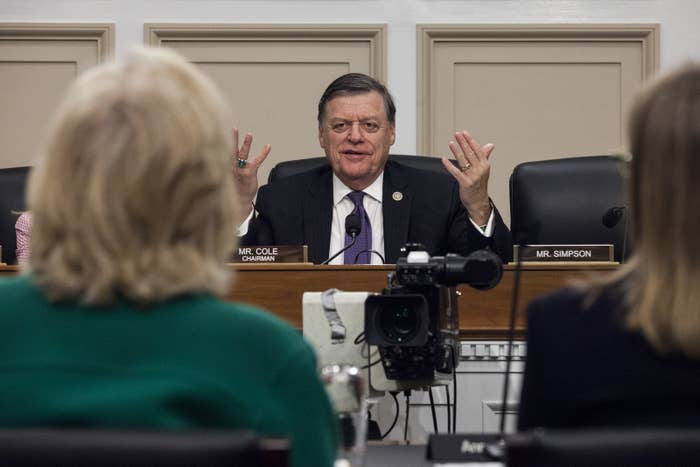 As Republicans weathered months of boisterous town halls, marches, and protests in congressional offices, the question swirled: When Republicans finished making good on their promise of the past eight years, to repeal and replace Obamacare, would they suffer the same kind of devastating losses Democrats did in 2010 after passing Obamacare in the first place?

But six months into a unified Republican government, a different question is now front and center: What happens if they are unable to pass a health care bill at all?
The House struggled to pass a bill, but they eventually got it done — even celebrating with President Donald Trump in the Rose Garden. The Senate bill meanwhile has been a series of fits and starts and appears to be on the verge of death once again.
And House Republicans are worried that when November 2018 arrives, they'll be left holding the bag.
"They're risking our majority, in my view, honestly, more than theirs," Oklahoma Rep. Tom Cole, a former chair of the House Republican campaign arm, said of the Republican Senate last week as they were struggling to find a bill that could pass the chamber. Cole noted that many of the senators struggling to get on board with the bill were not up for re-election next year, while every single Republican House member is.
The Senate's repeal-and-replace effort found itself near collapse on Tuesday, with Senate Majority Leader Mitch McConnell left trying to win back the support of defectors, leaving Republicans on the other side of Capitol frustrated, verging on apoplectic.

"The Senate has failed the American people and abandoned voters who were promised that they would repeal and replace the disastrous Obamacare. The House did its job. We honored our pledge and passed legislation to repeal and replace Obamacare in early May. There is no need to sugarcoat this: I'm very upset with the Senate," said Florida Rep. Dennis Ross in a statement after the Senate appeared short of the votes necessary to just repeal Obamacare with a two-year delay.
Already, the backlash from the right has started.
"You are the do-nothing GOP lawmakers," Fox News' Sean Hannity railed on his show Tuesday night. "And up to now, to be very, very honest — and it's really sad – you're pretty useless and all you have now is excuses and broken promises."
House Republicans are under no illusions about what this reality means.
"At this point, we're a little incompetent," said North Carolina Rep. Mark Walker of the fact that Republicans were fumbling on this, despite controlling every branch of government.
"We have to show we can govern," said Florida Rep. Tom Rooney. "Now that's flat out the bottom line that we are showing the American people right now, whether it's healthcare, whether it's the budget, tax reform — you know I've been saying this for months and months. I mean we have to put victories on the scoreboard, or else people are going to look elsewhere."
"It's a good 30- or 60-second ad. If there's not something to point to — 'Yeah, we did this' — Well, no, nothing happened," said South Carolina Republican Rep. Mark Sanford.
The Senate logjam also left some House Republicans in a uniquely uncomfortable spot. A majority of their conference had gone on the record supporting a health care bill in the House, many on the justification that while it was not perfect, and not even necessarily good, the Senate would fix it. Now, they face the prospect of being forced to defend a bill they didn't necessarily love in the first place, without any benefit of making good on a campaign promise.
"If they ultimately end up not getting anything done, then you just put a bunch of vulnerable Republican House members on record for nothing," said a GOP consultant who works on House races.
Another concern, the consultant said, is the timing. Big upheaval, especially in an area that resonates as personally for voters as health care, is bound to spur backlash. From the beginning, Republicans were a step behind on the messaging war selling the bill. But if Congress were to actually get something signed into law, there would be real-world effects to contend with, making the selling process much harder. And that takes time.
"I think part of the hope in getting it done now was to give the legislation some time to show that the world isn't coming to an end," said the GOP consultant. The more time it takes, the closer the next election looms.
Ohio Rep. Steve Stivers, who chairs the House Republican campaign arm, said he believed voters would not hold the House accountable for the Senate's mishap, should the chamber prove unable to move any bill.
"I don't think people are gonna hold our members accountable for a bill they voted for that didn't become law. I think that's a pretty far stretch," he told BuzzFeed News. "And with regard to our base, I think once we've passed tax reform and infrastructure, as long as we get something done on the other big things, I feel comfortable that it'll work out."
But not all Republicans are so confident. Rep. Scott Taylor, who represents a Virginia district that the Cook Political Report ranks as Likely Republican in 2018 — not safe, but not the most competitive either — told BuzzFeed News that even if it's not the House's fault, "I think we'll get lumped in." Taylor said he'd been getting angry texts from Republicans since news broke of the Senate's logjam. "People on that side are just upset with Congress, period," he said.
Not every House Republican is so concerned. "I did not vote for the original bill, so I feel less compelled to explain the change in circumstances," said Rep. Pat Meehan of Pennsylvania, who represents districts that Hillary Clinton won in 2016. Indeed, most Republicans in Clinton districts voted against the bill — as they face different concerns than their Republican colleagues in redder districts.
Former Republican Rep. David Jolly, looking at running for his old Florida House seat, which Clinton won by three points, was enthusiastic about the developments of Monday evening and Tuesday.
"I'm glad they didn't pass it, for someone considering running in an Obama district. And I hope they don't pass it!" he told BuzzFeed News.
But some of his colleagues are less charitable. "I know what our approval rating is out there in the countryside and it's not good," said Rooney. "And it's times like these when I think that it's justified."