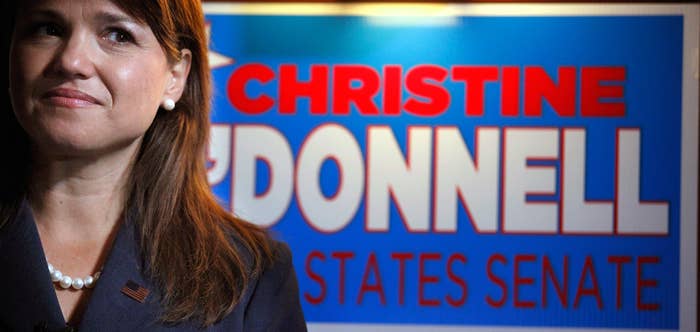 A note to Steve Bannon: Sharron Angle would like to talk.
The onetime darling of the tea party movement and former Nevada Senate candidate now finds herself on the sidelines as Bannon, President Donald Trump's former chief strategist, works to find antiestablishment primary challengers for every incumbent Republican senator not named Ted Cruz. Angle, once an insurgent pioneer, is now challenging Rep. Mark Amodei. But it is a labor happening largely in obscurity.
"Maybe you have a number that I can reach Mr. Bannon on. Maybe you could tell him to give me a call," she told BuzzFeed News in a recent phone call. "You know, sometimes it's more difficult to reach— The press has an opportunity to reach him. But we out here, sometimes regular citizens, we don't have the avenues to reach out to the groups we would like to reach out to."
Once the faces of an insurgent movement, Angle and some of her fellow upstart candidates whose stunning primary victories were followed by spectacular general election losses in 2010 and 2012 have since been relegated to the political junkyard and trotted out as punchlines for politicos looking to make a point about gaffe-prone candidates. They are cautionary tales in Republican primaries. But beyond the jibes and mockery, there are lessons for the candidates looking to replicate their primary success and, they hope, exceed their results in the general.
"You have to nominate people who can actually win," Senate Majority Leader Mitch McConnell said last month during a Rose Garden presser with the president, after running through a list of Republicans who won primaries and subsequently lost the general election: Angle, Delaware's Christine O'Donnell, Missouri's Todd Akin, and Indiana's Richard Mourdock.
"Because winners make policy," he said. "And losers go home."
The hard feelings go both ways.
"It's been seven years and he's still blaming me. He is very much like an ex-boyfriend who can't move on," O'Donnell told BuzzFeed News in a four-minute voicemail responding to emailed questions. "You know, when an ex-boyfriend is having the same problems seven years after you broke up, it's not the ex-girlfriend's fault. It's time to take a look in the mirror. McConnell refuses to do that."
"It just shows that he is angry," Angle separately said of McConnell. "And that he still hasn't understood the message that we sent to Washington, DC, over the last six years."
Asked if she has advice for conservatives running insurgent campaigns now, O'Donnell issued a warning: "Plan your post-primary campaign to be strong enough without the help of the Republican Party. Because that's the mistake that I made: I was expecting the help of the Republican Party."
Both Angle and O'Donnell say they see the new Bannonite movement as a continuation of what they were part of in 2010. But their positions now speak to the cosmic irrelevance of an individual candidate within that broader movement. The candidate is a vehicle. The only thing people remember is whether it reaches the final destination, or if the engine catches fire on the side of the road.
Sens. Marco Rubio, Mike Lee, and Rand Paul were also part of that earlier movement, beating establishment favorites, or, in Lee's case, an incumbent. All three were elected and all three have been reelected since. Cruz followed in 2012, winning a Senate seat as Akin and Mourdock floundered. None of those four make the book of cautionary tales.
Angle's political efforts since 2010, on the other hand, have been unsuccessful. In 2016, she ran again for the Senate seat that had eluded her and lost in a primary to Joe Heck by 42%. (Heck went on to lose in the general.) She still speaks of herself as part of the "movement," which she says has "matured" since 2010. But even if a potential wave is forming this year, she might not be in its waters.
Asked if she thinks it's possible to recapture the magic of 2010, she replies: "I don't think it's magic; I think it's integrity." And an attention to a candidate's integrity is what she says she means when she says the movement has matured.
Angle has had no communication with Bannon, even as the strategist has summoned candidates across the country to help fulfill his mission. Trump, in 2015, praised Angle in an offhand remark at an event in Tennessee, calling her "great." But, she says now, "I believe that we'll have a similar situation possibly as they had in Alabama," suggesting Trump may back Amodei in the primary because of his support for Trump during the presidential campaign. "And even though the president has said that we all know Sharron Angle and she's great, that may not be as weighty. He may decide to support either one of us or neither of us — I don't even pretend to understand how his mind works on these things."
In Alabama, Bannon set himself on the opposite side of the man he had worked for in the White House. He backed the controversial former chief justice Roy Moore over the appointed Sen. Luther Strange, who had Trump's full-throated if somewhat skeptical backing. Moore, who was better known in the state and had a solid support base, ultimately won, something Bannon was quick to take credit for.
After Moore won, Bannon announced he would attempt to inspire similar upsets against every incumbent Republican senator, except Cruz, and has indicated his support for several House Republican primary challengers as well.
Bannon has already kept busy ahead of next year. He appeared at the kickoff event with Kelli Ward, who was challenging Arizona Sen. Jeff Flake until he announced he would not run for reelection. Danny Tarkanian, who is mounting a primary challenge to Nevada Sen. Dean Heller, says Bannon told him he would back him "100 percent." Bannon spoke with Chris McDaniel, well-known after his narrow loss in 2014 to Mississippi Sen. Thad Cochran and who Bannon is now reportedly urging to challenge Mississippi's other senator, Roger Wicker. He met with Michael Grimm, mounting a comeback bid against the Staten Island incumbent who now holds his old House seat. And Bannon is reportedly supporting a primary challenger to Rep. Robert Pittenger in North Carolina.
It remains to be seen what having Bannon's support will mean for candidates, and how much financial backing he can muster against traditional Republican donors and McConnell-aligned groups. But, O'Donnell said, having a Bannon-like character as a counterweight to the traditional Republican power centers that never really warmed to her would "absolutely" have made a difference in her 2010 bid.
Breitbart was not yet so weaponized in 2010 on behalf of its preferred candidates, but O'Donnell still credits the website for helping her get as far as she did.
"Thank god for people like Andrew Breitbart, who when we had our side of the story to get out would be willing to tell it when other conservative media pretty much shut us out, because — I hate to say it — even the conservative media was trying to kiss the ring of the Republican Party," she said.
Asked if she thought things might be different if she were running in 2018 rather than 2010, O'Donnell expressed uncertainty. "It's not that easy of an answer," she said in a call following up the voicemail. She speaks of the period from 2006 until now as a "tidal wave" that only recently collapsed. The results of that tidal wave, she says, will only be clear once the wave has subsided.
A Republican strategist with ties to Bannon agrees that there is continuity between 2010 and 2018. "The antiestablishment movement we saw in 2010 has now matured in 2018," the strategist said. "A part of that is that is the candidates themselves."