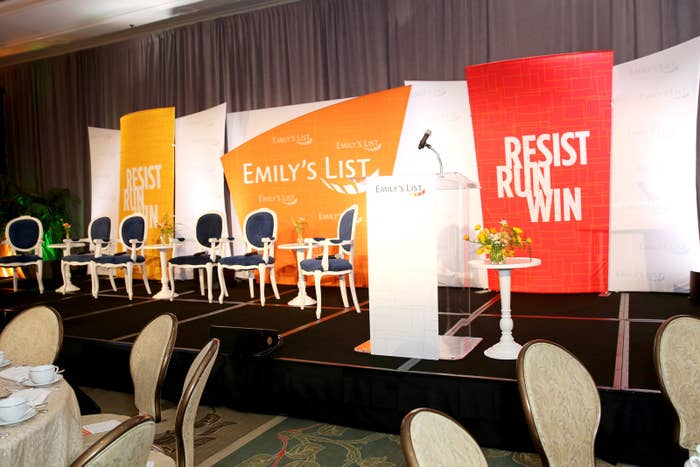 There are an unprecedented number of women running for office in 2018, but the preeminent group dedicated to electing Democratic women who support abortion rights has become ensnared in the party's post-2016 infighting. Some say the group, EMILY's List, has been subsumed by the evil status quo empire it once hoped to subvert.

"They're a great institution," said Erin Vilardi, founder of VoteRunLead, which helps women run for state-level offices. But institutions, she said, tend to lack "nimbleness."
"When you become kind of a political institution, you take less political risk," she said.
"They have successfully elected so many women, that they don't get to be punk rock anymore," said a Democratic strategist who has worked with the group.
EMILY's List has become "one of the pillars" of the Democratic establishment, wrote progressive-friendly publication Splinter in a February story titled, "How EMILY's List Lost Its Way." The Intercept in January deemed it one of several groups that "represents the party's central authority." A person working with a progressive group highlighted EMILY's List support as a mark against candidates the group was not backing when speaking of House Democratic primaries last month.
The tension between EMILY's List and the left that's now boiling over is not new. In its most recent incarnation, EMILY's List became a target of Bernie Sanders' supporters after backing Hillary Clinton's presidential campaign in 2016. But in this political moment, where regular voters are increasingly aware of and arguing over the political institutions behind the candidates, those tensions have become part of the public discussion.
That's especially true of the Democratic primary in Texas's 7th District. There are two women who support abortion rights running in that runoff race, lawyer Lizzie Pannill Fletcher and activist Laura Moser. Moser has the backing of many of the progressive groups affiliated with Sanders and has been spurned by House Democrats' official campaign arm. EMILY's List endorsed Fletcher, and spent about $250,000 supporting her candidacy during the primary.
"They have successfully elected so many women, that they don't get to be punk rock anymore."
"They didn't just endorse — they have sent out eight mailers in support of another pro-choice woman," Moser protested in a February interview with BuzzFeed News, shortly before the race became a head-to-head runoff between her and Fletcher. "And as you know, like, I have played a role in the resistance that was prominent, and it was upsetting."
"This is a new time for Democratic politics, and there's so many women," she continued. "The problem used to be getting women to run, and now that we have these multiple races with two abortion-rights supporters, with two-plus women supporting abortion rights, like, they need to give a long, hard look at what they're evaluating, what their criteria are, how to make these choices."
Some of this can be written off as sour grapes.
"EMILY's list endorsed me in November and has been supportive of me because I earned that endorsement," Fletcher told BuzzFeed News in February, saying she didn't see its endorsement as any different than, say, the Sanders-aligned Our Revolution endorsing Moser. EMILY's List's efforts, she noted, had been promoting her in a positive way; the group had not done any negative advertising against any other candidate.
"Given that there are so many races on the map this cycle, we have to be strategic about where we make decisions about resources and that means targeting states and districts where we can make the most difference and elect the most women," said Christina Reynolds, vice president of communications for EMILY's List, said of how they prioritize.
There's rarely any kind of uproar when, say, unions endorse, as they did against Fletcher. Or when one of the groups aligned with Sanders gets involved in a race.
But few groups occupy the political real estate that EMILY's List does.
"For the folks who aren't on the inside baseball of the political sphere, EMILY's List is like the gold standard," said Kimberly Peeler-Allen, cofounder of Higher Heights, a group whose electoral efforts focus on helping black women get elected. When EMILY's List does not endorse a woman candidate who supports abortion rights, she said, it can raise questions for people watching the race: "Is there something wrong with your campaign why EMILY's List hasn't come on board?"
"EMILY's List is like the gold standard."
But critics say EMILY's List's criteria for endorsing candidates — women who, Reynolds said, support abortion rights and are, based on an assessment by EMILY's List and its allies, "running a strong, professional campaign that will flip a seat and add another woman's voice to the table" — is insufficient for a moment when the divides in Democratic politics run along very different axes.
Democrats are now rarely divided over abortion. A challenge to incumbent Illinois Democratic Rep. Dan Lipinski, who is anti–abortion rights, made headlines last month in part because, in 2018, Lipinski is so unusual among Democratic members of Congress. And this cycle, being a woman candidate is no longer such a rarity: A record number of women are seeking office on both sides of the aisle this year.
Donald Trump's victory in 2016, and what has followed in its wake, called into question the conventional wisdom about how political institutions evaluate and campaign for candidates. EMILY's List's critics say the group needs to grapple with the new political order, and with whether its old candidate criteria need to change.
There is little conflict in this year's Senate campaigns, where primary challenges are a non-factor and Democrats' two best opportunities to pick up a seat are in races with women candidates backed by EMILY's List. But on the House side, where Democrats are trying to sort through ideological rifts within the party, EMILY's List's engagement has raised some hackles.
"If big groups like them with a lot of big money to help candidates don't push for as big change, it kind of acts as a deterrent for groups that do."
"I don't know if identity politics is enough, period. And especially this session I don't know if it's enough," said Rep. Mark Pocan, cochair of the Progressive Caucus, which, like other groups, has gone against EMILY's List in a handful of campaigns and been allied with them in others.
"If big groups like them with a lot of big money to help candidates don't push for as big change, it kind of acts as a deterrent for groups that do," said Alexandra Rojas, campaign director for Justice Democrats, a group that evolved out of Sanders' campaign.
"EMILY's List is in the business of electing pro-choice Democratic women who will be champions for women and hardworking families. That just isn't possible without defending a woman's right to choose, full stop," said Reynolds, when asked whether the group feels compelled to engage with divisions animating Democratic politics at the moment.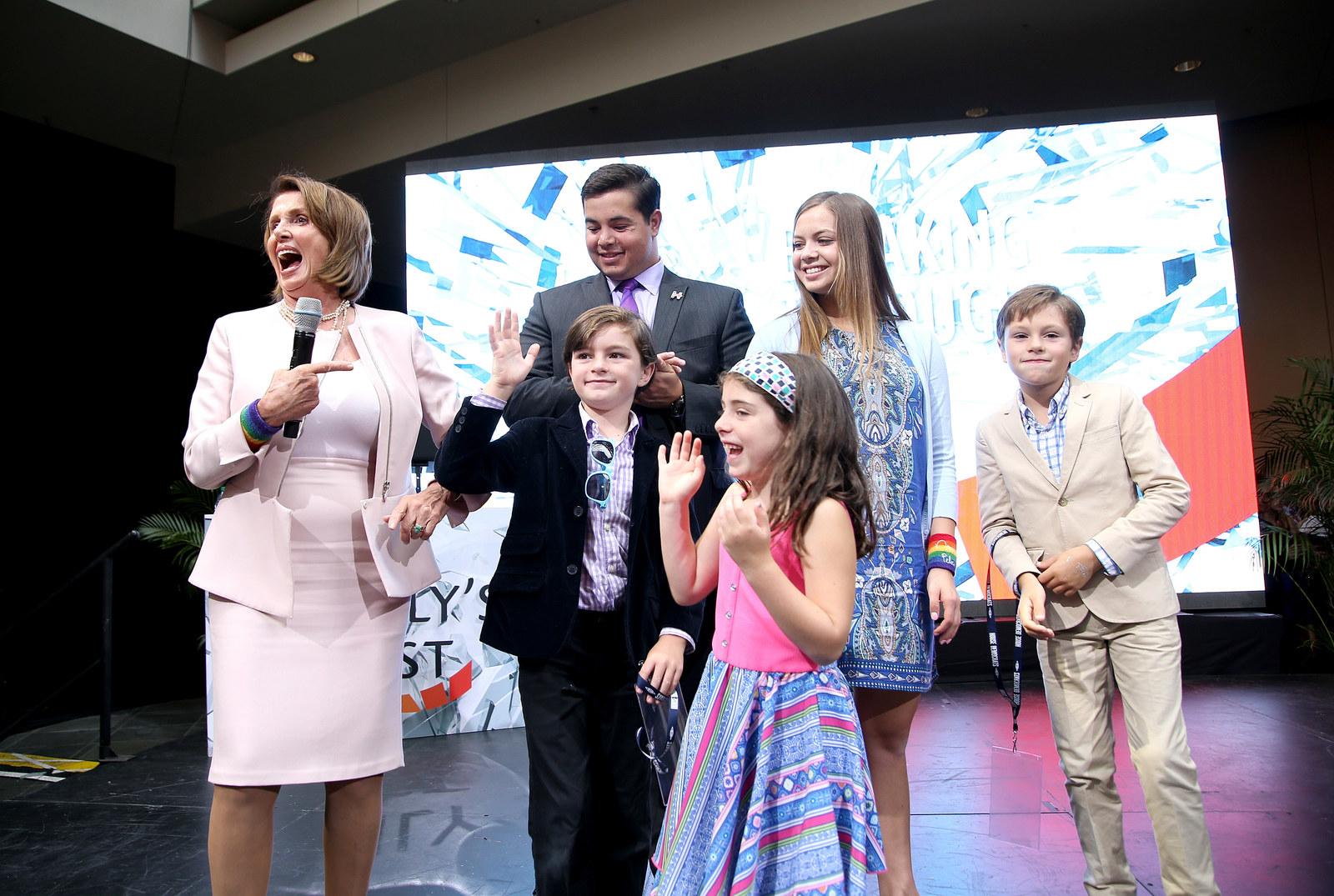 EMILY's List's traditional criteria for viability can shut out women of color, detractors argue. EMILY's List has, in fact, endorsed many candidates of color in recent years. According to numbers provided by the group, 40% of the candidates that have been elected to Congress with its support were women of color. This cycle, EMILY's List is backing, among others, Veronica Escobar and Sylvia Garcia, either of whom, if elected, would be the first Latina member of Congress from Texas; Lauren Underwood, the first black woman to run in Illinois' 14th district; and Stacey Abrams, who would be Georgia's first black governor, if elected. In 2016, the group backed former Rep. Donna Edwards, who is black, in a Senate primary against then-Rep. Chris Van Hollen, an endorsement that aligned EMILY's List with some of the progressive groups that are critical of the group.
But whatever the statistics, as Peeler-Allen put it, "You only need like one or two examples for it to be an 'always' instead of it being one or two examples where many people think they got it wrong."
For EMILY's List critics, that example is Lucy Flores.
Flores was endorsed by EMILY's List for her state assembly bids in 2010 and 2012, and when she ran for lieutenant governor of Nevada in 2014. But when she got into a multi-candidate primary for a Nevada congressional seat in 2016, EMILY's List opted to endorse another woman in the race — Susie Lee. Flores has made no secret of her fury with the group.
The group's organizers "just discard you, just, like a commodity, when in a particular race there's somebody who can raise more money for themselves but also for EMILY's List," she told BuzzFeed News. Sanders, whom she endorsed in 2016, sent a fundraising email for Flores suggesting EMILY's List had dropped its support for her because she was backing him.
"They continue to exist as if they're these big champions of women, but really what they are is a champion of rich white women."
"They continue to exist as if they're these big champions of women, but really what they are is a champion of rich white women," said Flores, who is Hispanic.
The situation "raised some flags," said Peeler-Allen.
"As a female progressive candidate of color, I mean, I didn't even feel like I was welcome to EMILY's List," said Alexandria Ocasio-Cortez, who is now mounting a long-shot primary bid against Rep. Joe Crowley in New York with the backing of Justice Democrats. She cited Flores as evidence.
"Most activists advised me at the beginning of my campaign, 'it's nice to reach out, but if you're pressed for time, it's probably not going to happen,'" Ocasio-Cortez recounted.
Reynolds said EMILY's List approached the Flores race like it does any other race. "Our candidates must be pro-choice Democratic women. Beyond that, we talk to the campaigns and our partners on the ground to assess who is running a strong, professional campaign that will mount a competitive challenge."
Some on the Sanders-aligned left object that the nebulous "beyond that" criteria often finds EMILY's List on the same side as the official Democratic campaign arm. But Democrats elsewhere on the ideological spectrum have noted the group's stated priorities sometimes seem at odds: Sometimes the woman candidate in a primary is not competitive. For instance, in some crowded House primaries this cycle — particularly a handful in California — EMILY's List–backed candidates look unlikely to be able to break into the top tier, raising questions as to how EMILY's List will deploy its resources in those races.
EMILY's List's allies say its candidate criteria isn't as narrow as people make it out to be. While the group might not have an ideological or a diversity lens itself, it partners with organizations that do, running trainings with Higher Heights or Run for Something, a group that wants to be a talent incubator for women candidates under 40. Michelle Ringuette, who heads up the American Federation for Teachers' political efforts, calls EMILY's List "critical in helping to expand access of candidates to groups like AFT."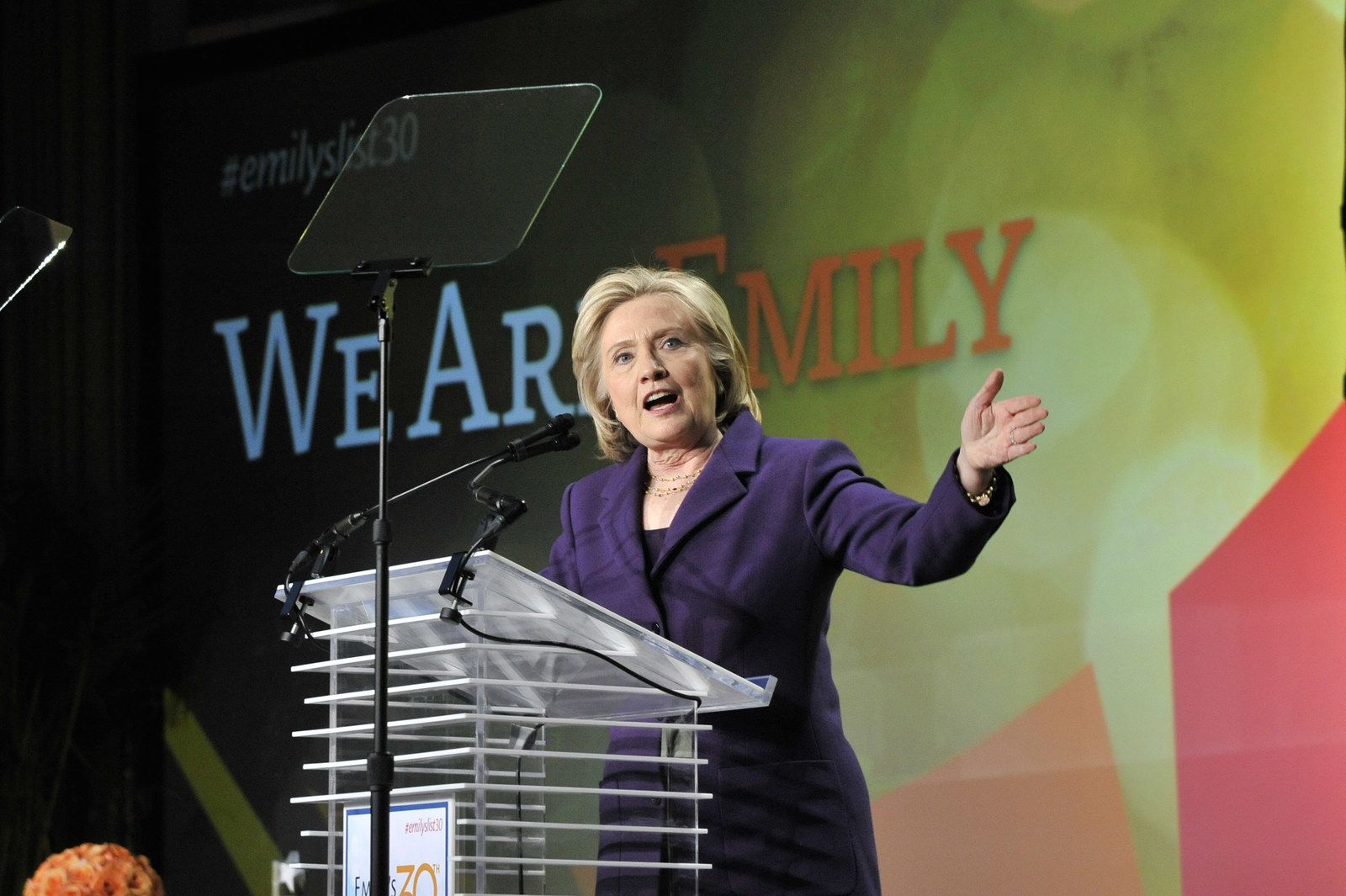 So far this cycle, Women Vote!, EMILY's List's independent expenditure arm, has spent more than $1 million supporting candidates it has endorsed — four candidates in Texas and two in Illinois. And EMILY's List has raised and transferred over $1 million directly to the candidates it endorsed.
The energy and agony on the left following the 2016 elections has given life to a whole host of groups that help women run for office. But no group is poised to usurp EMILY's List's role in Democratic politics. And some of the groups that find themselves alternately working with or against EMILY's List see demonizing them as counterproductive.
"We sometimes work together, and sometimes we're up against each other. But you would be hard-pressed for me to say that any of that extends beyond those specific races," said Amanda Litman of Run for Something. EMILY's List still gives "indispensable" guidance to campaigns, one Democrat said of her time working on a campaign the group supported.
"Since Election Day 2016, more than 34,000 women have reached out to us about running for office," said Reynolds. "I think that says it all. But we absolutely welcome more organizations who want to help elect more pro-choice Democratic women."
Even Flores acknowledges that there's no obvious other option for donors who want to support women candidates. They "don't have an alternative, they don't have somewhere else to support to lift up at least some women," said Flores. "They don't know where else to give."
CORRECTION
Alexandria Ocasio-Cortez is a candidate for Congress endorsed by Justice Democrats. A previous version of this story misstated her relationship with the group.