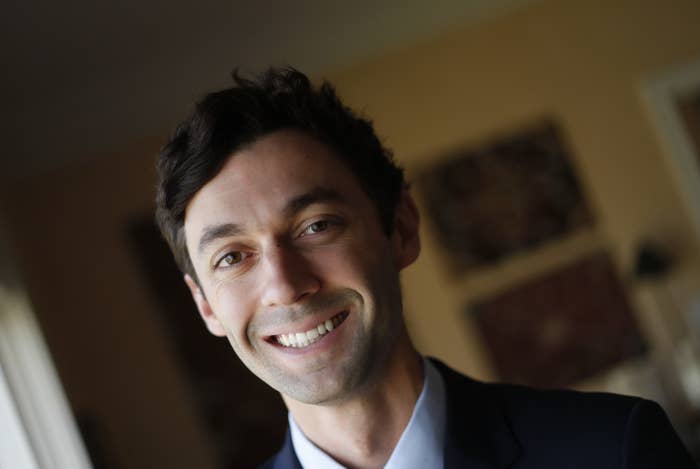 WASHINGTON — On Tuesday night, Democrats will find out if the opposition to Donald Trump that has electrified the left since November can be converted into actual electoral results.
All eyes are on the special election in Georgia's 6th Congressional District, where Democrats see an opportunity to flip a seat that has been in Republican hands for decades. Jon Ossoff, a 30-year old, previously unknown documentary filmmaker, has become a lightning rod for the excitement and anger that has been building since the election in November, and an outlet for Democrats looking for a way to make a statement. Ossoff has drawn national attention and raised a record-setting $8.3 million (largely from outside of the district, which lies in the suburbs just north of Atlanta).
The big question: Can that energy propel Ossoff to a victory with more than 50% of the vote in an 18-candidate all-party primary on Tuesday? Or will he fall short, and be forced to compete in a June runoff?
Tuesday's "jungle primary" puts all the candidates — 11 Republicans, five Democrats, and two independents — on a single ballot. If no candidate wins a majority of the vote Tuesday, the top two candidates will head into a runoff. Many Democrats believe Ossoff's best chance at winning this Republican seat is to do so outright on Tuesday while Republican support remains fractured between several candidates. A one-on-one race between Ossoff and an as-yet unnamed Republican candidate in a longtime Republican district could be a much bigger hurdle for Democrats.
Last week was the first big test for the Democratic Party in the Trump era in a special election in Kansas, but the Georgia race looks to be the more realistic opportunity for the party. In Kansas's 4th District, which Trump won by 27% in November, a Democratic candidate held Republican Ron Estes to a mere seven-point victory. That close loss emboldened Democrats heading into the Georgia race, which is playing out on much more hospitable turf. Republicans have represented the district since Newt Gingrich won it in 1978. But Trump's margin of victory there in November was a single percentage point, giving Democrats hope that the well-educated, suburban district could swing to the left this time around.
National Democrats stayed out of the Kansas race — spending only a nominal amount on get out the vote efforts in the final weekend — believing that an actual win there was a pipe dream. But their imprint is more evident in Georgia, where they see a shot at victory. They have spent money on radio ads and mailers and have had staff on the ground since the start of the race. But with Ossoff's huge fundraising from small donors across the country, the party hasn't needed to spend on television ads to keep him competitive.
Ossoff, himself, has had to walk a fine line. Nationally, he has come to embody the hopes of Trump antagonists. But locally, he is a Democrat running in a Republican district in Georgia, a state that voted out the last remaining white Democrat in its congressional delegation in 2014. To win, either Tuesday or in a runoff, he has had to speak to voters who, even if they have become disenchanted with Trump, have a long history of voting Republican.
Republicans, meanwhile, have spent millions to prevent Ossoff from breaking 50 percent, tying him to Democratic bogeymen like House Minority Leader Nancy Pelosi and attacking him for living outside the borders of the district he is running to represent. But the enthusiasm for Ossoff has gone largely unmatched on the Republican side, where allegiances are split between 11 candidates vying for the distant second place that will give them a spot in the runoff and the opportunity to take on Ossoff one-on-one.
Several candidates have emerged in the top tier on the GOP side. Former Georgia Secretary of State Karen Handel, who is well-known in the district after having served on the Fulton County Commission, entered the race as the Republican frontrunner, as short-turnaround special elections tend to reward candidates with the highest name recognition. Bob Gray, a businessman, is also in contention, boosted by support from the Club for Growth, which has been running television ads for him. Dan Moody, a businessman and former state senator, has put almost $2 million of his own money into his campaign to put himself into contention. And Judson Hill, a former state senator who represented part of the congressional district locally, also entered the race with the benefit of high name recognition and Gingrich's endorsement.
Republicans, speaking of the contours of the race, cheer their deep bench, a byproduct of the fact that the district has been safely in Republican hands for almost 40 years. But the scattered field has proved a liability for Republicans — splitting support as Democrats coalesced behind Ossoff, making it possible for him to break 50%.
"The fact that we've got so many candidates in the race makes it harder for any one candidate to really step out there," former Georgia Sen. Saxby Chambliss told BuzzFeed News.
Republicans say that in a runoff, with all their resources and support coalesced behind a single candidate, they would have an advantage in a district that they believe remains fundamentally Republican.
In the interim, unwillingness to take sides has left some of the party's big hitters on the sidelines. Outside Republican groups, like the National Republican Congressional Committee and the Congressional Leadership Fund, a super PAC closely aligned with House Republican leadership, have spent their money attacking Ossoff and urging voters to vote Republican — a less compelling message without a specific candidate to name. And Sen. Johnny Isakson, the popular senior senator from Georgia, has opted not to get involved at all (Sen. David Perdue endorsed Moody and former Sen. Saxby Chambliss backed Handel).
And whereas the Kansas race drew high profile Republican boosters, with Trump and Vice President Mike Pence recording robo-calls, and Sen. Ted Cruz flying out for a rally, big national names have largely stay out of the Georgia race as well. Trump on Monday waded into the race for the first time, tweeting a swipe at Ossoff that didn't mention any of the GOP candidates.
"The super Liberal Democrat in the Georgia Congressioal [sic] race tomorrow wants to protect criminals, allow illegal immigration, and raise taxes!" the president tweeted Monday morning.
Trump's relative absence so far in the campaign might change in a runoff; the president is scheduled to attend the NRA annual meeting in Atlanta at the end of the month.
If the race does head to a runoff, Ossoff may have to avoid incoming fire from his own party as well as from the Republicans. In a period when certain elements on the left are increasingly focused on ideological purity, some are already girding for a runoff message that could fall afoul of liberal orthodoxies.
"He's shown us that he's a true Georgia Democrat. But while running in a Republican district, he's got to be able to not only get Democrats to vote for him, he's also got to be able to get Republicans," Tharon Johnson, a Georgia Democratic consultant, told BuzzFeed News.
In the event of a runoff, Johnson said, "we as Democrats have got to understand that when Jon's campaign decides to make a pivot, we must continue to support him even more than we did on Tuesday."
Outside Your Bubble is a BuzzFeed News effort to bring you a diversity of thought and opinion from around the internet. If you don't see your viewpoint represented, contact the curator at bubble@buzzfeed.com. Click here for more on Outside Your Bubble.