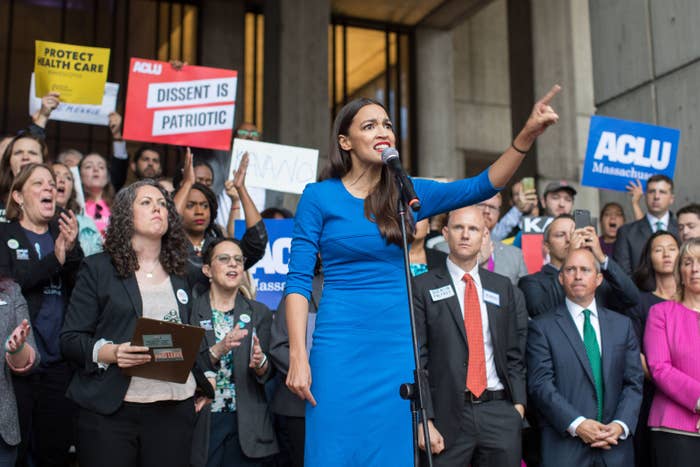 As a dozen or so Democratic presidential hopefuls prepare to make a play for the progressive mantle, an alliance of House progressives and outside groups is making a play to shape the policies and priorities that will define it.
Progressive Caucus chairman Rep. Mark Pocan, a Democrat from Wisconsin, and Rep. Pramila Jayapal, a Democrat from Washington state, will announce Tuesday the formation of the Congressional Progressive Caucus Center, an entity intended to build infrastructure to better unite the soon-to-increase number of progressive members of Congress with outside groups that support progressive issues. The center will help craft specific policy proposals, provide policy and personnel resources to members of Congress, and mobilize outside groups to help get those policies passed.
The timing is no accident. Democrats hope they are on the verge of winning a majority in the House for the first time in a decade, and that newfound majority will usher in a number of new progressive Democrats.
The center's goal is to help progressives "take advantage of this moment and the opportunity that's out there, and kind of the hunger for a progressive agenda," Jayapal told BuzzFeed News.
And then, as attention turns to 2020, the hope is that the center can "be the entity that's initiating the ideas, and then the people who are running for president have to pick that up," Pocan told BuzzFeed News.
"I think we want to make sure that candidates who run for president understand what the progressive agenda is, what the working families agenda is, if you will, and are really helping to elevate that, and are using the presidential platform to elevate that agenda and continue to build the movement," said Jayapal.
Pocan said there has not been any outreach to potential candidates just yet, but he called it "a next step after November 6."
Once the group's formation is official, he added, "my guess is a lot of them will be reaching out to us."
Jayapal and Pocan have so far raised $1.5 million for the group for the first year, from a combination of unions, foundations, and individuals. Donors have committed to funding the entity at those levels for three years. The sources of funding will be disclosed, Jayapal and Pocan said, though they did not yet offer specifics.
The money will fund a full-time staff of nine. The Progressive Caucus has operated with a single full-time staff member, something Pocan said has limited the number of things House progressives can focus on, and the increased staff will give them more room to maneuver. The center will also pay three to five fellows, who will be placed in congressional offices, as part of an effort to get more progressive staffers in Congress.
Jayapal pointed to immigration, a topic she's particularly involved with, and said that after discussions between herself and other stakeholders, the center would help produce a 100-day agenda and then more forward-looking, longer-term agendas, including one for 2020, "because we understand that if Democrats only control the House, it's going to be difficult to push through everything we want to push through."
The specific focuses for the next Congress depend, said Pocan, on what the next Congress looks like. "A five-seat majority and 25-seat majority are two very different things. … Do we have the Senate? Do we not have the Senate?"
Congress, Pocan acknowledged, is a place "where things can be sometimes not as progressive." But at the start of the new Congress in January, he said, the group will conduct a "very significant poll" to be able to point to specifics around support for their policies. Then they will use the center to help push through those policies, engaging outside groups and their memberships to lobby.
"For legislation to get passed, to get sponsors, you need to activate the grassroots to call members," Pocan said.
The man in the White House will be a major impediment to that. But Pocan said the group would work with President Donald Trump if they could.
"If he wants to be the new national champion for Medicare for All, we would find ourselves in alignment," he said. "I just also don't really believe in the Easter Bunny, either, so we'll see if that would really happen."