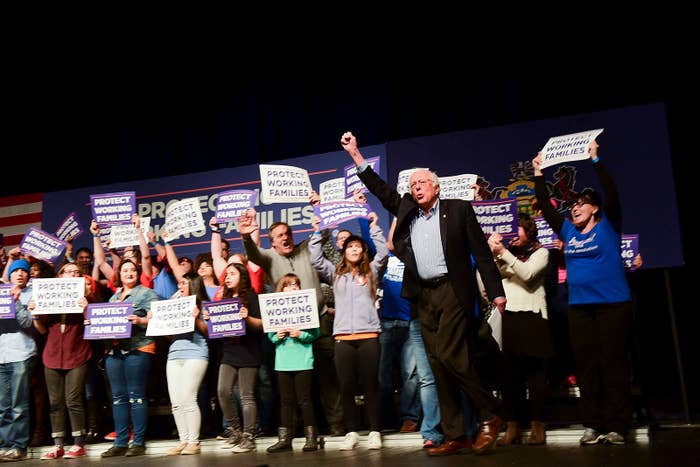 National progressive groups are furious with the Democratic Congressional Campaign Committee after the House Democratic campaign arm leveled an unusual broadside against Laura Moser, one of several Democrats running in Texas's 7th Congressional District — a top Democratic pickup opportunity.
Moser is vying to challenge Republican Rep. John Culberson, who won reelection in 2016 even as his constituents voted for Hillary Clinton over Donald Trump. The primary is March 6, less than two weeks away. The top two vote-getters are likely to head to a runoff in May: Eight Democrats are running in the primary, and four, including Moser, have raised competitive amounts of money. With so many people in the field, it is unlikely that any one candidate will get a majority of the vote, triggering a runoff.
It's the kind of crowded primary field that Democrats are seeing in races all over the country, a result of the unprecedented surge of activism on the left following Trump's election. And as the Democratic Party reckons with sharp divisions over who it should be on everything from policy to the types of candidates it recruits, this public blowup highlights how intense those intra-party fights could be as the party tries to move forward from a disastrous 2016.
On Thursday afternoon, the DCCC posted four bullet points of research to its website attacking Moser as "a Washington insider who begrudgingly moved to Houston to run for Congress," who wrote in 2014 that she'd "sooner have [her] teeth pulled without anesthesia" than live in Paris, Texas, where her grandparents once lived, and whose campaign was paying tens of thousands of dollars to her husband's consulting company.
"Voters in Houston have organized for over a year to hold Representative Culberson accountable and win this Clinton district. Unfortunately, Laura Moser's outright disgust for life in Texas disqualifies her as a general election candidate, and would rob voters of their opportunity to flip Texas' 7th in November," said Meredith Kelly, the DCCC communications director, in a statement following the post.
Moser has the backing of some of the progressive groups aligned with Bernie Sanders: Justice Democrats, which was formed by former Sanders staffers, and Democracy for America, the group founded by Howard Dean that endorsed Sanders in the 2016 Democratic presidential primary, and Our Revolution Texas, a local chapter of the Sanders' allied group.
The DCCC's criticisms of Moser were not about her political stances or where she falls in the left's ideological spectrum, but those progressive groups expressed fury at the idea that the DCCC was trying to stifle a candidate who did not fit their mold.
"DCCC's actions unfortunately reveal a party establishment cracking down on leaders who challenge their way of doing things," said Waleed Shahid, a spokesman for Justice Democrats, in a statement. "They believe we need Democrats who can cater to the agenda of Wall Street and the wealthy donor class and now they're putting their thumbs on the scale."
"Midterm elections are won by whichever party can turn out their base. If Democrats want to take back Congress, they have to actually fight for what the American people want — and what their base demands. In order for Democrats to take back Congress, we need leaders like Laura who can really activate where the grassroots energy is in the party right now," Shahid added.
"The idea," Democracy for America's electoral director Annie Weinberg said in a statement, "that some faceless hacks are calling themselves Democrats while sitting in a DC office building throwing bombs in support of a lawyer who built her career at a law firm for union-busters is precisely why the Democratic Party has lost over 1,000 elected offices over the last decade."
"Laura Moser is a fifth-generation Houstonian building a genuine grassroots campaign in her home community and, while that might not get the Republican-lite cheerleaders at the DCCC their sweet consulting gigs after this cycle, it's exactly the kind of campaign we need to win this critical race and retake the House," she added.
Weinberg's statement appears to refer to Lizzie Pannill Fletcher, a lawyer who is another top contender in the primary. Fletcher has been endorsed by EMILY's List. The DCCC has not endorsed in the race. Alex Triantaphyllis, an executive at a nonprofit, and Jason Westin, a doctor, are the other top contenders.
The dustup is a reminder that the fights of 2016 remain unresolved. Progressives felt in 2016 that the Democratic institutions tipped the scales against Sanders — and with the first primaries of 2018 less than two weeks away, many feel that dynamic has not changed for progressive candidates. Some of these groups see the House races this year as an opportunity to prove the folly in that: If a progressive candidate can win the primary, some progressives say, that candidate's victory in the general election could help redefine what it means to be a viable candidate and inspire the party institutions to take progressive candidates more seriously moving forward.
"I think there's an old nostrum in Democratic politics that the way to win swing districts is with moderate white men in suits who don't say anything much about their positions in order to avoid alienating Republicans. I think the last few years are increasingly proving that belief to be simply false," said Joe Dinkin, communications director for the Working Families Party, which has endorsed a number of progressive candidates (though has not endorsed in the Texas 7th District primary).
The theory is that a progressive candidate can excite voters in a way that a more moderate candidate cannot, and thus hand Democrats a win even without the crossover Republican voters that the more moderate candidate might attract.
"What if Democrats could actually nominate candidates who inspire people to come out and vote?" texted Rebecca Katz, a former adviser to New York City Mayor Bill de Blasio. As for the DCCC's comments, she wrote: "THIS IS HOW YOU DEMORALIZE YOUR BASE."
But there is concern among some Democrats that a candidate as far to the left as Moser might imperil their ability to compete in the district in a general election. Clinton won the district, but only by 1.4%. And in the Democratic primary, Texas was decidedly not Sanders territory — Clinton won the primary resoundingly, taking 65% of the vote to Sanders' 33%.

Some say they DCCC's action might have the opposite of its intended effect, riling up the supporters of the candidate they oppose. DFA sent a fundraising email for Moser Friday afternoon with the subject line: "The DCCC has gone too far."
"We can't stop the DCCC from attacking Laura. But we can show the DC establishment that progressives support Laura -- because she supports you," reads the email, which is signed by DFA chair Jim Dean.
"This gave us a tremendous opportunity to remind our members who Laura Moser is in this race and what she's up against," DFA communications director Neil Sroka told BuzzFeed News. "So, I guess, thanks to the DCCC for that."
Justice Democrats are also mulling taking some action in direct response to the DCCC's comments. Thus far, their efforts to help Moser have involved text-banking for her, sending emails about her events, and helping with get-out-the-vote operations.
"We're used to tough talk here in Texas, but it's disappointing to hear it from Washington operatives trying to tell Texans what to do," Moser said in a statement. "These kind of tactics are why people hate politics. The days where party bosses picked the candidates in their smoke filled rooms are over. DC needs to let Houston vote. This is a landmark year in Texas and in states all across the country. We have a real chance to not only flip District 7, but bring some sanity back to Congress and resist the erratic extremism holding our White House hostage. It's a lot to ask, and we can't do any of it by throwing mud and tearing each other down. This is not the time to be a house divided."
The battle over what makes a stronger Democratic candidate will play out in Democratic primaries across the country, starting with Texas, which hosts the first primaries of 2018.
"We have always said we reserve the right to get involved in primaries so that voters have a fighting chance to flip seats in November," Kelly said, when asked if the DCCC was likely to take similar steps in other primaries. "On future involvement in primaries in other districts, it's completely possible, but we don't have any definite plans at this time."