PORT ARTHUR, Texas — Officer Rickey Antoine is known around town as the man who gave his own mother a traffic ticket. She was driving 42 miles an hour in a 30 zone, out by the high school football stadium, the story goes. "She said, 'Boy, quit playin' with me,'" Antoine recalled. But Sadie Mae Antoine's son makes no exceptions. His mom drove away with a ticket, Antoine said, and she didn't cook him chicken dinner for the next couple months.
Antoine, 49, wears sport sunglasses and drives a fuel-black Dodge Charger he calls Roxanne, after the way Eddie Murphy sang the Police song in 48 Hours. "My Roxanne loves putting on her red lights," he said. Roxanne often rumbles past Port Arthur's empty lots and abandoned storefronts as Antoine scours the area for misbehaving motorists. Cameras peer out from the top of Roxanne's trunk, their lenses scanning license plates in search of drivers who haven't paid off their traffic fines.

Antoine launched a traffic-policing juggernaut in this small Gulf Coast city. Back in 2007, his bosses at the Port Arthur Police Department tapped him for a brand-new kind of job: writing up driving infractions full-time. Antoine went on a ticketing binge, and, propelled by all the new money from fines, city leaders expanded the traffic unit from just him to eight officers.
Then, with the help of the cameras, which automatically scan the license plates of nearby cars as police cruisers drive around town, the team expanded its reach to target not just people breaking the rules of the road, but also those who owe money from prior infractions.
Police higher-ups say the traffic unit has made Port Arthur a safer place to drive. The unit also caused the city's yearly revenue from fines to soar, from $750,000 in 2006 up to as high as $2.1 million in 2012 before settling, most recently, at $1.5 million.
But people who cannot afford to pay their fines — which can run to a thousand dollars or more — often wind up behind bars, leading to a great disparity in the consequences of traffic tickets on people's lives.
License plate recognition software is often touted as a way to catch terrorists, dangerous fugitives on the run, and stolen cars. But Port Arthur and many other departments around the country use it for a less extreme — but more lucrative — purpose: to pull over people who owe debts to the city municipal court, demanding, in many cases, that they either pay up or go to jail.
In Port Arthur, the impact is especially stark. The city of 55,000 is one of the poorest in Texas, with poverty and unemployment rates around double the state's average. The defining feature of the city's old downtown is decrepitude: crumbling shingles, rusted awnings, jagged broken windows. Plywood boards with painted red squares mark dilapidated homes.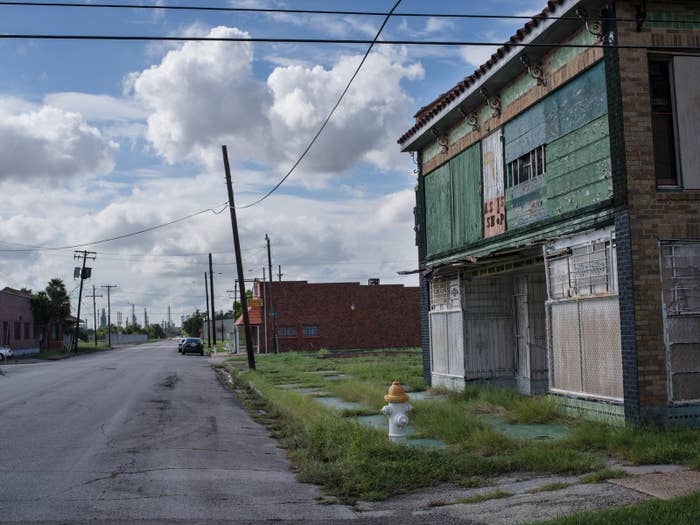 For many residents already struggling to meet their obligations, traffic tickets add yet another burden that may tip them into further financial ruin. Many end up behind bars. From 2009 to 2011, the height of the city's traffic enforcement spree, about 1,500 people were booked into lockup for unpaid traffic fines. In fact, traffic and other fine-only offenses result in jail at a higher rate in Port Arthur than in most other cities in the state, according to a BuzzFeed News analysis of Texas court data.

Beyond those numbers lies a racial dimension: The people who Port Arthur police put behind bars for their traffic tickets are disproportionately black. While black people make up only 40% of the overall population — and are ticketed at about that rate — they accounted for about 70% of the arrests for these citations in 2014, according to a BuzzFeed News analysis.
Over the past decade, about 1,300 people have spent three days or more in jail for traffic tickets — and about 75% of those people were black.
For low-income, hourly workers, time in jail can cost them a job. Even if they don't lose their job, they lose wages. Missing a few days of work can make the difference between staying afloat and drowning in debt. Black people in Port Arthur are about 65% more likely to be poor than white people.
Using the license plate readers, Antoine's unit arrested Artezha Williams this past summer for unpaid tickets from a neighboring town. A day passed before she saw a judge, who put her on a payment plan and let her out. Her supervisors at Walmart, where she worked the overnight shift, were understanding. But she was taken off of several work shifts, so her $9.50-an-hour paycheck was light that week. The officers had also towed Williams' car, which she needed to get to work. She couldn't get it back without paying $302, up front, forcing her to fall behind on other bills, including her utilities.
Shirley Sanders worked as a housekeeper at a local hospital. She was picked up in July 2015 for outstanding tickets she received more than a decade ago. Sanders had been ordered to perform community service in 2001, but hadn't completed it, and she owed the city $1,500 in fines. She was sent to jail for 10 days. She was lucky; she wasn't fired. But she wasn't paid for the eight work days she missed. When she got home from jail, her water had been cut off. She spoke with BuzzFeed News a few days after she was released, and she was waiting on her next paycheck before she could sort it out. In the meantime, her daughter was coming by her house with buckets.
Port Arthur officials say their traffic plan is not about raising money for the city, but about saving people's lives by making the roads safer. Port Arthur Police Chief Mark Blanton said putting more people in jail was not the goal, in part because "it costs money" to lock them up.
But he said that increased financial strain for some is "a worthwhile trade-off" for fewer traffic deaths. "Having to pay for a funeral is a big financial burden too if someone gets killed in a car accident," Blanton said.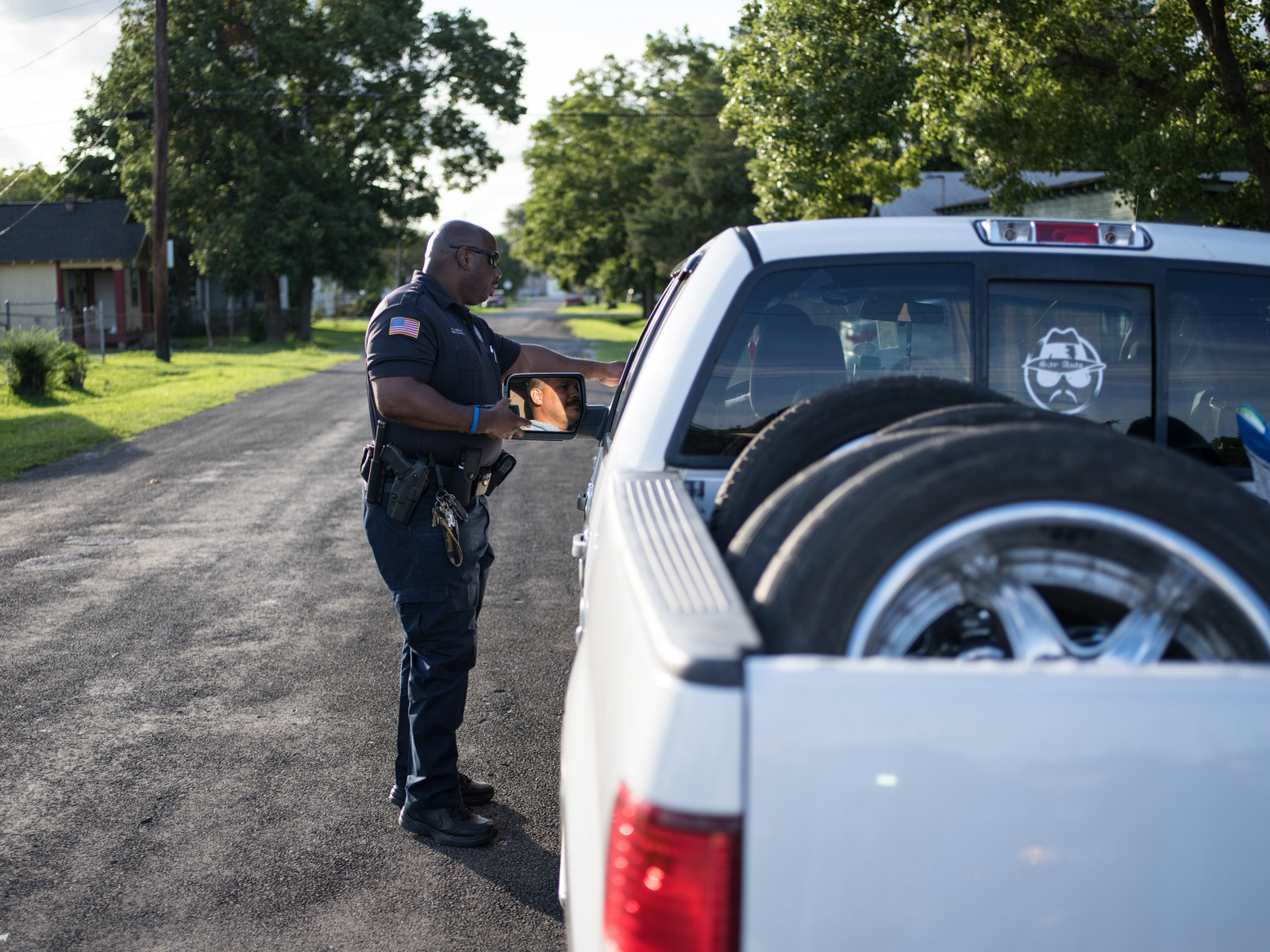 Traffic safety is equally important for poor people and for people with money. But traffic fines, as they are typically imposed, inflict far more pain on poor people.

Poor Texans all across the state have told BuzzFeed News of how one or two driving mistakes have snowballed into insurmountable debt. Texas suspends the licenses and registrations of thousands of drivers every year who haven't paid surcharges for certain offenses. A scathing report of that policy found that many people, in urgent need of the use of their vehicles and without the money to pay, simply continue driving illegally, creating more liability for everybody else.
A recent BuzzFeed News investigation found that some judges across Texas routinely ignore basic state and federal laws meant to protect people from getting jailed simply because they're too poor to pay their fines.
That is not the case in Port Arthur. Municipal Judge Kermit Morrison tries to help people struggling with their fines, offering them community service or payment plans that can run as low as $5 per month.
Yet many Port Arthur residents miss their court dates, or fail to complete their community service — because they have to work, or perhaps because they forget or don't make it a priority. Then a warrant goes out, and they get arrested. They get released after a couple of days with a new chance to do community service or enroll in a payment plan. Some, like Williams, the Walmart employee, can put jail behind them. Yet others slip up again, and are then ordered to "sit out" their fines, which often means a week or more behind bars.
"My god, when we first got the system, it was just constant."
Port Arthur's attempt to work with people is helpful, said Judith Greene, director of the New York–based nonprofit policy research group Justice Strategies. But even community service places a hardship on people who may have low-income jobs that consume much of their time and may have children to look after. And it's a hardship that the wealthy, who simply pay their fines, do not have to face. As a result, she said, "poor people go to jail and rich people walk."
And there is little evidence that hitting people's wallets with heavy fines is necessary to achieve safe streets.
Academic research does link aggressive traffic policing with fewer car accidents, and fewer deaths. But evidence suggests that the financial penalty does not need to be steep: Getting the ticket correlates to driver safety, not the amount it costs, said Donald Redelmeier, a professor of medicine at the University of Toronto who co-authored a 2003 study on traffic enforcement published in The Lancet. This would support "frequent enforcement, but not necessarily draconian enforcement," he said.

"You can take a good policy too far," Redelmeier said. "That is true about hand-washing, it's true about antibiotics, and it's got to be true about traffic safety."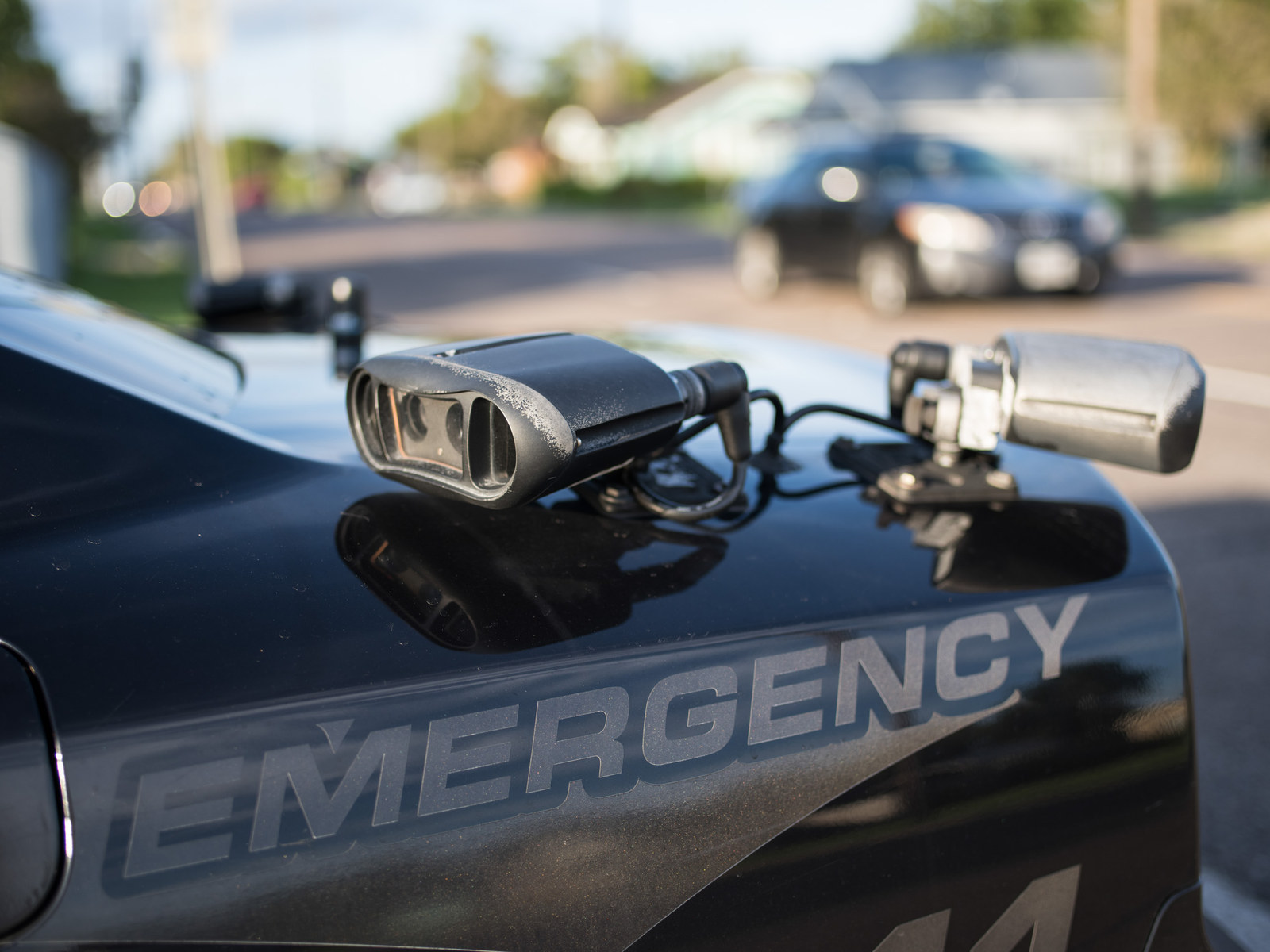 The brochure that reached Chief Blanton's desk in 2008 displayed a picture of Manhattan's Chrysler Building lit up against the night sky, and promised to help catch terrorists. The software the brochure advertised was called the "Mobile Plate Hunter 900 Series," and it could do far more than a whole phalanx of traffic officers: read up to 1,500 license plate images per minute across four lanes of traffic, and alert officers "within milliseconds if a vehicle is suspect." The technology could aid law enforcement not just with homeland security but also with stolen cars, Amber Alerts, and wanted or missing persons.
The pitch gave Blanton another idea: Why not give the devices to his traffic unit, to catch people who had arrest warrants for their unpaid tickets? The unit was already expanding and had already begun to increase city revenue from fines. But typically people who didn't pay the city the money they owed would only be held to account if officers caught them on a different driving infraction, and then looked up their record. The license plate readers would allow the officers to pull people over without any other probable cause.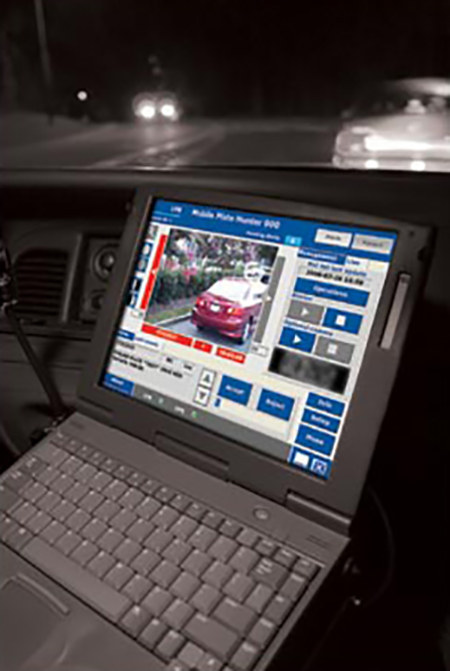 Officer Chuck Cobb gave it a trial run. Over the course of 16.5 hours of work, he made 124 traffic stops and 69 arrests. Collectively, those people owed the city $71,500 in unpaid fines. The city would be able to collect only some of that money, but still, officials were so pleased with the program that they ultimately put license plate readers into six traffic unit cars. "My god, when we first got the system, it was just constant," Officer Gerald Bush told BuzzFeed News. "I mean, you'd get 40 or 50 hits a day."
The number of Port Arthur debtors in the county jail had already started to surge — but with the advent of the license plate readers, it exploded. The amount the city spent on locking people up jumped 175%, from $152,800 in the fiscal year ending in October 2008 to $415,800 in 2011. But at the same time, revenue from fines rose by more, from $1.2 million to $2.1 million. The devices themselves were expensive, Antoine said, but they weren't a tough pitch to city officials. "You get it back," he said, with the money collected from people the machines sweep up.
License plate readers are everywhere in American law enforcement. A 2011 nationwide survey by a nonprofit police research organization found that 70% of the agencies that responded had at least one of the devices, and 85% planned to add more within the next five years.
No national figures exist for how many departments wield it the way Port Arthur does, to nab people who owe debts on traffic offenses. But enforcing traffic warrants is "definitely a primary use" for the clients of ELSAG, a major producer of license plate readers, spokesperson Nate Maloney said.
Yet Maloney insists it is not meant to be a moneymaking endeavor. "We don't tout it as a tool for revenue; we tout it as a tool to enforce laws," he said. Asked about the software's disparate impact on poor people, especially poor black people in Port Arthur, Maloney said the machines actually help prevent discrimination. "Whether the driver is black, white, green, or blue has no bearing on whether our machine will run the plate," he said. "It's an equal opportunity technology."
ELSAG made the initial pitch to Port Arthur, but after some technical issues, the department went with a competitor, Vigilant Solutions. In an emailed statement, Brian Shockley, Vigilant's vice president of marketing, said, "Our LPR systems do not create new charges, we are merely helping law enforcement find suspects or in the case of traffic warrant enforcement — criminals who have already been found guilty in the court of law and have not abided by the punishment levied by a judge."
Port Arthur's use of the technology caught on with some other nearby departments, most notably neighboring Beaumont, which uses two for its traffic unit. Sometimes the departments team up and go on warrant stings together, blocking off parts of a busy street down to one or two lanes. That creates a funnel, allowing the devices to capture every single license plate, so no one driving by with a traffic warrant can elude their grasp, Antoine said.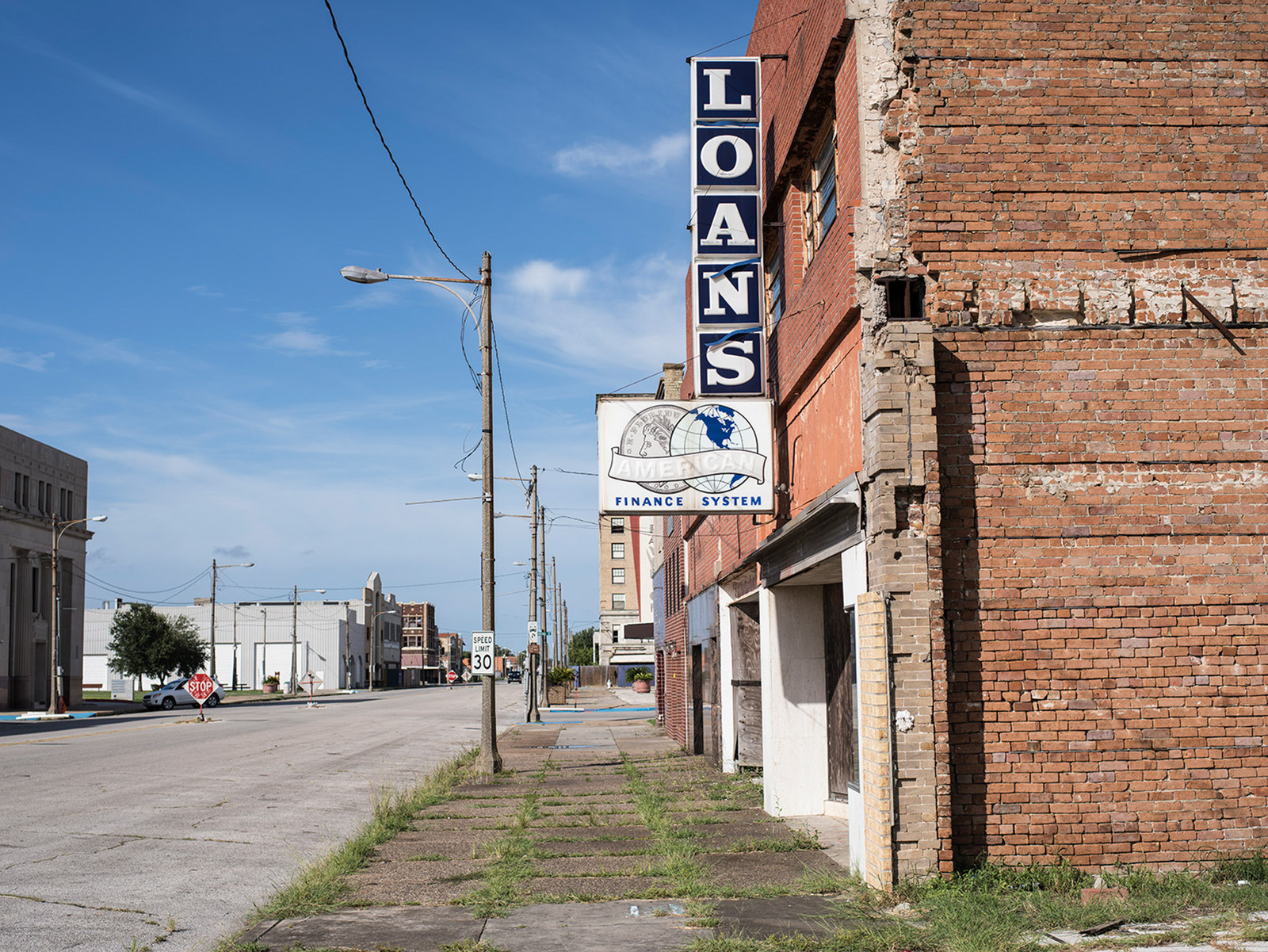 The founding of Port Arthur was ordained by ghosts. The late-19th-century businessman Arthur Stilwell called them "brownies," and they came to him in his sleep and told him what to do. He had grand plans to build a railroad connecting Kansas City with the Gulf of Mexico. The original route was to end in Galveston, but — at least as he put it in his late-in-life memoir, I Had a Hunch — the brownies warned him to steer clear, for a "tidal wave" was coming. (A few years later, a hurricane crushed Galveston, killing 8,000 people.) Instead, Stilwell chose a location farther inland, near the Sabine Lake on the Texas–Louisiana border. The brownies ordered him to name it after himself.
Port Arthur was incorporated in 1898, and three years later oil surged out of a rig nearby. The companies that would later become Gulf Oil and Texaco quickly moved into town, and so did transplants looking for jobs in the refineries. By 1930 the city had 50,000 people. Over the last four decades, white people have left Port Arthur in droves, and downtown Port Arthur has become predominantly black. The city's commercial center shifted to "mid-county," a new development on a stretch of land away from downtown.
Today, mid-county is strip malls and subdivisions, and downtown Port Arthur is crumbling away to nothing. McDonald's and Walgreens both left downtown a few years ago. The city's tallest structure, the Hotel Sabine, has sat unused for more than three decades. A city council member recently proposed wooing Hollywood directors to Port Arthur with the promise they could blow up the hotel and other vacant properties, to bring in investment — and save the city the cost of tearing the old landmark down.
The oil refineries still hum along, heaving thick smoke into the air and brightening the skyline with firefly lights at night. The oil towers brush up close to several old Port Arthur neighborhoods, and local environmental activists say that it is the black community that suffers from the resulting pollution.
Rickey Antoine grew up in west Port Arthur, and in 1984 he was a star runner at Abraham Lincoln High School. He joined the Port Arthur Police Department in 2000, after a stint as a prison guard. The department's traffic enforcement was a backwater then.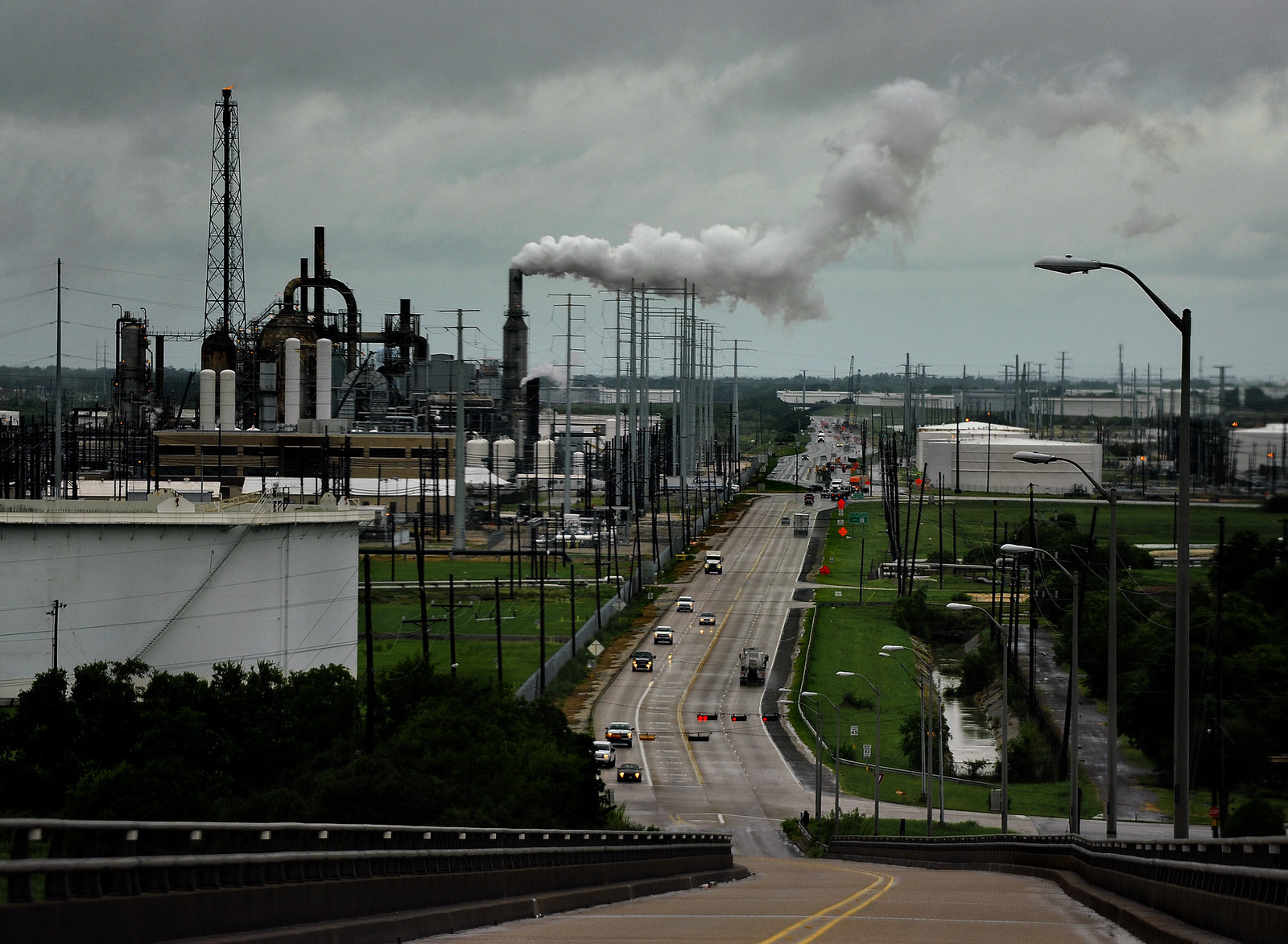 In 2002, city officials noticed that the amount of money from fines — money they counted on for the city's general fund — was starting to drop "considerably behind last year's pace."
City leaders urged the cops to pursue people with arrest warrants for unpaid traffic tickets more aggressively. In the years that followed, the city won federal overtime grants and joined a state program that would prevent people who hadn't paid citations from renewing their licenses.
Revenue began to increase — and so did the amount the city spent to jail people. At a city council hearing in 2005, Councilman Felix Barker pointed out that the extra cash the city had brought in far exceeded the cost of jailing all those people. "We increased the profits," he said.
In spring 2007, department higher-ups decided to try putting an officer on traffic full-time. Rickey Antoine was a natural candidate, given the enthusiasm he had shown on overtime shifts. "It was a dream come true for me," he said. Over a two-month span early on, he wrote about 1,450 tickets, averaging about 30 a day. The bosses were thrilled. They made the traffic unit permanent and began expanding it dramatically. Amid that growth, in 2009, they started using the license plate readers.
As Antoine gained notoriety, he stuck to his simple mantra of never making exceptions for anyone — including, he said, his own mother. A search of citations issued in Port Arthur in the last decade turned up no record of his mother's ticket. She could not be reached for comment on the incident, but Antoine offers the story, which he said happened many years ago, as an example of how he applies traffic laws fairly.
Thinking back to times he had been pulled over as a driver, Antoine felt that when he'd gotten a warning, he didn't change his behavior to drive more carefully. When he got a citation, he did. "In my mind, I'm saving a life every time I stop [someone]," he said.

The only thing that gives him pause when he's out on the streets is the chance he might create a traffic hazard of his own. He used to pursue violators when it rained, but he spun out once, so now when showers come he gives Roxanne a rest. He believes that cops are more likely to die from a car crash than from a crook's bullet.
Drivers are liable to offer any number of excuses, from sick relatives in the hospital to urgent bathroom needs. He hears a lot of "Rickey, it's me" from old classmates and former football teammates. It never works. "I done lost so many friends," Antoine said with a laugh. In addition to losing his mother's fried chicken dinners for a time, he's been warned to stay away from some restaurants where kitchen staff might make unsavory modifications to his meal. He prefers to eat at the local Luby's buffet restaurant, where the food is served in plain sight.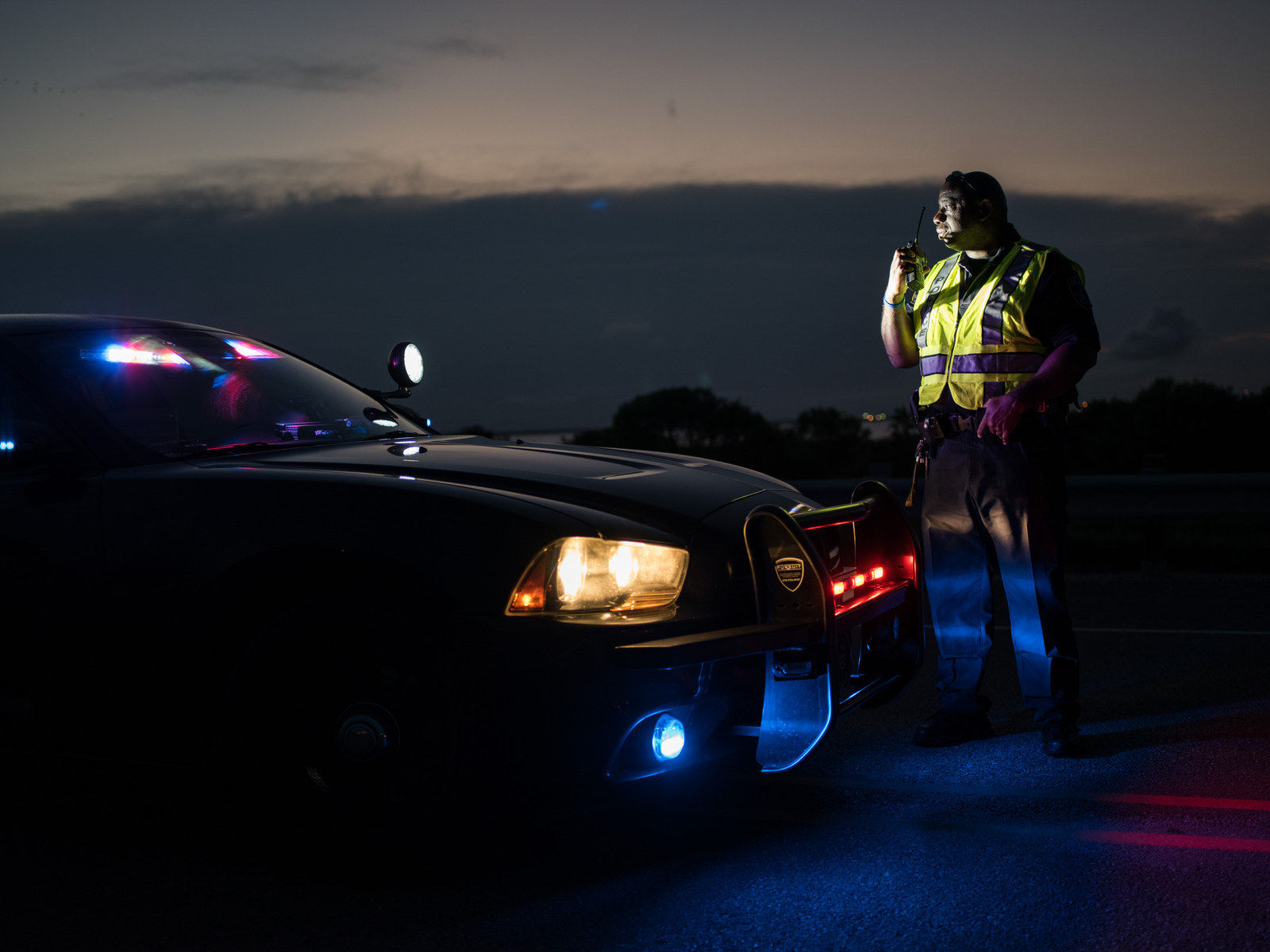 There is another approach — one that doesn't necessarily have to get in the way of aggressively ticketing motorists for disobeying driving laws. In the early 1990s, several courts around the U.S. experimented with "day fines," which are scaled to income, meaning the same offense might cost a poorer person $50 and another, wealthier person $500.
Judith Greene of Justice Strategies studied two of those courts and found that it worked. One court that she looked at found that day fines not only increased the percentage of people who paid what they owed, but they also increased the overall amount that the municipality collected. Another potential benefit of this strategy is that it might encourage wealthier people to drive better, since their fines would be higher, said Redelmeier, the professor who has studied traffic enforcement.
But though countries in Europe and Latin America still deploy day fines, in the U.S. the idea petered out. Some critics of this system worry about how it would be enforced, as it would require overworked courts to figure out how much their defendants make by either deciphering their income tax returns or taking their word for it.
In Port Arthur, sometimes the cost of a ticket ripples over to people who didn't commit the driving infraction in the first place. The police department's warrant officer, Keith Perkins, told BuzzFeed News that he sees people call their family or friends to ask if they can help with the money.
But when Perkins finds people with warrants who truly don't have the money, he brings them to jail, where Judge Morrison will hear their cases within a day or two, or maybe three if it's late on a Friday. Perkins does make exceptions if someone has a medical condition that requires daily treatment, like kidney dialysis, since the jail will have no interest in paying for that. But few other excuses will fly. Sometimes when people come to him they bring their kids, claiming there's no one to take care of them and hoping that he'll take pity. "Very seldom do I let them walk," he said.
Sometimes the departments team up and go on warrant stings together.
Port Arthur's traffic enforcement frenzy has begun to level off. Fine collection had risen to three times higher than it was before the traffic unit, but nowadays it is back down to merely double. Jailing has dropped in the past 18 months, too.
That may be because three of the six license plate reader cars stopped working within the past two years, and the city has been slow to replace them. Another factor is that Antoine is more of a figurehead these days. He teaches driver safety classes, writes a column in the Port Arthur News called "Ask a Cop," and co-hosts a weekly radio show. All this leaves less time for traffic stops. Lt. Steve Brinson, his boss, said he figured Antoine could reach more people this way, and save more lives.
Still, whenever Antoine does hit the streets behind the wheel of Roxanne, he often pulls someone over after their license plate is flagged by his machine. "These LPRs don't sleep," he said. The machines find hits at all hours, he said, including people in their pajamas grabbing a bite at Whataburger.
Despite his zeal for writing tickets, Antoine said he takes no joy from hauling people in poverty to lockup. "You wish there was something else better you can do," he said. Yet he noted that the law does not allow him to go easy on people who are in rough financial shape, even if he knows time in jail will disrupt their lives.
Like one of the experts who suggested that fines could be reduced, Antoine believes that it's getting a ticket that changes driver behavior, not how much the ticket costs them. "You have a heart and you feel for those people," he said. "The judge could charge a dollar. I don't care."
CORRECTION
Eddie Murphy sang "Roxanne" in the movie 48 Hours (and the sequel, Another 48 Hours). The original version of this story said that he sang the song in the movie Beverly Hills Cop.