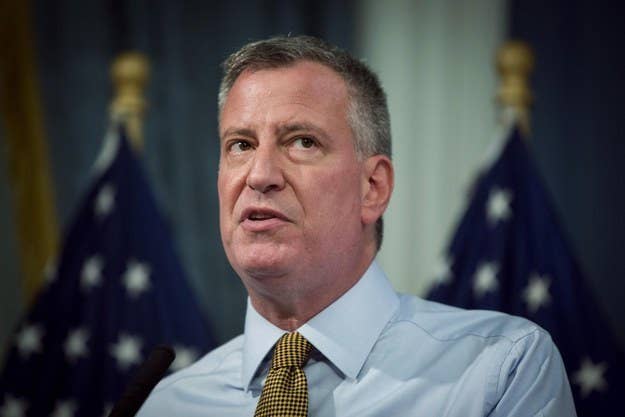 One recent evening at a domestic violence shelter, a mother of two opened a letter from the city of New York about a brand-new program that helps homeless families pay the rent.
After 20 months in shelters, the mother thought she might have a chance to finally get a permanent apartment. "I had my hopes up," said the mother, who BuzzFeed News is not naming because she is still in hiding from her abuser.
But when she met with city officials, she was told she didn't qualify. The reason: She has a job.
New York's new program that provides rent subsidies to the city's homeless shuts out battered women who are employed. Due to a bureaucratic morass, women in the city's domestic violence shelter system are only eligible for the program if they are on public assistance.
This creates a perverse dilemma, advocates say. Employment and stable housing are both considered essential for a domestic violence survivor trying to extract her family from an abusive partner. But having a job bars a survivor from a crucial program that could help her and her children find a long-term place to live.
The battered mother who needs a home framed the choice this way: "Do I just quit my job, to get an apartment?"
"It really doesn't make sense to me," said Ted McCourtney, director of Sarah Burke House, a transitional domestic violence shelter.
The city said it is working on a fix but called for patience.
When a battered woman leaves a violent partner, her first stop is often a shelter, which is meant as a stopgap measure until the woman and her children can find a place to live. Many battered women, employed or not, are offered this temporary solution.
But the city's new $150 million program, called LINC ("Living in Communities") is designed to help families find something more permanent and stable. The program's vouchers will help pay the rent for 4,000 homeless families over the next few years. And the program includes many families with parents who have full-time jobs.
Here's the bureaucratic problem: The LINC program only includes employed people if they are staying in homeless shelters, not domestic violence shelters. Domestic violence shelters are run by one agency, homeless shelters by another.
In a statement, a city spokesman said that will be changing. Officials are "developing a process" that will, on a "case-by-case basis," allow working families in the domestic violence shelters access to the program, said David Neustadt, spokesman for the Human Resources Administration. "We urge the advocates and providers to have some patience," he said.
Advocates told BuzzFeed News that they haven't been given a time frame for when the policy will change. "When we ask, 'Well when will that happen?' The answer is, 'We have no idea,'" said Catherine Trapani, director of HousingLink, a program at the nonprofit New Destiny which helps domestic violence survivors find housing for their families.
"We're not talking years or months here," the city's Neustadt said. He also said that about 85% of the 1,000 or so families in New York's domestic violence shelters are on public assistance and therefore eligible for the LINC program. That leaves about 150 domestic violence victims who do have full employment and are currently barred from obtaining the rent vouchers.
Advocates say that domestic violence survivors are seeing their options dwindle elsewhere, too. Last week, the New York Daily News reported that the de Blasio administration moved families in the Department of Homeless Services system — which handles general homelessness — to the front of the waiting list for public apartments run by the New York City Housing Authority, ahead of families in the domestic violence shelters.
Resources are limited, of course. "I don't want to fail to acknowledge that," Trapani said. But, she and others said, the current policy gives survivors a distorted set of options.
The mother of two who spoke with BuzzFeed News said she does not plan to give up her job. She has been working as a dental assistant for three years, going back to when she was still with her abuser and would put makeup on over her bruises before heading into the office.
When she and her two boys moved out, she struggled at first, and considered moving back in with her violent partner — he had been the main provider in the home, after all. But she stuck it out and has been in shelters for the past 20 months.
She has kept her job, which pays $16 an hour, throughout. She lives in the Bronx, and wakes up at 5 a.m. so she can make the hour-and-a-half commute with her children to school and work in Queens. She said she can't afford rent on her own.
She had thought that with the subsidy, she might find a place in Queens, or at least somewhere that's less of a daily trek. She could start having family and friends over again, instead of living in hiding. And she might find some final closure on her relationship. But all that remains on hold.