Long Island Officials Investigating Whether Con Man Sal Pane Bribed Medical Examiner Workers
An anonymous letter alleges that Bio-Recovery Corp., the company linked to con man Sal Pane, paid Long Island medical examiner workers for tips on newly deceased bodies. A BuzzFeed News investigation exposed other Pane antics last fall.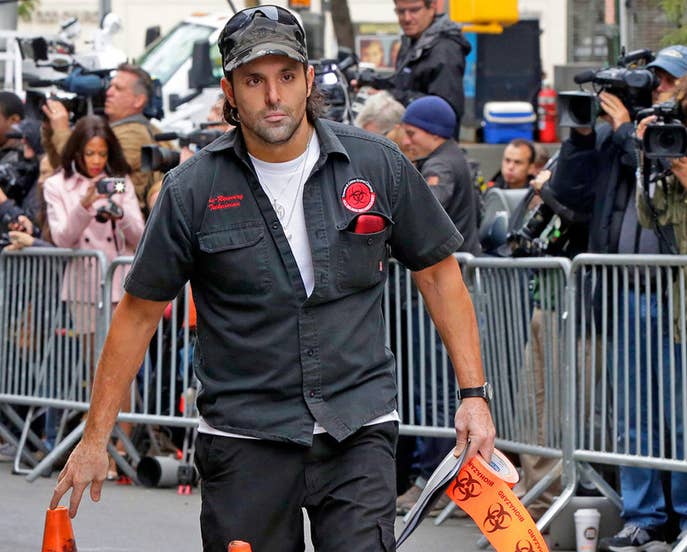 Long Island officials are investigating whether con man Sal Pane's company bribed local coroner's workers to tip him off to newly deceased bodies so he could solicit death scene cleanup jobs.
The county's review was launched in response to an anonymous letter sent to Suffolk County Executive Steve Bellone claiming that after the letter writer's relative committed suicide, an employee from Pane's Bio-Recovery Corp. — which has been the subject of numerous BuzzFeed News articles exposing questionable practices — showed up at the door trying to get hired to clean up the scene.
Officials from the county medical examiner's office had come to the deceased's home to remove the body, the letter says. But county officials typically do not help with the often arduous chores involved in cleaning up after a death, which can include removing blood and other bodily fluids. An employee with the medical examiner told the family that her office would "dispatch a company to come and help us clean up the bedroom where the suicide took place," the letter states.
Minutes later, an employee of Bio-Recovery showed up.
Pane, the company's "chief safety officer," has a checkered history. Last fall, after New York City hired Bio-Recovery to clean up the Harlem apartment of Ebola patient Dr. Craig Spencer, BuzzFeed News revealed that Pane is a mortgage scammer who has made numerous false claims about his experience handling hazardous materials. He was also jailed after telling a police officer he was a high-profile county official during a DUI stop.
The anonymous letter indicates that the writer was unaware of Bio-Recovery's recent past at the time of the relative's death, but found the employee's sudden appearance strange. The letter writer claims to be a former Suffolk County employee, and states that it isn't county policy to recommend a specific for-profit company under such circumstances.
Skeptical, the letter writer turned down Bio-Recovery's offer and then did some research. "It took me about one minute to find out that this company is a complete scam," the letter says.
The letter goes on to allege — without offering concrete evidence — that Bio-Recovery pays people to call in with tips about possible death scene cleanup jobs. Workers at the scene of deaths allegedly "even send confidential pictures of the bodies to the owner whose name is Sal Pane!" The letter added that "the people who drive the ambulances get Visa gift cards" when they report new dead bodies.
The letter did not list its author's name or any identifying information. It also did not indicate exactly when the event occurred, saying only that the family member's suicide had happened "recently." BuzzFeed News was copied on the letter, which was postmarked Jan. 16.
A spokesperson for County Executive Bellone, who oversees the medical examiner and other county departments, said that officials are investigating the allegations in the letter. "We've handed it over to our labor relations department, who are looking into it," said the spokesperson, Justin Meyers.
Meyers said that the investigation could be hampered by the fact that the letter was anonymous. "That doesn't mean we're going to work any less hard internally to look into it," he said, "it just means it's more difficult to follow up with the person who wrote it."
Reached by phone Monday, Pane hung up on BuzzFeed News after being asked for comment. He did not immediately respond when a reporter emailed him a copy of the letter.
Meanwhile, in late October when Pane's past as a mortgage scammer first came to light, city officials told BuzzFeed News that Bio-Recovery's work for the city was suspended pending a review. The city has not disclosed the outcome of the review and did not respond to a question Monday about whether the review was still ongoing.