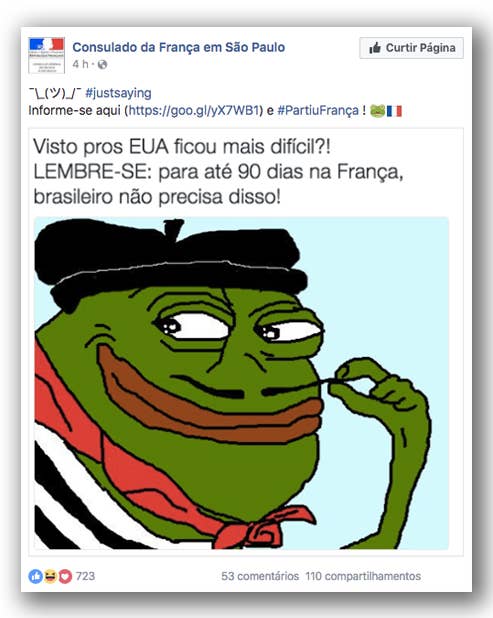 Today in "Well That Happened" news: the French Consulate in São Paulo published a meme featuring everyone's favorite neo-Nazi frog, Pepe, on its Facebook page.
"US visas are harder to get?" read the Portuguese caption that accompanied the meme. "Remember: Brazilians don't need visas to visit France for up to 90 days."
Seemingly unbeknownst to the consulate staffers manning its Facebook, Pepe has come a long way from his original "everyman" meme status. In 2015, during the US Republican primaries, the image was appropriated by then-candidate Donald Trump's supporters, particularly those on the so-called "alt-right." People who defend white supremacy and white nationalist ideals count among the group's members. From then on, the meme — which had previously been very multi-purpose — took on a much sinister tone.
In October of that year, Trump himself tweeted a picture of himself, morphed into Pepe, seeming to anchor the meme's transition to being one supporting Trump and began to be used more widely by his non-alt-right supporters.

As the election season continued, more and more outlets reported that Pepe had become a darling of the alt-right and was being used in outright anti-semitic and racist memes.
By last September, the transformation was complete. The Anti-Defamation League (ADL) included Pepe on a list of symbols of hatred that it manages. According to them, the image of Pepe — no matter the usage — was now completely appropriated by the neo-Nazis and that the ADL believed it to be an expression of anti-semitism.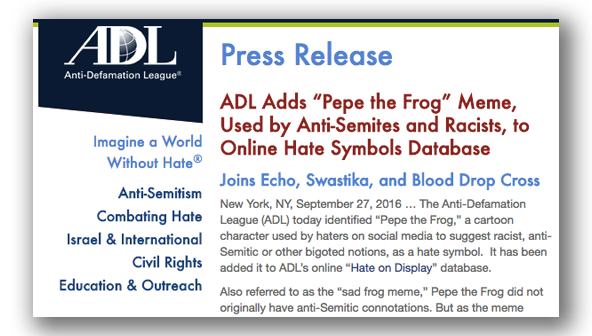 In an email to BuzzFeed Brasil, the São Paulo French Consulate said that the picture was chosen "at random."
"We chose the image by chance," the email read, arguing that memes' only have the meaning that are assigned to them through the context and text that users add. "We, for example, chose this precisely because Pepe has a 'sarcastic' look on his face and is 'dressed like a Frenchman.'"
"The joke was made just to remind our followers, and other internet users, that France does not require visas for Brazilians who decide to spend up to 90 days in its territory," the consulate concluded.
The timing of the consulate's Pepe usage is still unfortunate. On Thursday, BuzzFeed News revealed that Trump supporters are working to help the National Front, a far-right nationalist French party.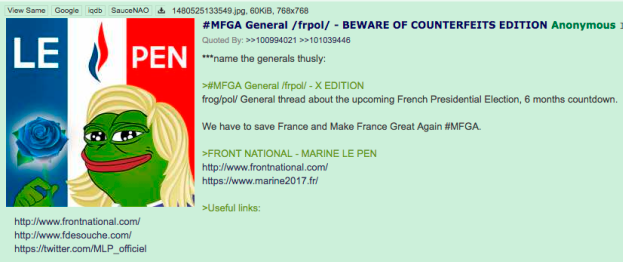 And, wouldn't you know it, Pepe is there, too, featuring in images depicting the amphibian as National Front candidate Marine Le Pen.

This post was translated from Portuguese.