If you have a favorite corner of the internet that you'd like to share, send it my way at hellomobile@buzzfeed.com with the subject line "reSEARCH." We may feature it in a future newsletter.
Lately, I've been pursuing small indulgences, which is exactly what it sounds like. Taking my book to the park instead of reading it on my couch. Putting my phone on "do not disturb" as early as 7 p.m. An extra large slab of parmesan to go with my salad.
These indulgences I'm describing are not exciting or lavish, and in fact probably speak to how quotidian my life usually is. Regardless, I appreciate how these small acts make me feel like I'm looking after myself, and they've been excellent at injecting some variety into my silly little daily routines. I have no idea how long I'll stay on this track of self-indulgence, but I've been enjoying it so far and intend to ride it out until the end. After all, why wait to give yourself a little gift?
These are the things Incoming readers and I have been holding onto as delightful small treats. Hope you enjoy it.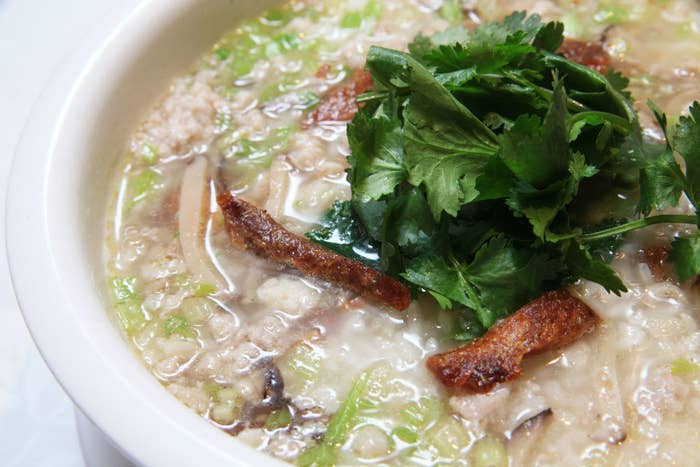 Revisiting
🍲 The Perfect Congee (鸡粥) by Made With Lau I always come back to this recipe whenever I'm craving congee. There are a lot of wonderful Chinese cooking channels on YouTube these days, but I must say I'm on team Daddy Lau. The family is so adorable and even though I grew up in a Mandarin-speaking household, the sound of their Cantonese is still so comforting and nostalgic. They have tons of great recipes, but this is a go-to for me because of its simplicity. Pro tip: I love throwing a handful of napa cabbage in at the end. —Michael
Obsessing
The Guest by Emma Cline. The best book I've read this year is also the most stressful. Alex, 22, was staying with Simon, an older man she'd been seeing, at his coastal home in a wealthy community on the East End of Long Island — until he kicks her out and buys her a train ticket home. But she has no home in the city, so she decides to stick around in this place where she knows no one. She has a waterlogged phone, next to no money, and a week to kill before Simon's Labor Day party. She spends the next few days ingratiating herself into strangers' lives, sneaking around rich people's homes, and charging their cards. Alex is a chaos agent who doesn't seem to know it, which means she's an amazing protagonist. Random House is publishing The Guest on May 16. —Emerson
Streaming
Vince Staples's 2021 Tiny Desk. In a gorgeous sunlit room (where the rapper assures listeners that he would "never" live), Staples drolly raps about the perpetual violence in his hometown, North Long Beach. "When it's quiet out, I hear the sound of those who rest in peace," he muses. "Tryna drown the violence out but let 'em say that they want beef."
Staples has frequently derided the promotional circus expected of rappers. "We like celebrity and ingenuity and people being rich and famous," he told the Guardian in 2022, adding that "people look at us like we're entertainment and not people. That's how we look at rap music. That's how we look at Black people." Perhaps to him, the Tiny Desk was simply another obligatory performance, a song and dance he had to slog through for NPR's predominantly white audience. Still, there's something special about seeing Staples — often disaffected and matter-of-fact in interviews — surrounded by friends and bandmates as he bounces in his seat and grins at his own jokes. The entertainment industry may feed off of commercial spectacle, but even when he's playing the game, Staples's earnest storytelling continues to resonate.
You're reading a reSEARCH excerpt from Incoming, BuzzFeed News' morning newsletter written by yours truly. If you're interested in reading Incoming in full, sign up here. Oh, and thanks for reading this whole thing.