Big Brother: Celebrity Edition finally ended this past Sunday with Broadway actress Marissa Jaret Winokur taking home the $250,000 prize. But it wasn't Winokur who made all the headlines during the show's 32-day run. Omarosa was the one who dominated Big Brother's publicity cycle from the moment her casting was announced in January. And once the show started airing in February, the internet was inundated with dramatic scenes of her spilling tea to fellow castmates about her time in the Trump White House. From her tearful prophecy about the country's future under Trump ("It's not going to be okay"), to her ominous comments about Vice President Mike Pence, she manufactured major melodrama out of ultimately lukewarm revelations.
It didn't matter that she was rehashing old news, because the teary confessions aided her ongoing attempt to change the public narrative about her relationship to the White House. After her firing from an ambiguous position as communications director for the Office of Public Liaison last December, she started the campaign to distance herself from the administration she helped elect. In her post-exit interview on ABC's Good Morning America that same month, she sold herself as a brave truth-teller who had quit, rather than been fired. "I have seen things that made me uncomfortable, upset me … and affected my community and my people," Omarosa told GMA anchor Michael Strahan. But the exchange garnered as much attention for her attempt to claim that she quit as it did for GMA anchor Robin Roberts' candid reaction to her story. Segueing to a following segment after the interview, Roberts commented, "I'm sure she'll be selling that story," before muttering, "Bye, Felicia." The internet responded with joy, and SNL mocked Omarosa's attempted spin.
And indeed, by returning to her reality television roots on Big Brother, Omarosa did "sell" her story both literally and figuratively. Big Brother is all about creating the illusion of intimacy, about letting the public into the competitors' everyday banality in the surveilled house. She reportedly got paid handsomely for her appearance (according to TMZ, all cast members started with a base pay of $200,000 that grew the longer you stayed in the house), and she was able to get her version of events out to the public, mediated not by a testy interviewer but by sympathetic castmates. By ingratiating herself with her castmates in the personal exchanges in the house, she used the show to recast her image from scheming sellout Trump appointee to "human" Omarosa. Once again, even in losing, Omarosa manufactured a different kind of media win.
Omarosa famously got her start as a reality TV villain on The Apprentice in 2004. "Four years ago I worked at the White House for the president of the United States," Omarosa told viewers during her opening vignette, alluding to a series of controversial jobs she held in the Clinton White House and exaggerating the weight of her political experience, as she would do again 14 years later.
Throughout the show, Omarosa instigated scandalously unprofessional interactions with the other women castmates, intrinsically understanding that the show's real drama came from the contestants outmaneuvering each other to stay on the program. When one of the women tells her she won't get anywhere by being a "bitch," Omarosa retorts: "I went from the projects to the White House — how successful was that?"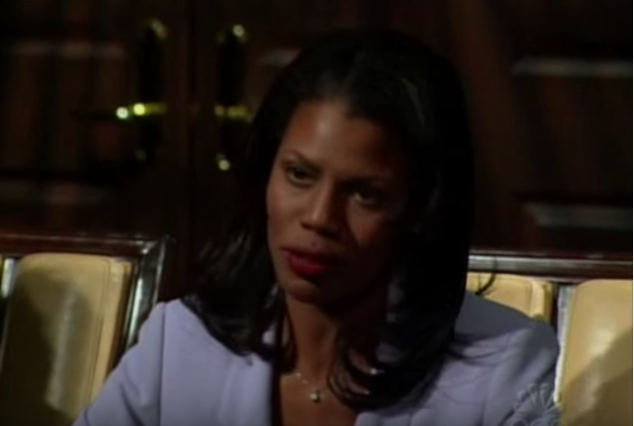 Perhaps most notoriously, she accused another castmate of racism after the castmate, Ereka, made a comment about "the pot calling the kettle black." "You're very intimidated by black women, right?" she asked Ereka, trying to unsettle her. "Try to contain your prejudice, okay?" That clip was often replayed, got brought up in the reunion episode, and was hashed out on The View, getting Omarosa more screentime outside of the show than many of the show's other contestants. This was the start of Omarosa's surreal existence, crafting controversial moments into headlines and reality television content, feeding on feuds and building infamy out of chaos.
Though she blamed editing for her portrayal, it didn't matter what was real or not, because the very discussion of that question generated more drama and attention. Whatever role editing and self-aggrandizement played in her depiction, she leaned into — and played up — that villainous persona when she returned to the program a few years later. On the first edition of Celebrity Apprentice in 2008, she started a feud with Piers Morgan, getting "real," not by revealing anything about herself, but by getting personal about Morgan's life. "The mother of your children hates you, Piers, and your children hate you, Piers. They're embarrassed by you," she told him, causing him to lose control and call her a tramp. "I knew his weak spots," she later explained in a confessional. "And I exploited them." On 2013's Apprentice: All Stars, she got into a fight with sweet and whispy-voiced La Toya Jackson, and then sued her for jokingly suggesting that Omarosa had pulled the plug on her fiancé.
Once again, even in losing, Omarosa manufactured a different kind of media win.
When she finally returned to politics with the Trump campaign in 2016, she still played into her image as a reality television villain. "Every critic, every detractor will have to bow down to President Trump," she told the camera in a Frontline documentary about the election. "It's everyone who's ever doubted Donald, who ever disagreed, who ever challenged him. It is the ultimate revenge to become the most powerful man in the universe." With her calm, carefully enunciated tone, she sounded just like the caricature she had crafted through her reality television career — prompting the question, could she be for real? Either way, she, and the campaign, made headlines.
Her dramatic exit from the White House last December also ended with a bang, in the aftermath of persistent questions about what her job actually consisted of, and leaked tales about Bridezilla antics (she staged a photo op on the White House lawn with her bridesmaids and appeared on the reality show Say Yes to the Dress). As the Cut's Rhonda Garelick pointed out in a piece about Omarosa's symbolism, she had to be fired because she seemed to tie Trump too overtly to his own reality television underpinnings. Her shift to Big Brother — after accusing Robin Roberts and journalist April Ryan of starting a "black women's civil war" — seemed like a return to her natural ecosystem. But this time she used the flamboyance that had worked so well in building her villainous reality show persona to sell her troubled White House era as a human interest story.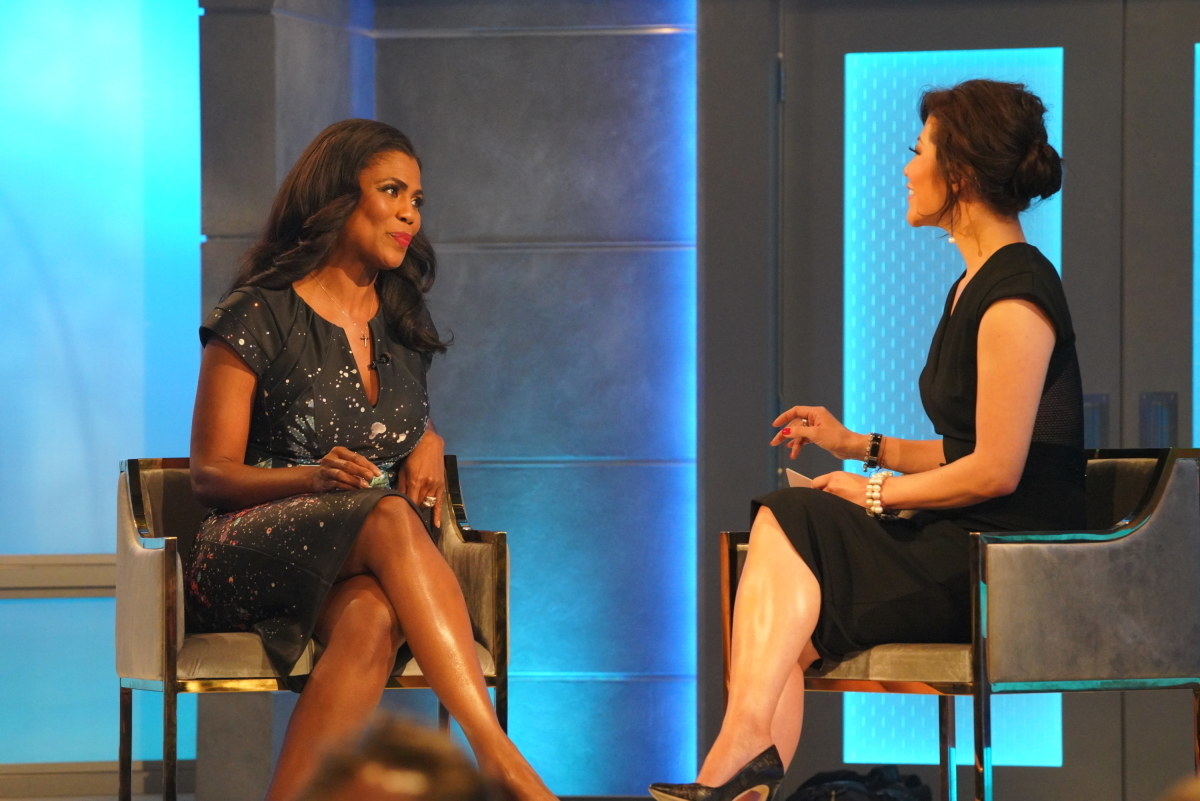 After her casting was announced, even Big Brother host Julie Chen claimed that Omarosa would speak "her truth" about the White House during her time on the program. And from the first episode, her conversations with castmates about her time alongside Trump were front and center. In the first episode, talk show host and fellow contestant Ross Mathews asked about her time in the White House — and unlike Michael Strahan or Robin Roberts, he positioned himself as a sympathetic ear. "As an outsider, it didn't make sense," Mathews told Omarosa about her decision to join Trump's campaign and presidency. Omarosa responded by saying that she had been "haunted" by Trump's tweets, and claiming she never felt she was working for him but for the country. "It was a call to duty," she said. "I felt like I was serving my country, not serving him ... it was always about the country." Her statements were a far cry from her previous praise of Trump as a leader.
"I need you to say it's going to be okay," Mathews told her, asking about the nation's future under the president. "But it's not — it's not going to be okay," she said through tears. In another exchange with a fellow contestant, American Pie star Shannon Elizabeth, she confessed, "because I was black, people wouldn't even talk to me, and it wasn't just the black thing — it was also the woman thing. These men don't want a woman telling them what to do."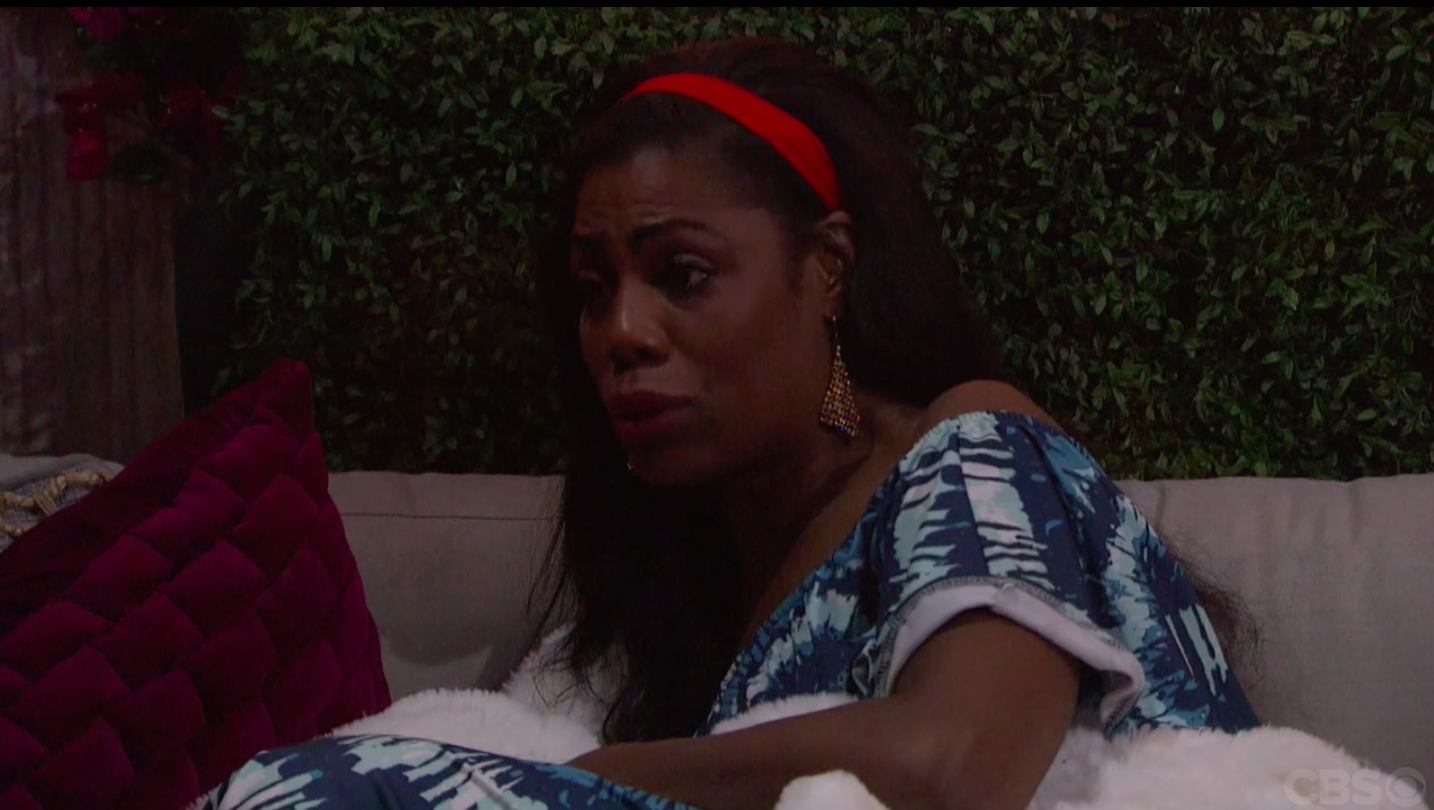 These kinds of revelations and justifications raised suspicion, but they kept her in the headlines and built an audience for any potential tell-all interviews or books that could come down the pike. Critics pointed out early on during the show's airing that she was attempting to rebrand, supposedly by avoiding any villainous antics during the competition. But in the competition she played the same role she always has — master manipulator, exposing people's motives, trying to exploit weak players, accusing Elizabeth of going after the "brown girls," even yelling at Mathews to destabilize him during a challenge. She left for a dat when she might have been evicted because of a suspicious asthma attack, and demonstrated her ideologically shape-shifting opportunism, trying to create alliances with the women against all the men, and trying to involve Keshia Knight Pulliam in a "black girl magic" alliance.
Through her competitive strategizing, she kept herself on the show until the final week. The more exposure she got, the more she was able to show another side of herself. She cried when she saw her husband and mom during a family check-in for the cast, and acted as a kind of elder grand dame telling campfire tales to the other castmates about her White House era. Such moments humanized her, and portrayed her in a softer, more intimate way than her previous reality television antics had allowed for.
And, of course, the other contestants seemed to be taken with or fascinated by her front-row seat to US history. In response to Omarosa's decision to nominate Mathews for eviction, Mathews said: "It's pretty cool that I just got nominated by Omarosa on a reality show. That's gonna be great dinner party conversation." Similarly, Marissa Jaret Winokur, the ultimate winner, joked: "I can't believe that I've lived with Omarosa." It was almost as if, through her, they had attached themselves to a footnote in our political history.
After their evictions, many castmates had nice words to say about her, both on the show and outside of it. During their speeches, Real Housewife Brandi Glanville said she hoped people saw her "softer side," and Miss Universe finalist and castmate Ariadna Gutierrez gushed, "I hope you all see her true soul because she is amazing." Knight Pulliam also had nice words to say about Omarosa after she left the house. "I was really excited to be able to meet someone who I had such a very different perspective of and get to know her heart and get to see a very different side of her."
The more exposure she got, the more she was able to show another side of herself.
You could begin to see the changes in how the studio audience thought of Omarosa throughout her time on the show. During one eviction ceremony, Omarosa made an impassioned dramatic plea to stay in the house so Knight Pulliam could leave and be with her daughter. The audience laughed at her. But during her final eviction speech, Omarosa seemed to address not so much the house, but the American public, and perhaps even her congregation as an ordained pastor. "We are one nation under God and with the power of the vote, the ballot, and bringing our diversity to allow us to unite, we can change this country to be together, united under god. Thank you, I love you." This attempt to reframe her politics might ultimately be unconvincing, but she had a big audience for it, and on the show it was followed not by laughter, but by applause. More importantly, through the castmate's acceptance of Omarosa, and the show's editing of her, Big Brother enacted her symbolic reentry into the national conversation.
After her eviction from the Big Brother house in the final episode, Omarosa sat down for her chat with host Julie Chen. "I've always been in a boardroom or the Oval Office or on a stage giving a speech," she said, explaining why she went on the show. "But I've never had a chance to let my hair down and really be authentic and engage with people. This was a chance … to let my light shine and let people know who the true Omarosa is."
This "true" Omarosa is probably an aspect of her personality opportunistically unveiled in an effort to soften her image, as other women of the White House have done, as they try to distance themselves from the administration less through open political contestation, and more through subtle, though equally political, attempts at relating to the public. After she was ousted from our ongoing national reality show, no cameras captured the moment, as she herself noted in her GMA interview, and she knew how to exploit the aftermath of gossip and speculation. It was because of her latest villainous turn in the Trump administration that her brand was worth something to producers, and Omarosa finally had the audience she's wanted all along. She leaned into the moment, changing the conversation around her image, using the techniques she's perfected in past competition shows to win once again, even as a loser.
"I'm Omarosa, and I'm back," she stated in her opening vignette of the premiere episode, twirling in a fuchsia gown. Perhaps Dancing With the Stars is next. ●

CORRECTIONS
Good Morning America is on ABC, not CBS. Omarosa left the Big Brother house for a day, not a week. The cast check-in video was with her mom and husband, not her parents.