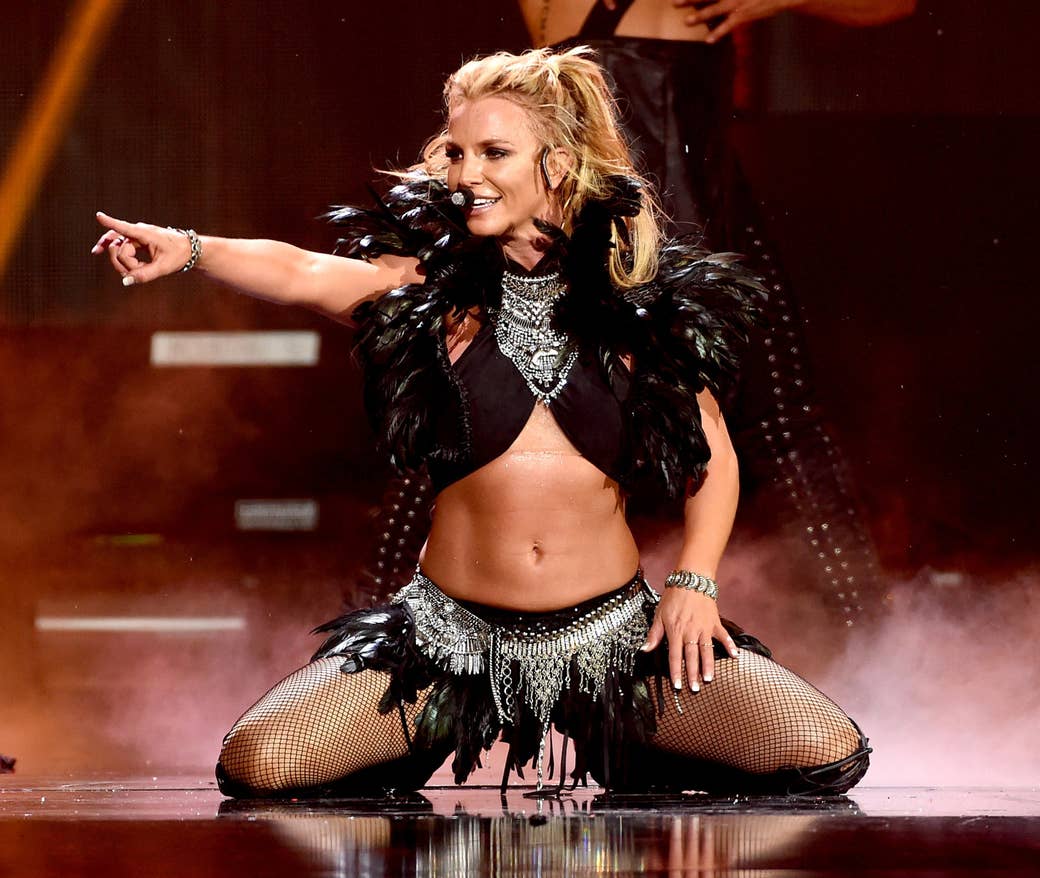 It was only a matter of time before Britney Spears, a tabloid cover girl who skyrocketed to pop fame in the late '90s, became the subject of a Lifetime movie. The channel has revamped its image through a plethora of train wreck TV productions that exploit at least two of the channel's core audiences: those in the market for tabloid tragedies, like the Versace murder or Brittany Murphy's death, and millennials nostalgic for their childhood pop culture, addressed through movies about the real-life backstage dramas of shows like 90210 and Saved by the Bell. The appearance of Britney Ever After, Lifetime's unauthorized take on the pop star, was a cultural inevitability.
The movie's director, Leslie Libman, who previously explored white feminine fragility in Manson Girls, virtually admitted that the biopic would provide no new interpretations about Spears' life. She described it as "an impressionistic telling of a story that everyone knows." And anyone with even the most minor interest in pop culture will be familiar with the highlights of Spears' story as recounted in Ever After: her rise to fame as a sexy, pigtailed schoolgirl; her infamous head-shaving moment when she attacked paparazzi; and the ending with her ambiguous reemergence in a Vegas residency after becoming the object of a court-appointed conservatorship.
Yet regardless of how "bad" or banal these Lifetime movies are, they can never quite fail. Just by existing they circulate — through tweets, memes, Facebook posts, even viewing parties — as objects of campy speculation, eliciting commentary about their dubious casting choices, sensational claims, and overall preposterousness. As expected, Twitter lit up during the film's airing on Saturday night, with commentary ranging from complaints about the story's inaccuracies (or what some kiddingly termed Lifetime's "alternative facts"), to jokes about how Spears' one-time rival Christina Aguilera had spearheaded the production.
But the film's release raises important questions about the ways we think about — and evaluate — female pop stars by focusing on their personal life rather than their work. Spears is always portrayed and perceived as a simpleminded girl with a tangential relationship to her own career, and from the beginning her labor and agency has been almost completely erased. As much as the public and critics might mock Lifetime for the way it turns women's stories into facile, kitschy melodrama, they — indeed, all of our culture — has consistently treated Spears in the same way: as a tabloid soap opera and not an artist with a point of view.
Britney Spears isn't the first pop star used as Lifetime fodder, and the channel's previous efforts give us a sense of some of the limits of its approach. Its attempts to capitalize on troubled and/or dead women performers — like Aaliyah and Whitney Houston — have tended to follow safe routes, skewing toward a kind of sedate, non-sensational respectability. For example, by enlisting Angela Bassett to direct its Whitney Houston biopic, Lifetime clearly hoped she would bring some of her cachet as an Academy Award–nominated actress (for playing Tina Turner in What's Love Got to Do With It?) to her directing, and help insulate it from criticisms of exploitation by Houston's estate.
The film's release raises important questions about the way we think about — and evaluate — female pop stars by focusing on their personal life rather than their work.
Bassett decided to focus on a very limited timeframe in Whitney Houston's life. Rather than tackling, for example, her early rise to fame, or her late-career dissolution into reality show infamy and "crack is wack" memes, she focused on Whitney's marriage to Bobby Brown. In fact, the movie was less interested in Whitney Houston per se, and more interested in reframing Brown and his role as her husband. Arguably Bassett's decision to revisit that moment of Houston's story was a way of countering racist narratives about black masculinity as a kind of criminalizing force.
While that aspect of the project was in some ways commendable, under the terms of the film, the only interesting thing about Whitney Houston became her addiction and her relationship with Bobby Brown. It is not an accident that pop stars struggling with addiction and other mental health problems become the objects of these movies, because we tend to understand these illnesses as symptoms of personal irresponsibility or messiness. Thus the movies are about these stars' personal struggles, as a way of emphasizing their "humanity": Yes, she was a star, but she was also a wife and struggled with addiction.
But, ultimately, emphasizing personal — supposedly universal — truths results in a kind of whitewashing. It is their cultural specificity that makes pop divas famous and interesting, and these movies erase that specificity. For example, Bassett's Whitney gave no real sense of the cultural significance of Houston as the first black pop diva of the MTV era, or of how she felt playing a glamorous princess for white audiences. And aside from one scene in which she asked her label boss Clive Davis to let her work with producer Kenneth "Babyface" Edmonds, there was certainly no exploration of how Houston developed her aesthetic. In these films, everything matters in private and personal — not artistic or cultural — terms.
Much like the Whitney biopic, Britney Ever After focuses on Spears' personal life and relationships (particularly with Justin Timberlake, Kevin Federline, and Sam Lufti). Natasha Bassett, the actress who plays Britney, said of the movie, "It's about who she is when the performance ends: an inspiring human being who's overcome everything so beautifully."
In other words, it's about the universal human being, not the artist or performer.
The 2007 "breakdown" is the movie's dramatic engine. The film opens with Spears uncomfortably wondering about what to say on camera about her past "difficulties" in an interview for a documentary that functions as the movie's framing device. It jumps back and forth in time to give background on her dysfunctional family dynamic as she rose to fame. The sketchy portrait that emerges is of a sweet girl with a propensity to fall into "funks," haunted by the dissolution of her parents' marriage — especially her father's alcoholism — who turned to men to save her from her family and the overwhelming demands of her work schedule.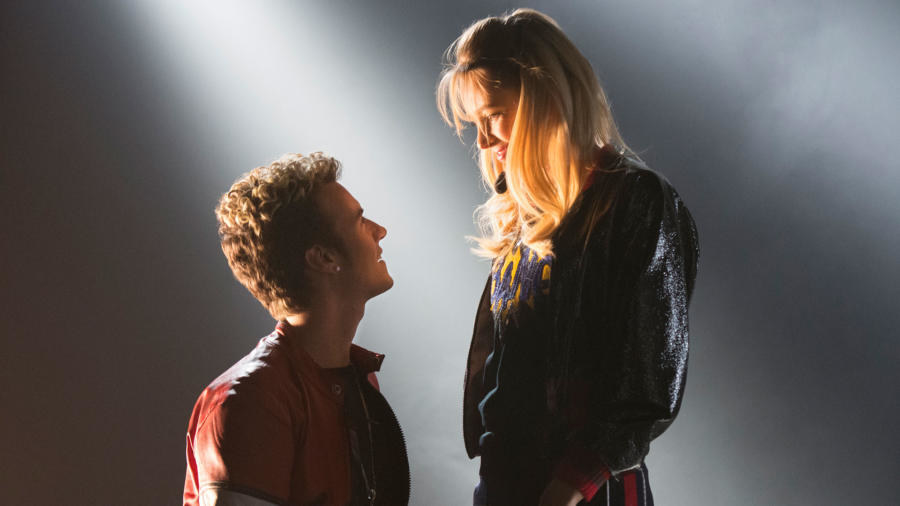 Initially she depended on Justin Timberlake for support (the actor playing him hilariously captures Timberlake's corny white embrace of black vernacular), but their breakup leaves her adrift. After her rebellious wedding to a childhood friend, there are close-ups of Spears anxiously biting her nails, as if foreshadowing the later troubles that led to her hospitalization. Once that "breakdown" era arrives, the film exaggerates her public antics. For example, the moment when she briefly tripped on a cobblestone street while holding her baby is re-created as if she was scandalously swaying like a palm tree; her lethargic MTV performance becomes even more of a hot mess.
Though in some ways sympathetic to Spears, the film is not a fundamental reconsideration of the way she has been framed. It often flashes an "impressionistic" scene of Spears, wearing white, as she runs around with her kids in a green backyard. It is a bucolic image meant to remind us of her motherhood, as if her simple desire to be a mother makes her more innocent, and more human, in contrast to her outrageous public downfall.
But despite the cheerfully future-inflected title, Britney Ever After, and its lead actress's optimistic framing of it, the film remains ambivalent about whether Spears has overcome anything. Her parents' motives remain murky and so do her own feelings about her ability to speak for herself. She appears only as a victim: of her parents, particularly her father, of Kevin Federline's cheating, and of Sam Lufti's manipulations. And it is never clear just how Spears has maintained a career at the top of the pop charts for nearly two decades.
Though Lifetime has played it coy by framing the movie as a celebration of Spears' comeback and career, its curious timing tells another story. It appeared on the tenth anniversary of her "breakdown" and at a relatively stagnant moment in her career (her last two albums were flops compared to her last comeback). The film's inability to engage her work, in many ways proves that we need to reconsider Spears' agency in her own career. Most people — just like this film — see Spears as a simpleminded country bumpkin who ambled her way into pop music history. A critic for Stereogum recently attributed Spears' career longevity to millennial nostalgia. "It's like we as a society have collectively willed her to keep going," he wrote, as if Spears herself — and the quality of her music — played no part in the process.
The movie similarly ignores the major reason we know who Britney Spears is in the first place: her big, indelible pop hits — from "…Baby One More Time" to "Toxic" to "Womanizer." (The latter is one of the few songs mentioned in the movie, and even then only in an allusion to Kevin Federline.) While this is probably a result of the producers' inability to get the rights to the music, that omission contributes to the ongoing erasure of Spears' labor in constructing herself as an artist and public personality.
All the debates about whether Spears ever sings live overlook what she accomplished with her voice.
Few realize that Spears' public persona of southern charm is not just her being "herself," it's a version of herself she has been honing from the time she was 12 years old and appeared as a cast member in the Mickey Mouse Club, which was a kind of reality television in the sense that they were child performers playing their "real" selves. It is not an accident that this kind of labor of self-presentation, which is deeply gendered — and feminized — becomes erased or ignored. (Just think about the vitriol over the Kardashians' success. "But they don't do anything!" people complain.)
Similarly, all the debates about whether Spears ever sings live overlook what she accomplished with her voice. She purposely created that distinctive "baby" voice (dismissed as nasal, a complaint also made of early Madonna and Diana Ross), quite different than her naturally lower country and bluesy tones, to appeal to a bigger pop audience. She rose to fame during the era of white Orlando teen pop, which was music created by white European producers based on their ideas about black American R&B. But just like Elvis Presley, she refused to adhere to an image of desexualized white teen innocence.
Her label, Jive Records, wanted the "…Baby One More Time" video to be a safe, kid-friendly Power Rangers superhero fantasy; and it was the 17-year-old Spears who pushed for her version of the video as sexy schoolgirl fantasy. It was also Spears who collaborated — outside her parents and manager's supervising eyes — with photographer David LaChapelle for the career-making Rolling Stone cover portrait of her in her underwear (clutching the queer purple teletubby) that confirmed her arrival on the pop culture scene.
She consistently demonstrated savvy instincts for responding to and playing with public fantasies about herself. Indeed, while the Britney of Britney Ever After stares sadly into the camera, and laments the rise of our TMZ culture as a victim ("It's like they're hoping something bad will happen. That's what people wanna see, I guess. Isn't that sad? Why would anyone enjoy someone else's pain?"), the real Britney Spears has expressed much savvier thoughts about our tabloid reality. During the filming of her reality show Chaotic she gave a clear-eyed analysis of Justin Timberlake's "Cry Me a River,": "Personally I think it's kinda pussified, but it's like, (laughs), but hey whatever gets you in the game right, and gets you out there. It's cool, it's controversy, that's what they all want, that's what they want to see, it's how good you can play the game."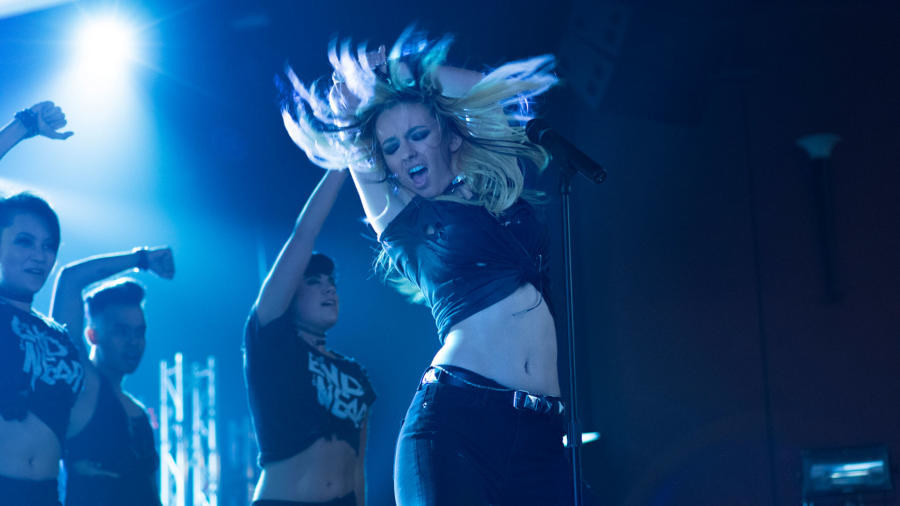 Spears wrote "Everytime," one of her most vulnerable ballads, in reaction to that betrayal, and made her own music video about their relationship, showing she could "play the game" as well as Timberlake. She adopted that shrewd tone in a song she wrote right before the breakdown era, "Mona Lisa," about a legendary star whose downfall everyone desires. And since then, songs like "Gimme More," "Piece of Me," and "Circus," all reference the rapacious public fascination with her life. In other words, Britney Spears isn't just vulnerable — she is interested in conveying vulnerability. She's not (just) a tabloid mess — she is interested in the phenomenon of tabloid downfalls.
Writing in The New Yorker, critic Amanda Petrusich recently argued that Spears' music now appears to exist entirely outside of the zeitgeist. It might have been an allusion to the way she has been replaced by more socially conscious pop divas — like Beyoncé and Lady Gaga — which is an interesting pop succession. Though Spears never created controversial racial imagery like Madonna, she did use "Slave 4 U" — a song Janet Jackson rejected — to go "urban" and evoke a racialized wildness or primitivism during the famous snake moment at the 2003 MTV VMAs. Yet she largely avoided the kind of controversies about racial appropriation or self-victimization that have defined Miley Cyrus and Taylor Swift.
One might think that in this post-Trump moment of white backlash it would be Spears' non-threatening persona — and not Gaga or Beyoncé or even her one-time duet partner, Rihanna — that would dominate US culture. But ensconced in her Vegas residency, and surrounding herself with white rappers — like Iggy Azalea and G-Eazy — in her latest single outings, Spears has somehow fallen out of flavor with radio trends. Whether she will catch up with the zeitgeist, or the zeitgeist will ever return to her, still remains to be seen.
Wherever the next chapter of Britney Spears' career takes her, understanding her significance — or lack thereof — will require engaging with her as a cultural figure, not just as a human being. The attempts to humanize Spears — whether it's the "Leave Britney Alone!" video, or this latest Lifetime movie — fail to honor the complexity of her work. Early on in her stardom Spears spoofed herself in the Austin Powers: Goldmember movie. She and Powers engage in a dance-off on a soundstage, when all of a sudden her head explodes, suggesting that Britney is a fembot — a soulless robot. Years later, in "Mona Lisa" she sang about wanting to let us know that she'd been "cloned." Perhaps she was telling us that the answers to the riddle of Britney Spears aren't hiding inside of her. We might start by actually focusing on the music.
CORRECTION
The rapper G-Eazy has collaborated with Britney Spears. An earlier version of this article misspelled his name.