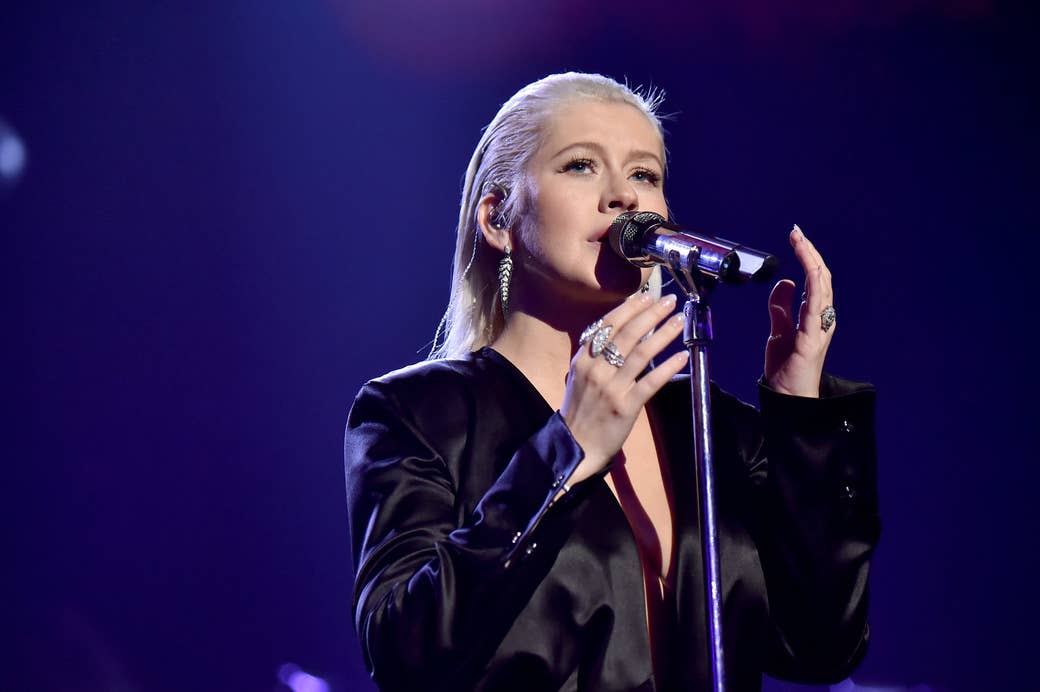 In January, Christina Aguilera cheekily addressed the long-standing speculation about her endlessly delayed sixth studio album. The follow-up to 2012's Lotus has been teased for years, becoming a kind of ongoing joke, and she made an Instagram story using a meme of her Hollywood Walk of Fame star, which appeared "vandalized" with sticky notes asking the question that has long been on her fans' minds: "Dear Christina Aguilera, where the fuck is the new album?" "It's coming bitches," she wrote in reply, making news by suggesting the album, now called Liberation, would finally appear this year (June 15, allegedly).
Last Thursday, Aguilera finally released the album's lead single, "Accelerate." Featuring rappers Ty Dolla $ign and 2 Chainz, the track is both cluttered with sound and rhythmically laid-back, as she chants her verses in an IDGAF style reminiscent of Rihanna. Yet reviewers are already noting that the song underwhelms as a lead single after six years of waiting. The emphasis on her long absence is a reminder that with so much buildup since Aguilera's last solo album, it seems hard to imagine any release that could've lived up to expectations, raising bigger questions about Aguilera's pop strategy.
Six years between album releases isn't unheard of, but it is a rarity at a moment when pop cycles are more unforgiving than ever and require near-constant output. After the flop of Katy Perry's last album, 2017's Witness, the head of Capitol Records, Steve Barnett, was remarkably candid in acknowledging that the album had underperformed, noting, "Engagement is so important and I don't believe you can have big cycles between projects [as Katy did]. I think that's changed." Times have changed, and artists like Rihanna have redefined a new generation of music stars into performers who are never really off-the-grid musically; instead, they constantly move from single to single, or appear as a featured artist on other people's hits. Even Aguilera's peers — like Britney Spears or Beyoncé — have never taken such a long break in between albums.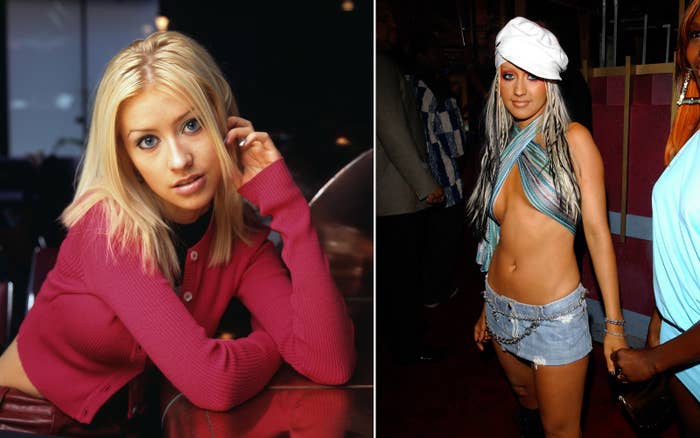 Aguilera has added pressure because her last two albums, 2010's Bionic and 2012's Lotus, both fell flat, leaving her without a successful or clearly defined solo musical identity, and sparked endless think pieces about why she failed to gain traction. Yet she always struggled to define her musical identity and had a complicated relationship to the demands of mainstream pop. 2002's Stripped, arguably her biggest pop culture moment, worked because it made a narrative out of the struggle to leave behind her teen pop image.
It's inarguable that she rode the last blockbuster wave of the music industry into a successful career that led her through the mid-aughts, and despite her underperforming records, successfully transitioned into contemporary pop culture through The Voice. But the public — or at least her fans — have been waiting for her music to catch up to her reality TV stardom. The very idea of a new album has become the repository of their hopes — and perhaps even her own — that this will finally be her moment to reclaim her musical space in pop culture. But one album can't do the work required for pop stardom now, which involves constant engagement and "reading the room" to adapt to where music — and the cultural conversation — is heading. So far the reception is less suggestive of a comeback and more revealing of the difficulties of trying to keep a pop career going even while refusing to play by conventional pop star rules.
In retrospect, despite all the early comparisons to Britney Spears in the late '90s, Christina Aguilera was always ambivalent about her pop stardom, and never kept up with Spears' quick output. Even after her first "Genie in a Bottle" career high, she never adhered to established pop cycles and seemed conflicted about her musical identity. She felt that her 1999 self-titled debut album — which yielded number one hits like "Genie" and "What a Girl Wants" — was an attempt to position her as a cute teen pop star, and was the result, as she recently put it, of "what an older label head male's perspective was."
At the time, she told reporters while on tour that she was "so over" the album. She added songs like Etta James' "At Last" to her concert repertoire because James represented the kind of soulful vocal authenticity Aguilera aspired to. She later called James her biggest influence, and recently performed a tribute to Whitney Houston, another major vocal inspiration. As early as 2000, the critic of the Pittsburgh Post-Gazette, her hometown paper, pointed out that "what a girl wants — and desperately, it seems — is to leave her Mouseketeering teenybopper image far behind and position herself as a womanly R&B diva when, in fact, she's better suited to the sticky kids' stuff."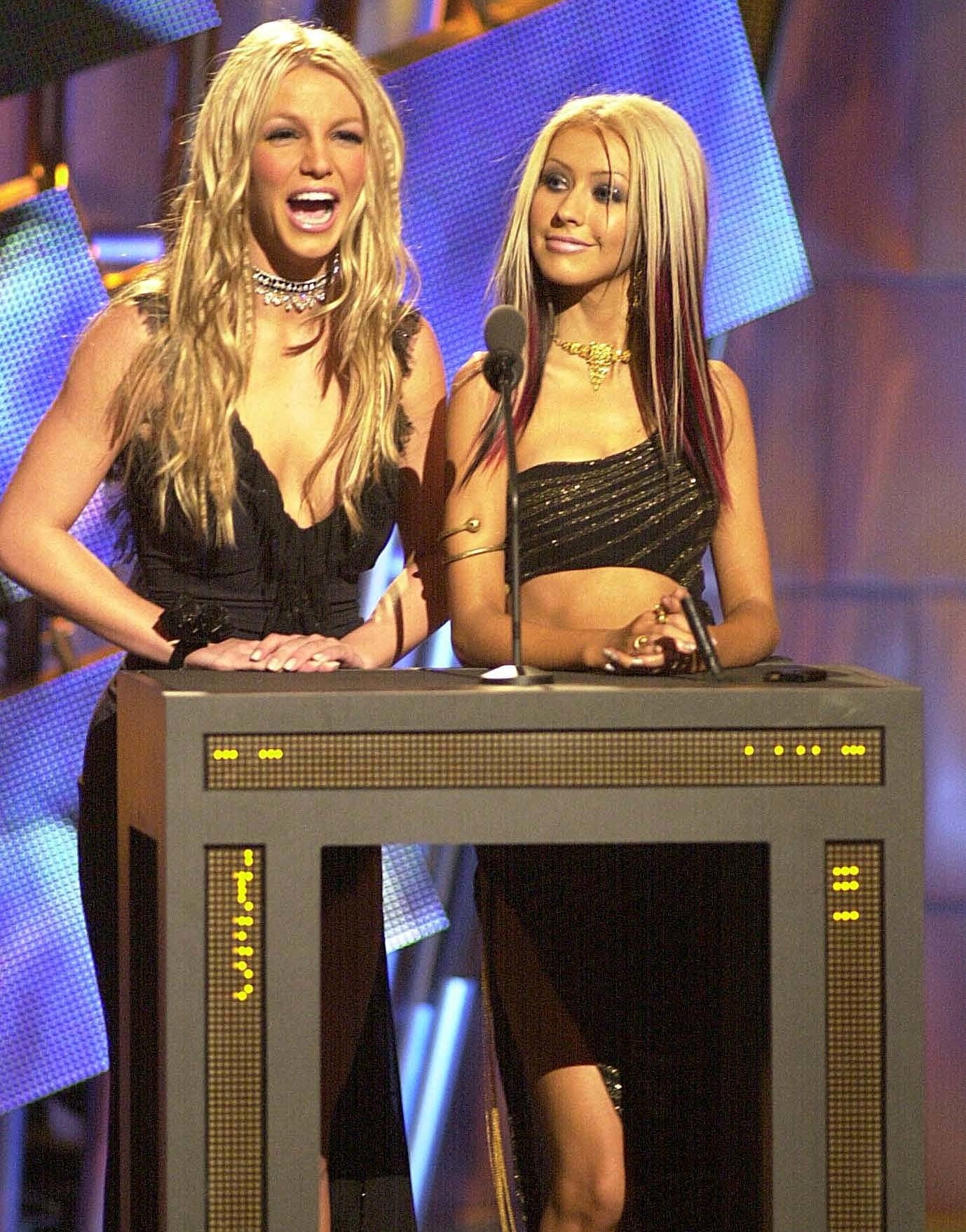 Aguilera would always have trouble reconciling the desire to stay true to her own style with the pop requirement of giving the public what they expected from her. So while Spears was flooding the marketplace with three different albums and shape-shifting iterations of her baby voice through memorable singles — from "...Baby One More Time" (1998) to "Oops!... I Did It Again" (2000), to "I'm a Slave 4 U" (2001), Aguilera was working on Stripped and trying to develop her own unique style.
She tested the waters with her new image on the 2001 single "Lady Marmalade," a cover of the Labelle hit that allowed her to showcase her vocal gymnastics. But 2002's Stripped became her defining moment, largely because she played into the kind of narrative — of a young woman's sexuality as liberation — dominating pop at the time, but found a way to up the ante with lead single "Dirrty." Spears had already dutifully transitioned from faux innocence to orgiastic club kid in "I'm a Slave 4 U," but "Dirrty," with Aguilera's smeared makeup, two-toned extensions, and assless chaps in the song's grimy music video was a more hyper-literal illustration of lost innocence. It got parodied on SNL, banned in Thailand, and generated controversy because of sex tourism posters that appeared in the background.
While the song failed to register on US radio, it still made the necessary statement to introduce her new sound and persona, and set the stage for her follow-up radio hit, the Linda Perry collaboration "Beautiful." At a moment when gay marriage was political dynamite and other pop divas like Beyoncé or Spears weren't touching LGBT representation, the song's music video embraced queer imagery, featuring two men kissing and a man dressing in drag. These songs and videos generated trendsetting iconography: "Dirrty" still inspires Halloween costumes, and "Beautiful" even made a memorable appearance in 2004's Mean Girls.
The Stripped era was probably Aguilera's most significant moment of pop cultural relevance. It led to a spot next to Britney Spears as they kissed Madonna at the 2003 MTV Video Music Awards, in what was perceived as a major moment of pop baton-passing. But Aguilera seemed frustrated with the fact that she was slotted into that kind of stunty pop theater, and spoke openly about her frustrations in a way that the public found "unlikeable." This perceived unlikability was partly because her complaints came in the aftermath of Spears stealing "the kiss" headlines. In an infamous 2003 Blender magazine interview after the VMAs, she opined of Spears and Madonna, "These people aren't artists, they're just performers — fake and superficial, like the entire event." She also critiqued Britney and Beyoncé's innocent act, suggesting they were "desperate to come across as sweet, good little girls," finally leading People magazine to wonder: Could Christina Aguilera be the most disliked woman in show business?
She took four years — a long time even then — to reappear on the music scene with 2006's Back to Basics, which was clearly an attempt to present herself as an authentic, grown-up artist. The retro double album — inspired by idols like Billie Holiday, Otis Redding, Etta James, and Ella Fitzgerald — updated musical styles of the past like jazz and soul, accompanied by classic Hollywood glamour looks on the red carpet. But the shift felt like it had no real impetus other than to affirm her musical authenticity and emphasize the power of her voice through high-culture traditions, perhaps in hopes of differentiating her from the teen pop pack. The double album sold almost 2 million copies, but while the lead single "Ain't No Other Man" made the top 10, it was hardly zeitgeist-shaping pop theater like "Dirrty" or "Beautiful." While the retro risk succeeded commercially to some extent, it started to pull her out of the contemporary cultural conversation — inching closer to a less hip adult contemporary framing.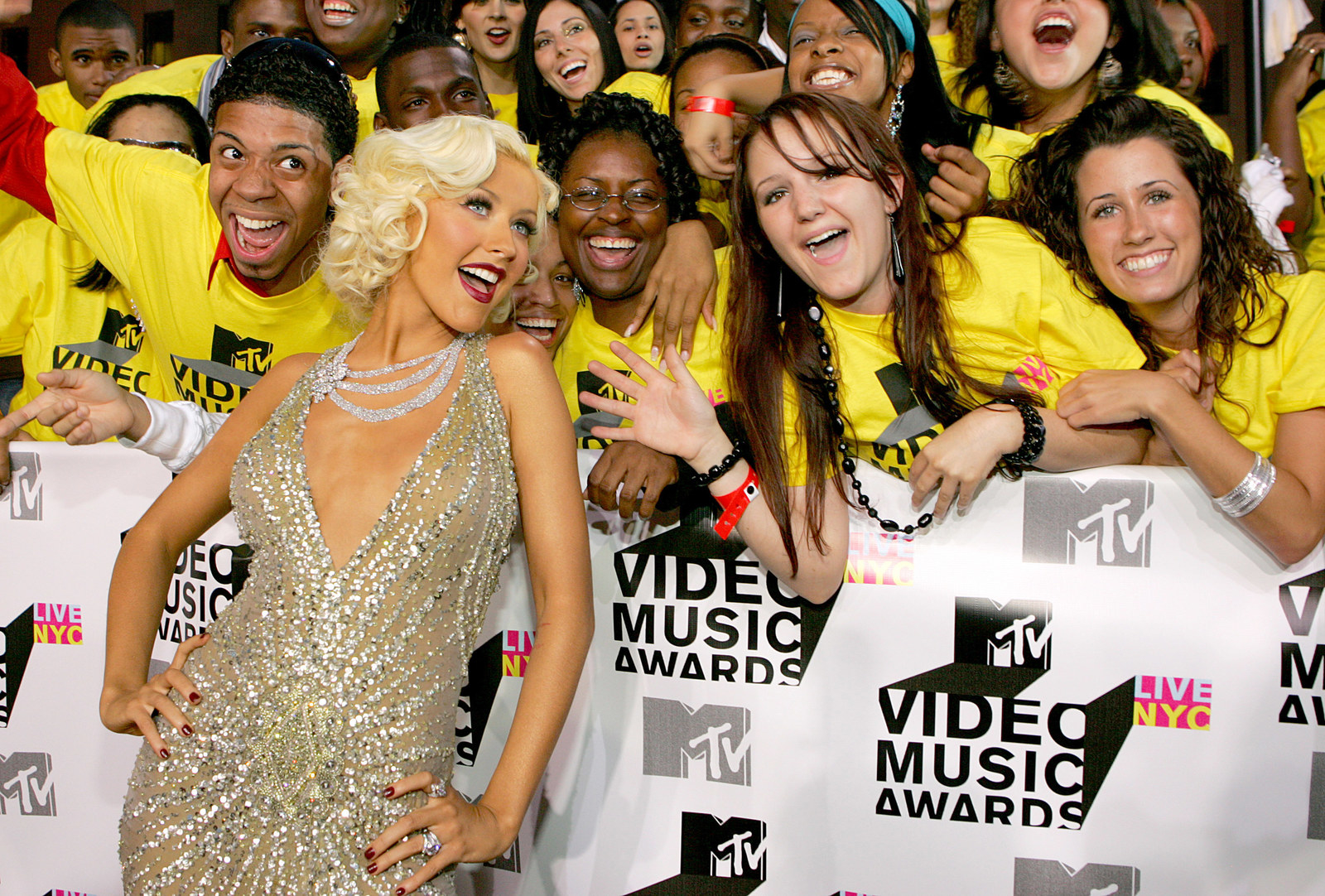 When she reappeared after yet another four-year break, preaching electro-pop futurism with 2010's Bionic, she seemed tragically behind the times. "I'm doing things that I normally won't do," she sang in the lead single, "Not Myself Tonight." "The old me's gone … And if you don't like it, fuck you." But in the video, she seemed to be channeling the same sexually liberated woman from Stripped, except wrapped in latex and the S&M imagery Madonna had already made less taboo years before. No longer compared to Britney, she was now in the shadow of Lady Gaga, who was dominating the charts with her thumping, high-concept dance hits, gender play, and videos about fame.
While Aguilera's electro-pop sound was actually different from Gaga's — it was less melodiously pop- or chorus-driven — there still seemed to be no real concept behind Aguilera's rebellion. She no longer had to leave behind an innocent pop image or take the risk of introducing queer imagery into the mainstream, so this new era came off like a rebel posing without a cause.
Her collaboration with Le Tigre (the electronic rock band featuring former Bikini Kill founder Kathleen Hanna) led Sia to point out to Billboard that underneath the pop star persona was actually a secret hipster, which could have worked as a compelling story if the record company had made it one.
Instead, the lack of a clearly defined concept behind her new aesthetic made it difficult to stand out in the crowded music landscape. Before Bionic's release, a record company executive surveyed the early 2010s music scene and stated, ultimately prophetically, "It's punishing, and many other artists have come into the Christina slot, for lack of a better word. So you're only as good as your last hit." After "Not Myself" flopped, and the Sia-cowritten "You Lost Me" didn't even chart, the album disappeared with a whimper as well. Aguilera's solo career has never recovered.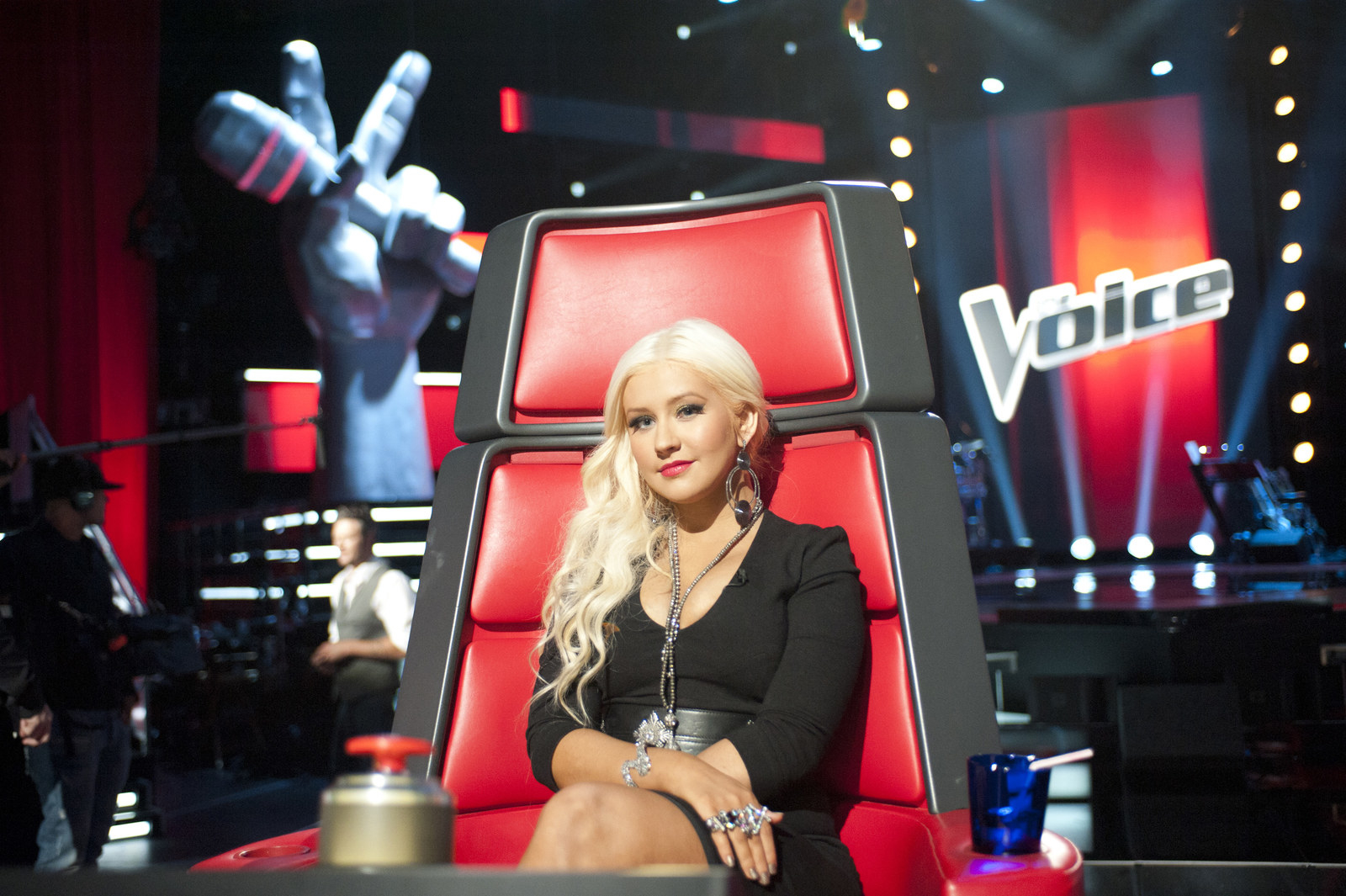 Whatever her public and personal turmoils, Britney Spears has always dutifully adhered to conventional pop star cycles, knowing when to keep the music coming. She timed the announcement of her Las Vegas residency in 2013 — through a Good Morning America extravaganza filled with Britney clones — to coincide with the digital release of her single "Work Bitch." When Aguilera signed on to The Voice in 2011, it seemed less like a calculated move and more like a last-ditch effort to revive her image, given that the narrative around her was dominated by events like an arrest for public drunkenness and botching the national anthem. Entertainment Weekly described her behavior at the time as "the kind of unpredictability that makes for must-watch reality TV (see: Paula Abdul on American Idol)."
But her transition into reality television actually worked; people loved her fashion and fascinators and tell-it-like-it-is style, and she had a chance to come off as more conventionally "likable." Her 2011 feature on "Moves Like Jagger" by fellow coach Adam Levine gave him a number one hit and got her big voice back on the charts. And it was after the success of The Voice that she released 2012's Lotus, which came off like a quickie attempt to capitalize on the show's success, down to the duet with fellow judge Blake Shelton.
If Bionic failed on Aguilera's own terms, Lotus failed despite her own acknowledgment of her new powerful platform and producer Max Martin's pop-dominated radio landscape. The album's lead single "Your Body" was her first collaboration with Martin — famous for his work with Spears and Katy Perry, and arguably the biggest definer of top-40 pop throughout the 2000s. It was a perfectly serviceable banger, highlighting Aguilera's 's love of rock-tinged growling (not unlike "Fighter") in the chorus, but it was an unremarkable album opener, and Lotus flopped even more spectacularly than Bionic.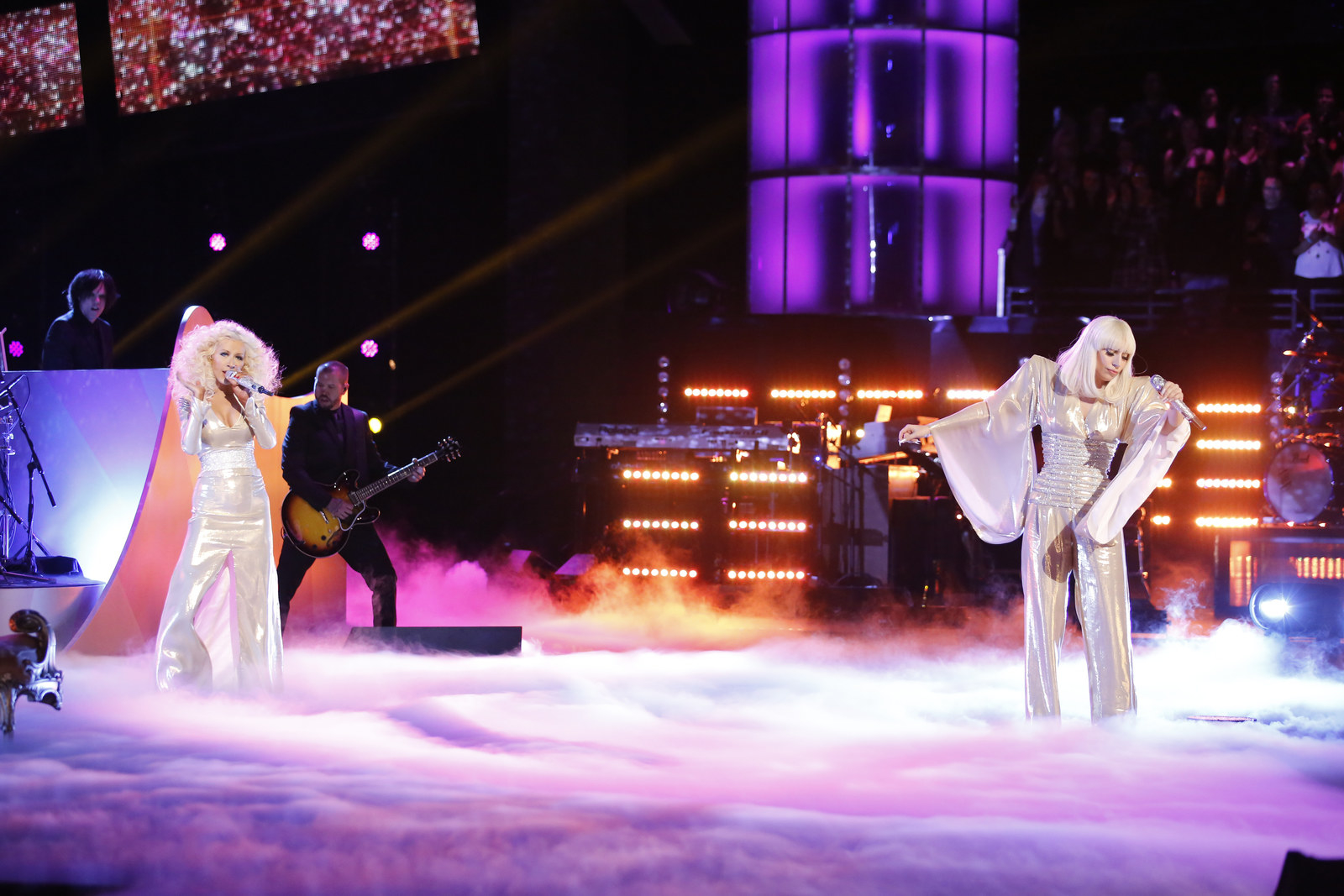 In the aftermath, Aguilera took part in a number of features or duets — with artists ranging from Pitbull to Diddy — that kept her on the charts. But these ultimately helped the other performers' solo careers — and The Voice — more than her own solo career. Her 2014 duet with Lady Gaga for "Do What U Want" on The Voice — a spectacle of draping, big-shouldered glamour — remains a surprising and riveting pop collaboration, but it was a way for Gaga to replace her original, problematic duet partner R. Kelly, and helped The Voice's finale episode, rather than Aguilera in any meaningful way.
The 2013 song "Say Something," which she remade as a duet based on the original by the indie pop duo A Great Big World, is the kind of sad, plaintive ballad she might have originated herself. It ended up being a more cohesive way of bringing that secret hipster hiding inside the pop star to the fore. But it was also the kind of ballad she might have better used for her own pop identity, like the songs referencing her estranged relationship with her father. These chart hits and her reality television stardom were in competition with reestablishing the kind of "authentic," album-based solo career she aspires to. So she started teasing the idea of a future album that would introduce a new musical identity and reaffirm her artistic value, even as the album itself has lost cultural currency in the era of streaming music and increasingly scattered attention.
After Lotus failed to make a significant mark, Aguilera — and her management — began dropping hints about her new album. Her manager, Irving Azoff, made the biggest news in 2015 when he suggested — in a podcast interview with Pauly Shore — she wouldn't even entertain a Vegas residency. "Christina's not peaked yet," he said, sounding defensive, in what was read as a diss against Britney Spears. "She's in the prime of her career, will tour the world. We're not ready to sit down in Vegas." She's "about to finish her record … and the record's amazing," he said, evoking the promise of the delayed album as a way of continuing to frame her as the kind of "high-quality" artist outside of pop cycles or residencies. That same year the forthcoming album was memorably described by producers Da Internz as "caviar ratchet." In February 2016, Aguilera herself said: "It will be a body of work that is timeless."
Pop stans hunger for narratives, and they always cobble together explanations and stories out of speculations — there was fake news about supposed leaks, fake track lists, fake release dates, and admonishments not to let this album fail. Based on concert footage where Aguilera spoke of a "liberation," fans already knew what the album title would be. In March she caused a stir on the internet by appearing on the cover of Paper magazine without makeup, guest-judged on the premiere episode of RuPaul's Drag Race, and sang along to old hits on the debut of the new season of Carpool Karaoke.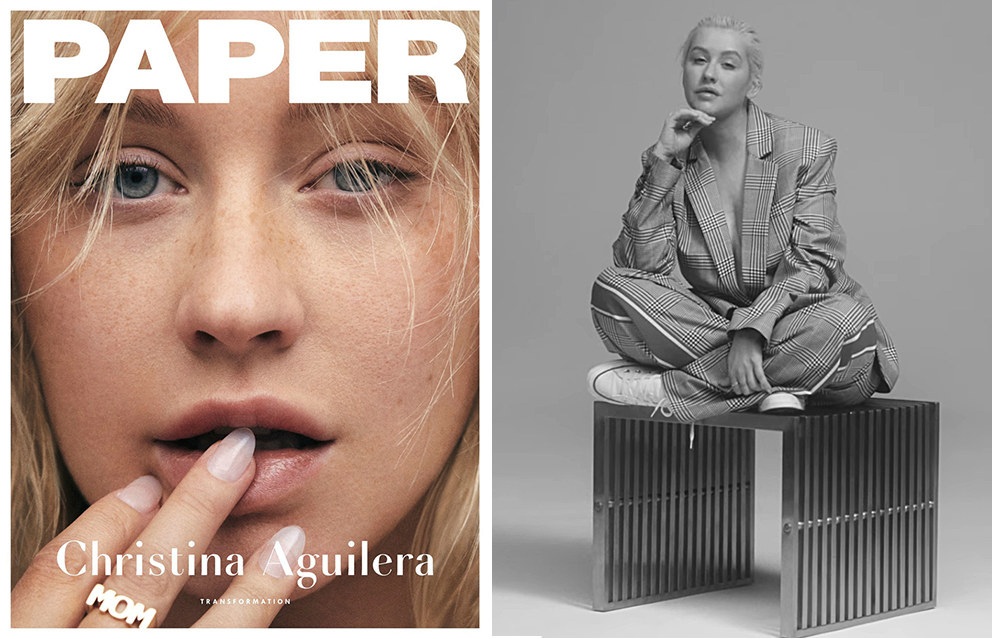 In the Paper magazine story, Aguilera described how, in the early aughts, reinventions and unveilings of new looks happened through music videos and record covers, and were "more of a slow-moving thing, and now it's like, a different red-carpet look. It's very interesting how that happens." She updated her presence for this new era, and recently even made her Instagram a bigger part of her story-building, scrubbing it clean like Taylor Swift did, and teasing her new style and music.
But despite these gestures, her new single, "Accelerate," has underwhelmed so far, peaking at 14 on iTunes. "The shine isn't just on Aguilera here, and it deserves to be," was Glamour's take on the cluttered song. Shade queen Wendy Williams made headlines by dissing Aguilera as struggling in a new music world. "She's scrambling and I don't know what to tell you," she said, "and I hope that your single is battle-ready for a Rihanna world." And the video, in which Aguilera reappears in the "natural" look of the Paper magazine cover, combined with the kind of deep-V suit cleavage that has defined Rihanna's sexual persona, also failed to captivate the public outside her fanbase, getting just over 8 million views in one week. In contrast, Ariana Grande's latest single, "No Tears Left to Cry," notched 51.7 million views its first week out. That single managed to exploit Grande's big voice and meet the current demands for more hip-hop-inflected delivery while still sounding unique, and she wrapped it up in a pop package that seemed to subtly allude to the Manchester bombing — acknowledging the conversation around her — while also working as a stand-alone pop song.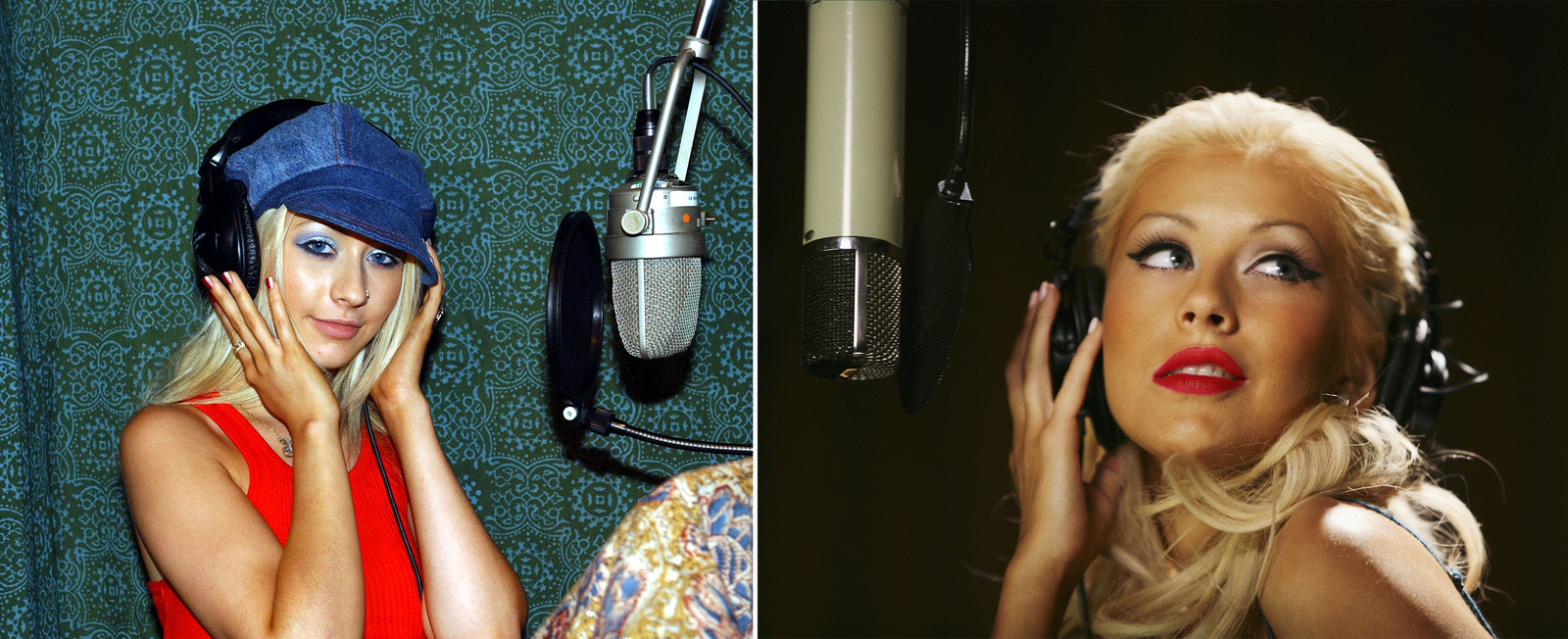 Pop is so much about timing, and Aguilera has always insisted on taking her time — seemingly confused about whether she's the type of pop star in conversation with the zeitgeist, the kind who uses reality television and duets with new It girls to stay relevant, or a Sade-style artist who works at her own pace. With every reappearance it's like she's starting from scratch — as she says in her album trailer — but the world moves on quickly, and an ongoing narrative is required to keep the public interested.
She recently made headlines by candidly announcing that she would never return to The Voice because it was a "churning hamster wheel" that curtailed her real self. The album trailer, called "Where's Maria? (Liberation by Christina Aguilera)," frames her absence in more personal terms, featuring pictures and journals from her younger years, as she explains, "I've stepped so far away from that little girl, and if that means go away for a little while and figuring out who you are again and what you have to say, then that's what you need to do." The trailer's title refers to Aguilera's middle name and appears to be a shout-out to her Latinx background. She will be performing a duet with Demi Lovato at the Billboard awards, and perhaps it will be a Latinx-tinged duet like Lovato's last hit.
Wherever her "Liberation" ends up, fans are assuming — and the title hints at — a forthcoming dramatic Stripped-level reinvention. In other words, Aguilera's future is still being imagined through the biggest moment of her past, but that was at a time when (white) Disney princesses going "wild" still provided a compelling narrative thrust. Once again Aguilera appears not so much liberated as struggling to figure out what kind of pop star she is. Sounding remarkably like a combination of her Stripped- and Bionic-era selves, she says in the trailer, "Fuck it. This is who I am. And whoever is not on board can suck my dick." If only her new music seemed that urgent. ●