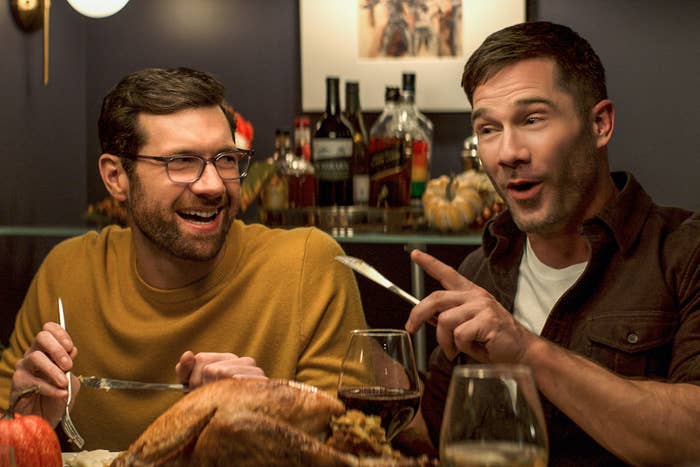 During promotion for the gay romantic comedy Bros, which comes out on Sept. 30, the film's star and screenwriter Billy Eichner got into a bit of trouble. "This is not an indie movie," Eichner told Variety last month. "This is not some streaming thing which feels disposable, or which is like one of a million Netflix shows."

Twitter thought he was shading Hulu's recent feature Fire Island. The groundbreaking gay rom-com, which featured queer men of color (including Joel Kim Booster and SNL's Bowen Yang, who also has a cameo in Bros), got a lot of push from the streamer this summer.

Eichner later clarified that he was referring to "the way that, historically, LGBTQ+ content has often been considered niche and disregarded by Hollywood."
The movie is ultimately most effective as an old-school romance, and maybe a more confident script could have leaned further into that.
And he's right about that marginalization. White gay rom-coms have been a thing since at least the late '90s and early aughts, when independent movies like All Over the Guy (starring sitcom star Richard Ruccolo of Two Girls and a Guy) and Billy's Hollywood Screen Kiss (featuring Will & Grace's Sean Hayes) revived boy-meets-girl hijinks with gay characters.
But they weren't big releases pushed with cover stories and appearances on TV behemoths like The Bachelorette to get normie eyeballs on them. That Bros is getting that treatment is a sign of where queer representation has taken us — and it's not necessarily a great thing.

One major difference between those older movies — and even Fire Island — and Bros is that Eichner's film is meta and conscious of the straight gaze. He plays a podcaster who once pitched a gay rom-com to Hollywood.
The conceit helps keep the script both gay-specific and also explainery for straights. But the movie is ultimately most effective as an old-school romance, and maybe a more confident script could have leaned further into that. It's a testament mostly to Eichner's crotchety charm that it still works.
Bros is very much a vehicle for Eichner. He plays Bobby Lieber, a podcaster who covers queer politics and effortlessly exists in the realm of nonprofit and Human Rights Campaign benefit gala philanthropy.
At a club one night, he bumps into a shirtless Aaron (Hallmark movie hunk Luke Macfarlane), and they build a rapport over their snarky superiority about the vapidity of the club gays who surround them.
Aaron is a butch corporate lawyer, mostly out of touch with queer culture (he doesn't recognize old-school Mariah Carey playing at the club) and politics. Initially there isn't exactly a lot of chemistry or connection between the two, except in their shared discomfort with vulnerability.
The movie is at its best as they learn about each other, opening up about their mutual insecurities. Eichner is great at playing a version of himself. Bobby is earnest and self-deprecating, and humorously grouchy. His parents are dead, and in one especially poignant monologue, he speaks about his sadness that culture didn't catch up to queers fast enough for his parents to see his new life.
Aaron slowly opens up too. He felt his professional ambitions (to be a, spoiler alert, chocolatier of mini chocolates) were too gay and ended up a corporate lawyer. There's a touching quality to their confessions of shared anxieties.
Macfarlane's Aaron sometimes comes off more like a foil for Eichner's characteristics — he likes country music, he's boringly corporate, he loves the gym — than a character unto himself. But the romantic pairing still works, almost as a gay update on Barbra Streisand and Robert Redford in The Way We Were, with the politically passionate outsider in love with the hopelessly insider-y hottie.
Both Fire Island and Bros represent a step away from masc-for-masc melodramas like Brokeback Mountain or God's Own Country, and really get at queer-specific conundrums. There are funny scenes about the rhythms of Grindr and the annoyingly meddlesome extra in every foursome.
The romance on Bros, though, is intercut with scenes of Bobby at his work, struggling to meet deadlines as he works on the LGBTQ history exhibits he's been hired to curate.
The work storyline depicts the familiar dynamics of a messy queer family, where trans people, lesbians, and a self-important "bisexual erasure" guy all hash out views about identity politics as they figure out the museum's themes and exhibits.
Those jokes about queer representation are the most stereotypical. The nonprofit world and HRC-style politics are a juicy target for parody — and there's even a Kristin Chenoweth bit at an LGBTQ benefit gala — but Bros never reaches the bite of, say, HBO Max comedy series The Other Two and its skewering of Instagays.
Fire Island's sense of gay community also felt less tacked on. As a gay comedy of manners, based on a queer friend group, Island managed to turn the specificity of a gay enclave into a universal story of falling for the hot guy. It also landed biting jokes about the mores of white gay culture that felt organic to the story, rather than included to ward off criticism, like Bros' jokes about Bobby.
Still, funny references to Dear Evan Hansen and Schitt's Creek all hit their mark. We can feel the Eichner that fans remember from the 2015 niche but biting Hulu sitcom Difficult People.
That Bros doesn't completely hit might just be a timing issue. There's an increasing disconnect between what studio heads think the public can handle, what the public actually wants, and what gets onscreen. This problem is magnified with any marginalized identity.
On reality TV and streaming, there's been something of a renaissance for queer representation that has allowed for storytelling that sheds the burden of reaching an imagined straight audience. Bros, which is produced by Judd Apatow's film company, is obviously partly in conversation with that audience.
In some scenes, we see Bobby himself watching You've Got Mail, a New York rom-com that subtly brings in themes of gentrification and online dating but feels as freshly retro today as it did in the late '90s. It's too bad that Bros' attempt to appeal to everyone is the one thing that might date it. ●