Chris Bland and Chris Poole were unlikely friends. Bland was 30 and a known drug dealer with a criminal record and a menacing reputation around Oxford, Mississippi. Poole was 18 and had recently graduated from high school, with plans to head off to a faraway college. They'd just met in June 2006, yet within weeks they were kicking it nearly every day.
They lived in the same apartment complex in the Brittany Woods neighborhood of Oxford and on a Saturday night, Aug. 19, 2006, Bland invited Poole over to his apartment to play cards.
Poole was dead before sunrise. Police found his body in the woods in Tallahatchie County, around 50 miles from Oxford. His body had been burned. The medical examiner ruled that he died from a shotgun blast to the stomach.
A few weeks later, Bland pleaded guilty to murdering Poole and was sentenced to life in prison.
This month, Chris Bland sat behind a thick glass window at the Willacy County Correctional Facility, which some inmates have nicknamed "the Killing Field" because of all the violence that goes on within its walls. His right hand was handcuffed to the table. He spends his days in solitary confinement. Bland insisted that he had changed. He said that he plans to get the tattoos on his face — the crown between his eyebrows, the teardrops beneath each eye, the stars on his temples — removed first thing if he's ever out of prison. But he knows that might never happen. His crime was gruesome and heinous, he admitted.
Bland claims he killed Chris Poole because he believed Poole was working as a confidential informant for Lafayette County Metro Narcotics, a small, four-person unit based in Oxford. As an April BuzzFeed News investigation detailed, Metro Narcotics relies heavily on the use of college-age confidential informants. Each year, the squad recruits an average of 30 CIs, many of them first-time offenders arrested for possessing a few grams of weed. To get these young men and women to turn informant — an extremely dangerous task — agents often coerce them by threatening them with hard time or the shame and lifelong burden of a drug record.
All the hustlers in Oxford know about Metro Narcotics, Bland said, and they keep their eyes out for the unit's latest batch of snitches. Bland suspected Metro Narcotics agents were after him — and that they were using Poole, his 18-year-old neighbor, to try to bust him.
Was Poole an informant? "I believe in my heart that that's not true," said Lafayette County Sheriff's Deputy Scott Mills, who added that Metro Narcotics told him it has no record of Poole being an informant. Bland has no doubt: "I killed him because he was snitching."
What is certain is that in Oxford, the use of CIs is so prevalent that it has created an atmosphere of paranoia. "Everybody's suspecting everybody," said Latoya Brown, Poole's sister. "Everybody knows that they recruit these kids. That's what they do in Oxford. That's why people here are always saying everybody around here's snitching."
If Poole was a snitch, he's an unrecognized casualty of the increasingly controversial use of poorly trained CIs pressured into perilous police work. But if he wasn't, he may have been collateral damage of the drug war — and a tragic example of how a confidential informant program can be dangerous even for those who have nothing to do with it.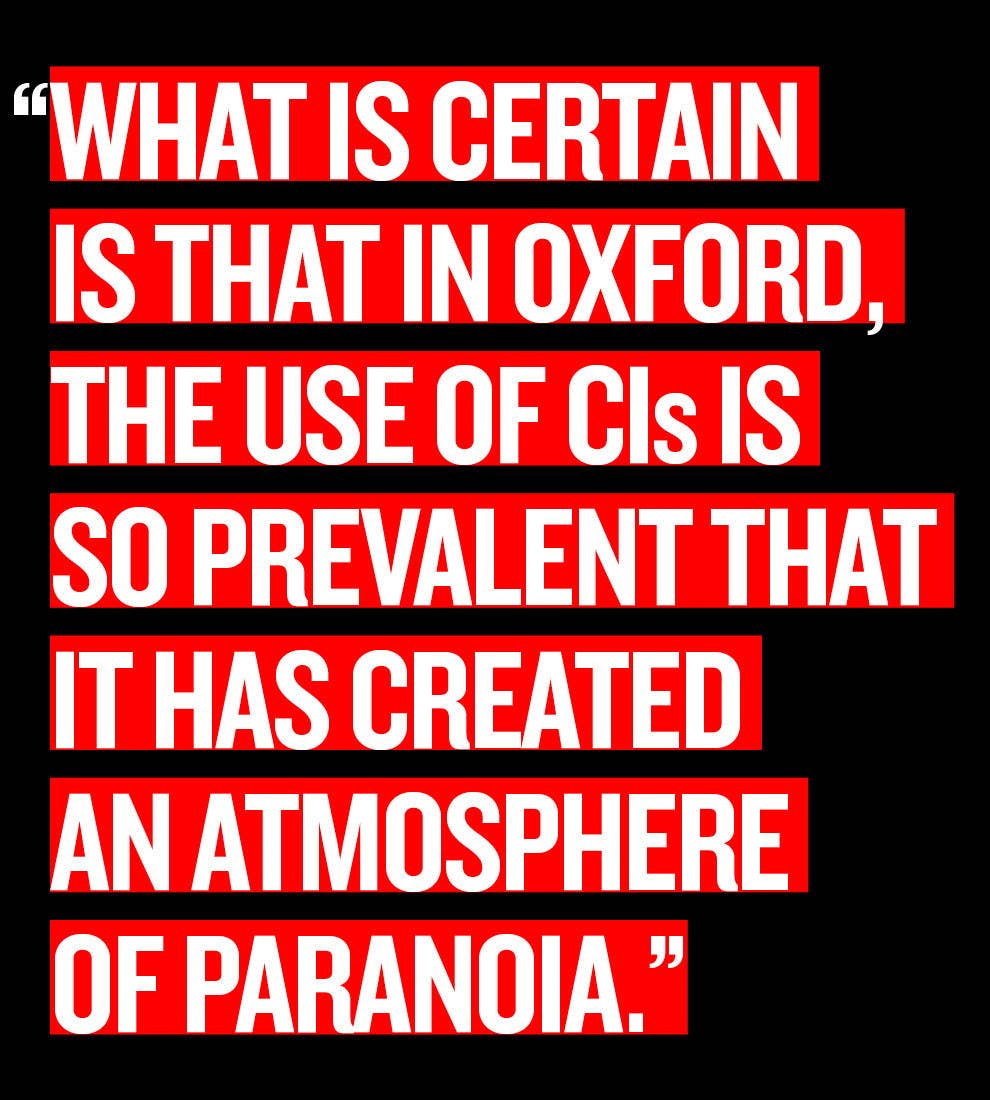 Once he graduated high school, Poole told people, he would go to college in Miami. He had spent his whole life in northern Mississippi. He'd grown up in a light-green clapboard house tucked deep in the woods, 20 miles east of Oxford. During his senior year of high school, the house had become too expensive for Poole's mother, who worked at a furniture factory, and the family moved to an apartment complex in Oxford. Poole was tired of northern Mississippi, his sisters and high school principal said, tired of the rolling bluegrass and the poverty and the long country roads through narrow corridors of trees and the stark racial divide that pushed black people into Oxford's Brittany Woods neighborhood, off the highway at the edge of town, a few miles but a world away from the regal statues and plantation-era buildings of Ole Miss.
"I just remember him saying, 'I wanna get away from here,'" said Adam Pugh, then Lafayette High School's principal and now superintendent of the school district.
Poole had been a good student in high school, pulling A's and B's mostly, his sister Latricia Holland said. He was in the Junior ROTC. He told his family he would be a neurosurgeon one day. His high school counselor, Debbie Hewlett, noted that he "didn't dress like a thug" and said, "I don't remember him being any kind of troublemaker or anything."
As a graduation gift, Poole's brother got him a room at an Oxford motel, where he could get away from the neighborhood for a couple of days and celebrate with friends. The June days were hot, and some of the motel's guests planted themselves by the swimming pool. By the water, Poole got to talking with one of the guests, an older dude with tattoos all over his face who happened to live in the same apartment complex — Chris Bland. They got along well, Bland recalled, and made plans to meet up again soon.

Bland was 4 years old when he started to see his dad, an unemployed alcoholic and drug addict, beat up his mom. "I had a bad marriage," Bland's mother, Patsy Bland, said. "When he was a little boy, he tried to make his father stop jumping on me. That took a toll on Chris all the time."

He was a solitary child, Patsy recalled, and he often spent his free time playing alone inside their small house out in rural Batesville, Mississippi, a half-hour drive west from Oxford. Patsy worked at a factory, and her salary paid the rent. They lived on a street lined with chipped wooden houses and aluminum trailers and empty lots lush with tall weeds. "Slow living," Bland said. "Lots of drugs all around."
In middle school, he started selling marijuana for "the money and flash," he said. In 10th grade he was kicked out of school for fighting. A few months later, he married a girl and moved with her to Greensville. Several months later, with the marriage in tatters, Bland called his mother and asked her bring him back home.
By then, Patsy and her other children had moved to Oxford. Bland was depressed there. One day, Patsy said, he tried to hang himself from a tree. He was 16 years old. Doctors diagnosed him with bipolar disorder and depression, Patsy said.
Oxford was more fast-paced than Batesville — more people walking around, grilling in yards, dribbling basketballs in the parking lot, and dealing drugs. Bland soon became notorious. One time, Bland recalled, he fired 11 bullets into his auntie's boyfriend's car while the guy was still inside it, because he owed Bland $80. In 1996, he was present when a friend of his shot and killed someone his friend had a dispute with. (Bland claims not to have known the slain man.) As a result, he spent four years in prison for accessory to murder. "The word on the street around him was: He's crazy, don't mess with him," said Brown, Poole's sister.
Bland connected with some suppliers based in Memphis, about a 90-minute drive from Oxford. By the early 2000s he was picking up packages of cocaine three or four times a week, moving hundreds of kilos a week, he said. He ran a crew of around 10 dealers. He brought in around $10,000 in revenue most weeks, he said. He kept around $3,500 of that.
Some of the money paid for his cocaine habit. Some of it helped support his kids: He had 10 kids by several mothers. He usually had two or three or more girlfriends at the same time. He often took them to motels, to make sure nobody ratted him out to any of his other girlfriends. It was during one of these motel excursions in June 2006 that he met the freshly graduated Chris Poole by the swimming pool.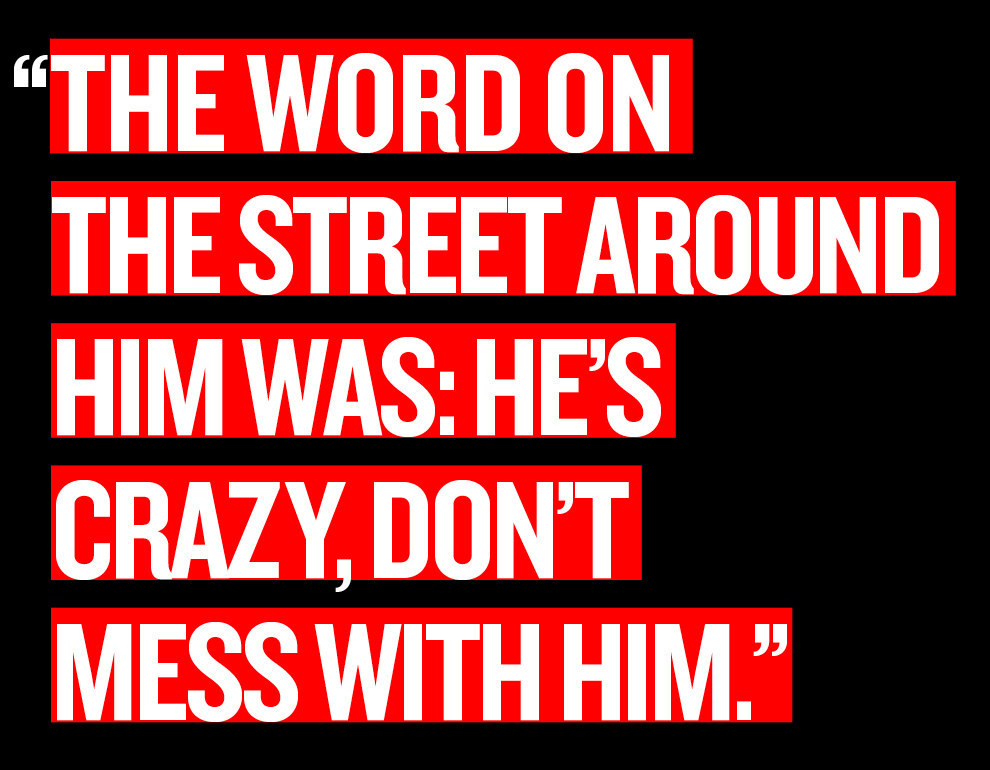 Over a decade of drug dealing, Bland had caught only one drug conviction, for cocaine possession, and served a year in prison in 2001. But Bland had started growing paranoid about Metro Narcotics in 2004. That year, Bland said, then-Metro Narcotics Capt. Searn Lynch walked up to him and said, "In due time." Sheriff's Deputy Mills confirmed to BuzzFeed News that local law enforcement agencies were familiar with Bland after he returned to Oxford from his second prison stint. (Lynch did not respond to interview requests for this story; in 2013, the former Metro Narcotics captain pleaded guilty to lying to doctors to get prescription painkillers and was sentenced to two years' probation.)
Bland was the sort of drug dealer Metro Narcotics has claimed to target: a violent dealer of hard drugs such as crack and powdered cocaine. Born out of the war on drugs in the 1980s, Metro Narcotics is a multi-jurisdictional task force made up of officials from the Lafayette County Sheriff's Office, the Oxford Police Department, and the University of Mississippi Police Department. The city, county, and university created the unit to meet "the need for aggressive drug enforcement activity within the county," according to the agreement signed by the leaders of the three institutions.
But in its effort to reach higher-level dealers, Metro Narcotics has depended on constantly turning low-level offenders into confidential informants. The unit has used around 300 confidential informants over the last decade, the unit's captain, Keith Davis, told BuzzFeed News earlier this year. Around half of those arrested by Metro Narcotics in 2014 were first-time offenders, and the unit made three times as many arrests for marijuana as for any other drug.
More than a dozen young men and women described similar experiences to BuzzFeed News: being detained by authorities for a low-level drug offense, brought into a room in the Lafayette County Detention Center, then pressured by Metro Narcotics agents to work as a confidential informant. The agents often exaggerated the consequences that could follow the offense. In most cases, no lawyer was present.
"In some [interviews], there are people who feel they are misled, and they very well could be," Sheriff's Deputy Mills conceded. "But we have to find out where the sources of these drugs are."
Former informants said that agents texted or called them if they went more than a few days without a buy. Desperate for targets, the informants dove deeper and deeper into the local drug scene. Two Oxford CIs claimed to have gotten beaten up after targets found out they were snitching. Across the country, at least two college-age informants, in Florida and in North Dakota, have been killed in recent years.
Around Brittany Woods, Brown said, if somebody gets arrested then shows back up in the neighborhood a day or two later, a lot of folks immediately think, "Oh, you a snitch." If prosecutors drop a case against somebody, "Oh, you a snitch." If somebody gets spotted talking to officers and seeming a little too friendly, "Oh, you a snitch."
This atmosphere of suspicion collides with the code of silence that's common in so many neighborhoods across America. "Around here the number-one thing is you don't snitch," Brown said. "What they do in Oxford, with the informant stuff, it's risky. They're putting a lot of kids' lives in danger."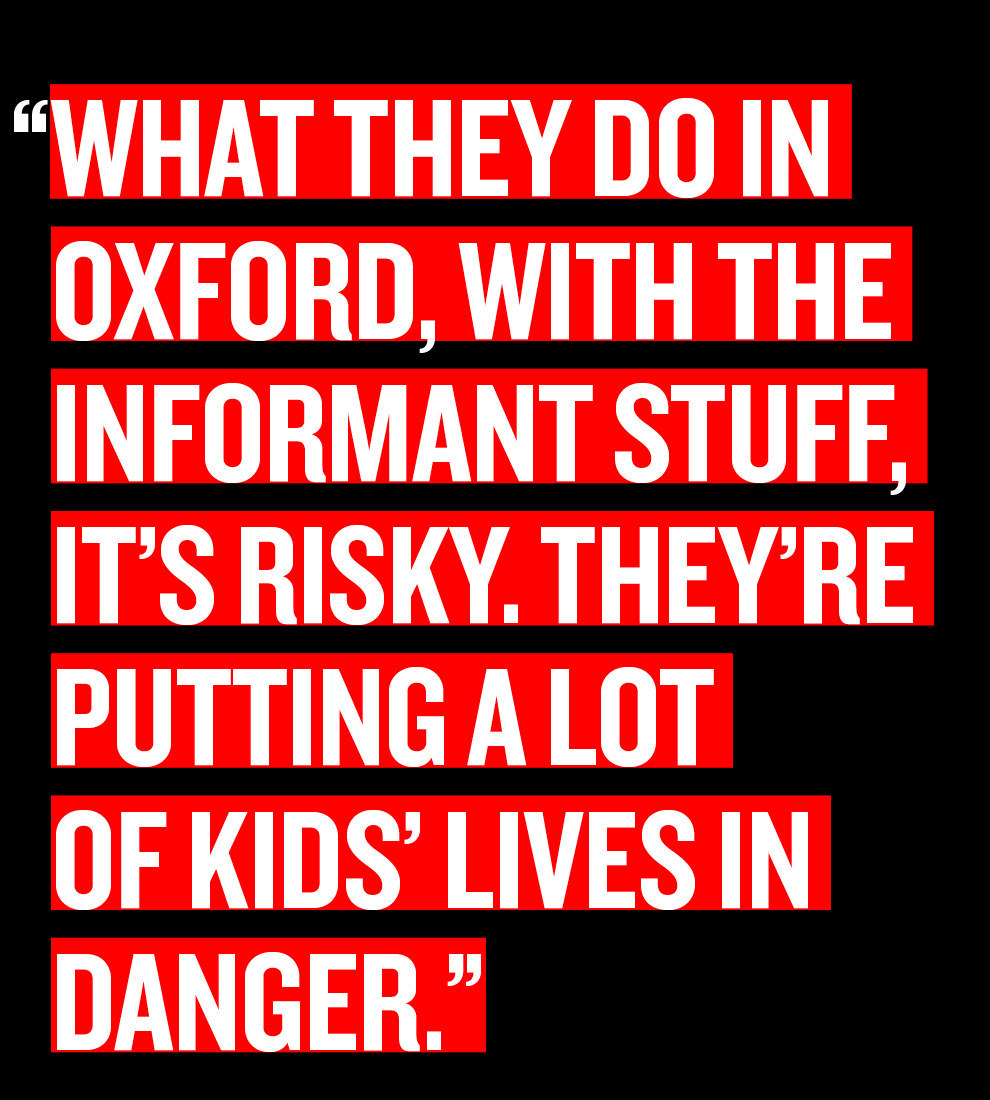 Within weeks of meeting at the motel, Poole was dropping by Bland's house nearly every day. Neighbors often saw them riding around town together. They stayed up late and played cards. "They became friends really quickly," said Holland, Poole's sister. "They were like best friends," which was strange. As one neighbor put it, "One dude was this hard-ass drug dealer, always into some shit, and the other dude seemed quieter, went to school, seemed to have other stuff going on in his life. You wouldn't have thought they'd be homies like that." Brown said, "Why would he be out with Chris Bland?"
Bland said that shortly after they met, Poole said that he and some friends were thinking about getting into the drug game. They "wanted to invest in some product," Bland said. So Bland took Poole into his crew. He brought him along on his business trips to Memphis. (Holland said that Poole never sold drugs.)
On one of the trips to Memphis, a few weeks after he and Poole met, Bland said that he believed he was being followed. He told his suppliers, and they began meeting at different locations, switching up each time. Then the suppliers told Bland that they'd noticed undercover police cars patrolling their block. They worried that there had been a leak, Bland said, and they told Bland they thought it was his fault: For years the operation had run smoothly, and suddenly these problems had started. And they had started soon after Poole had entered the picture.
Bland said he asked around and heard Poole had recently been arrested, for robbery or drugs or something. (Poole had no criminal record, so the rumor may simply have been false, but if he had agreed to work as an informant, he might never have been charged despite being arrested.)
To Bland, the rumors were a red flag. "The narcs told him to come set me up," Bland said. He took the information back to Memphis.
"The plug in Memphis told me if I didn't kill him, they were going to kill my whole family," Bland said.

On Saturday night, Aug. 19, 2006, Bland and Poole went to Bland's apartment to play cards. Bland's sister, Shetecia, who also lived in the apartment, Shawanda Driver, who was Bland's girlfriend, and a few other friends joined them.

What happened next depends on the version of the story. The version Bland first told police was this: After the friends left and Shetecia and Shawanda went to sleep, Bland went to the bathroom. When Bland returned, Poole was pointing a shotgun at him. It was Bland's gun, and Poole had known where he kept it: under the couch. He also knew where Bland kept his money and his stash, and he told Bland to go to the supply closet and get them. Bland opened the closet, grabbed a bottle of ammonia, and splashed it on Poole's face. Poole dropped the gun, and Bland picked it up and shot him. Bland said that he told this story to police because he believed it would help him claim self-defense.
The version some of Bland's neighbors tell, and the version Holland said Driver told her, is this: While playing cards, Bland accused Poole of stealing his money. Poole denied it. Bland grabbed the shotgun and demanded Poole return the money. Poole kept denying that he stole it, and so Bland shot him.
The version Holland believes is this: Bland, mentally unstable and high on cocaine, "killed my brother for no reason at all."
But the way Bland tells the story now, he and Poole were sitting in the living room playing cards when Bland brought up his suspicions that somebody was snitching on him. Then Bland grabbed the gun from under the couch and asked Poole if he was the snitch. "I was in a rage," Bland said. "I asked him again if he was snitching. His last words were 'I had to do it. I had to do it so they'd give me a pass.'"

A few days later, deputies arrested Bland. They also arrested Shetecia Bland, Shawanda Driver, and three neighbors who allegedly had seen Bland move Poole's body into a car. Bland quickly took a plea deal on the condition that his sister get no jail time. He confessed and told deputies where to find Poole's body. Shetecia pleaded guilty to accessory to murder and got two years of probation.

BuzzFeed News asked Sheriff's Deputy Mills for an interview regarding Poole's murder. The CI allegations had not been mentioned in the request, yet during the interview, Mills volunteered that he had called Metro Narcotics Capt. Keith Davis to ask whether Poole had been an informant. Davis, he said, told him that they didn't have any record of an informant named Chris Poole from that time period. (Davis spoke with BuzzFeed News for a previous story earlier this year, but declined recent interview requests for this story because he said he was unhappy with the first story.)
When asked why he thought to ask Metro Narcotics about Poole in the days before the interview, Mills said that "someone told me that's what the story's about. Someone obviously knew something or got an inkling of that, and that's what they told me." Mills said that he didn't remember who told him.
Brown said she first heard rumors that her brother had been a CI a couple of weeks after his death.
On a recent afternoon, she sat on the stoop of an Oxford church. "In my heart, I don't know because I've been having it go through my mind so many times," she said. "Maybe Chris was a snitch."
But there were always rumors of snitching flying around Oxford. She will never know which were true and which were not, she said. So she will always wonder.