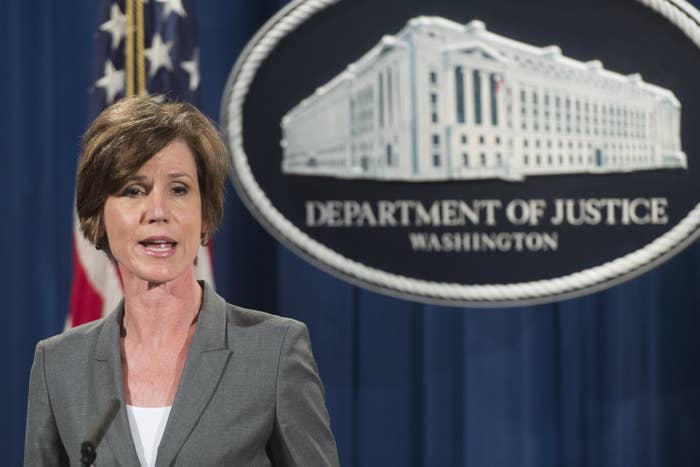 The Department of Justice aims to reduce and "ultimately" end its practice of sending inmates to private prisons, Deputy Attorney General Sally Yates said in a memo to the Federal Bureau of Prisons. The announcement comes a week after the DOJ released a report concluding that private prisons holding federal inmates "incurred more safety and security incidents per capita than" federal prisons managed by the government.
"Private prisons served an important role during a difficult period, but time has shown that they compare poorly to our own Bureau facilities," Yates wrote in the memo. "They simply do not provide the same level of correctional services, programs, and resources; they do not save substantially on costs; and as noted in a recent report by the Department's Office of Inspector General, they do not maintain the same level of safety and security."
The news was first reported by the Washington Post.
As of December 2015, around 22,660 federal inmates — 12% of all federal inmates — were locked up in 13 private prisons operated by Correction Corporation of America, GEO Group, and Management and Training Corporation, the three biggest for-profit prison companies in the country. CCA, the largest of the three, brought in $1.79 billion in revenue in 2015.
Contracts for federal inmates account for around 43% of CCA's annual revenue and around 46% of GEO Group's, according to the companies' financial statements.
Hours after the announcement, the stock of both GEO Group and CCA plummeted by more than 40 percent.
In a statement to BuzzFeed News, CCA spokesperson Jonathan Burns said that the DOJ's report "has significant flaws" and failed to account for "the excellent feedback we get from our partners at all levels of government." MTC spokesperson Issa Arnita told BuzzFeed News that for the DOJ "to base this decision on cost, safety and security, and programming is wrong. The facts don't support the allegations."
Moving forward, Yates said, the department intends to phase out its reliance on these facilities.
"As each contract reaches the end of its term, the Bureau should either decline to renew that contract or substantially reduce its scope," Yates wrote.
Based on this plan, Yates said, the federal private prison inmate population would drop to around 14,200 by May 2017.
"This is an important and groundbreaking decision," said Carl Takei, a staff attorney at the ACLU. "The Justice Department has made clear that the two decade experiment with for-profit prisons has come to an end."
Private prisons emerged as tough-on-crime policies led to a dramatic rise in the inmate populations in state and federal prisons. From 1980 to 2013, the federal prison population increased by 800 percent, according to the DOJ. As government-run facilities — and correctional budgets — swelled, private prison companies stepped in, claiming they would house inmates at a cheaper cost. The federal government began contracting with private prisons in 1997, more than a decade after states started using them.
In recent years, however, a series of lawsuits illuminated the violent and harsh condition in private prisons in Mississippi, Texas, Idaho, and elsewhere. The DOJ report noted that incidents at federal private prisons caused "extensive property damage, bodily injury, and the death of a Correctional Officer." The death occurred at Adams County Correctional Center in Mississippi, when inmates rioted to protest the bad food and medical care.
At the same time, the federal prison population has decreased, from around 220,000 in 2013 to 195,000 this year.
While Takei, like other advocates for the elimination of for-profit prisons, celebrated the announcement, he acknowledged that the directive was not set in stone.
"Like any other executive action this is something that can be either continued or undone by a future president," Takei said.
Likewise, the department acknowledged the possibility that it could need to turn to for-profit prison companies again in the future.
"While an unexpected need may arise in the future," Yates wrote, "the goal of the Justice Department is to ensure consistency in safety, security and rehabilitation services by operating its own prison facilities."
UPDATE
Updated to include statements from CCA and MTC.