HOUSTON — Through three nights of relentless rain, Alexandra Williams and her teenage daughter slept in their blue Ford Focus.
The pair were forced to flee their apartment in southwest Houston on Saturday, after floodwaters rose to their ankles. They went to three schools that they'd heard were serving as shelters, but found none to be open. Knowing the George R. Brown Convention Center was already crowded, they went to a Hilton, even offering to pay for a room, but no more space was available. So they parked the car in front of the hotel and rode out the storm.
"The parking lot has a great drainage system," Williams said. "We didn't know where else to go."
That changed on Tuesday morning when celebrity televangelist Joel Osteen announced that his massive Lakewood Church was opening its doors to evacuees. In the days after Tropical Storm Harvey began drenching Houston with record-setting rainfall, the church, large enough to fit nearly 17,000 parishioners, faced heavy criticism for not taking in storm survivors while smaller churches across the city welcomed those hardest hit by the flood. Within hours of Osteen's announcement, a line of hundreds of cars filled with people looking for shelter, supplies, and food or seeking to donate goods to the displaced stretched for more than a half-mile to the church. Williams and others, including some members of Osteen's congregation, wondered why the announcement didn't come sooner.
"I feel like they should have done this a little earlier," said Miles Chandler, a high school student who attends Lakewood Church most Sundays and was among the first volunteers to arrive at the facility on Tuesday morning.

As the storm raged Sunday, the church declared that it was "inaccessible due to severe flooding." By Monday, Osteen's name was trending on Twitter after a deluge of people called him out for not using his church's resources to support relief efforts.

Yet Lakewood officials denied that they'd made any missteps and rejected the notion that they'd altered their plans in response to public pressure.
Donald Issof Jr., the church's chief of communications, told BuzzFeed News that Lakewood didn't declare itself a shelter because the surrounding area was flooded and "people just couldn't get here."
"To get to this building, you've got to cross that highway," he said, noting that his message to "Twitter haters" is that church officials "don't care" about the wave of criticism.
Fred Blaylock, a parking attendant employed by the office park that houses Lakewood, said he had been working around the complex since the storm struck and had not seen much flooding on the roads next to the church.
Issof also shifted a degree of the blame to city officials, who he said didn't ask the church to serve as a shelter. He said that Lakewood leaders made the decision to set up accommodations for evacuees on Monday afternoon, after city officials told them that the convention center was nearing capacity and more shelter space was needed. He also cited flood damage inside the lowest level of the church as another reason for its slow response.

Wednesday, asked about the delay and resulting backlash on the Today show, Osteen said, "I'm sure we'd have done something differently," but defended the decision not to open the church sooner. Osteen cited security and safety concerns, and said that if the city "would have asked us to become a shelter early on, we would have been prepared and ready to help."

In response to an email inquiry asking how many organizations the city had reached out to before the storm to request that they serve as shelters, Mayor Sylvester Turner's office offered a vigorous defense of Osteen's church.

"We are appalled that your organization is trying to give Lakewood Church a bad reputation," spokesperson Darian Ward said. "We appreciate all the help we can get from all of our great partners across the city."
Prior to Tuesday's announcement, less than a dozen people had been weathering the storm at the church — a structure that was once the Houston Rockets' arena — including a few maintenance workers, staffers, and three storm survivors who made their way to the building over the weekend, according to Issof.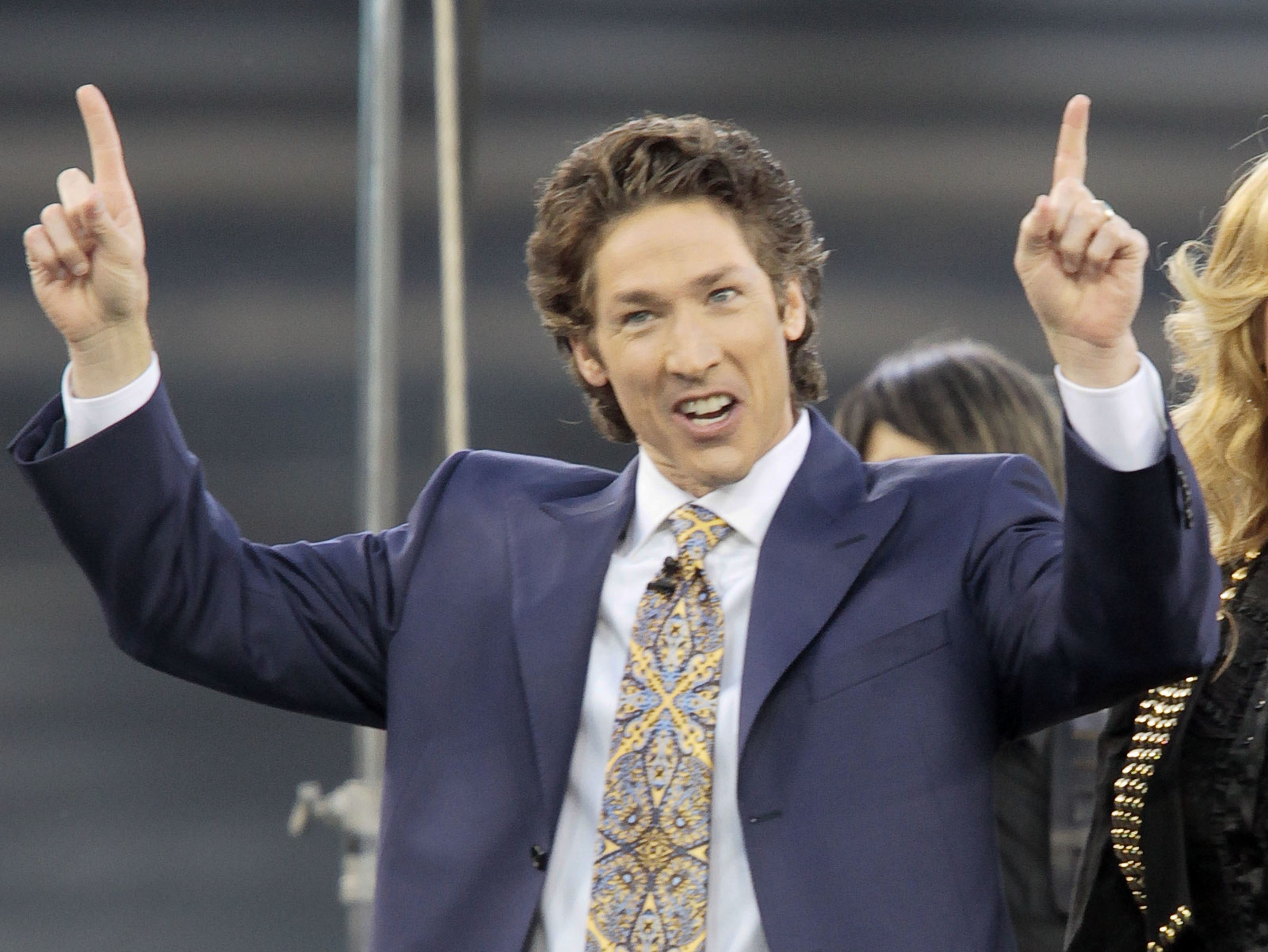 "The doors were always open," Issof said. "We're not turning anyone way."
By Tuesday afternoon, Lakewood's immense power to mobilize people and pull in resources was clear, drawing further attention to the question of why Osteen didn't act sooner. Throughout the lobby encircling the main sanctuary lay mountains of clothes, shoes, pillows, blankets, towels, school supplies, toys, books, canned food, bottled water, diapers, and pet food — most of which was bought in by local residents who'd heard that morning that the church was accepting donations. So many supplies arrived that by early afternoon volunteers were loading trucks with boxes and garbage bags packed with goods bound for the convention center.
Among the hundreds of volunteers were DeRodrick and Marquis Johnkies, a father and son who waited out the storm in their apartment, which remained above floodwaters.
"We'd been sitting at home watching and we wanted to take some action," Marquis said. "Why? 'Cause this is Houston. This is our city."
For storm survivors seeking shelter and supplies, the church emerged as the oasis they'd been waiting for. Victor Acosta, who had been living in his pickup truck since Sunday, said he was most eager to get a good night's sleep. Lorena and Angel Zayas, who were staying with a relative after flooding destroyed their car and first-floor apartment, arrived at Lakewood with their five children in a friend's van hoping to find baby powder for their newborn and food to bring back.
Mere hours after getting rescued by boat from their flooded apartment complex, Toseika Thomas and a group of relatives, including 12 of her nieces, nephews, and kids, relaxed on air mattresses in the church's gymnasium.
"Finally we're comfortable," she said, as she looked across the well-lit basketball court filled with cushy chairs, inflatable mattresses, a pantry of food, and at least 50 other tired evacuees.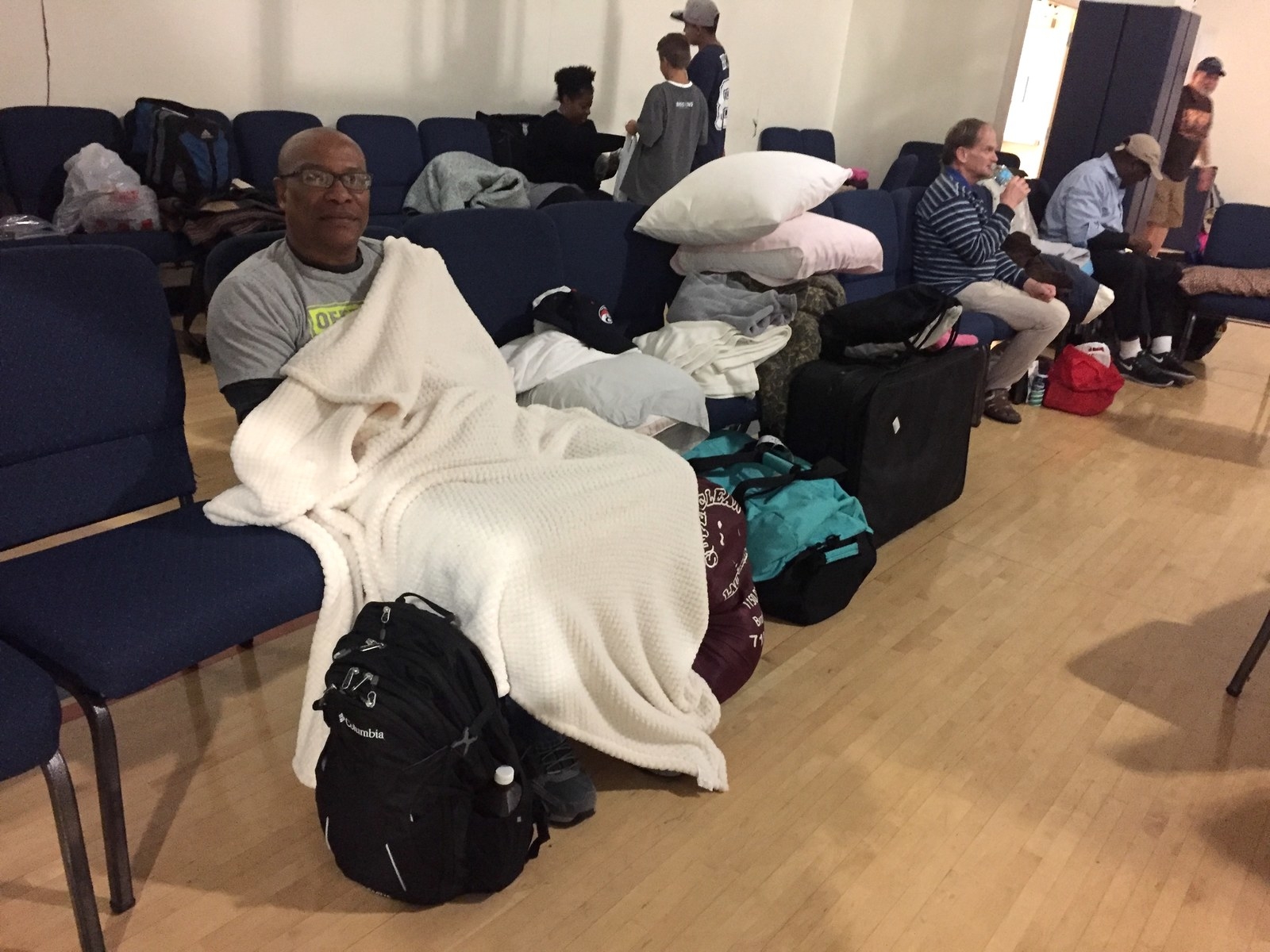 For many, if not all, in the room, their arrival at the church marked the first chance to reflect and rest in four days — the first solid stopping point in a journey that had left them frustrated with their city's response to the storm. While most agreed with the mayor's decision not to call for mandatory evacuations, several who spoke to BuzzFeed News were dismayed by the lack of available shelters. Lynn Clark Davis had already left at least two other possible shelters before arriving at Lakewood, including a flooded motel and West Houston Medical Center, which began evacuation proceedings on Monday.
Kenneth Hurst had been stranded at his partially flooded first-floor apartment in the Memorial area until Monday night, when four police officers in a boat picked him up. They shuttled him to dry land but didn't know where to take him from there, he said. They went to a nearby high school, which the officers thought was serving as a shelter, but the building was closed. They tried another location but found the same result. The officers asked Hurst if he had any friends or family he could stay with, and he replied that he'd only moved to the city recently and had nobody to turn to.
"They didn't have a game plan," he said. "When they found out I had no people I could call, they said there was nothing they could do. They said they had to get back in their boat to find more people."
So, he said, the officers took him to a supermarket whose parking lot was empty and dim. When he refused to stay there, they took him to West Houston Medical Center, not knowing it was being evacuated. Hospital workers, noting that the city's shelters were full, drove Hurst and others in an ambulance to a Baptist church, where they stayed for a few hours before a bus took them to Lakeside on Tuesday morning.
That evening, he slouched in a chair, covered from neck to toe in a fluffy white blanket. His car was ruined, his possessions destroyed, his future uncertain. But if there was one positive thought in his mind, it was that at least today was better than yesterday.
"One day at a time," he said. "One day at a time."
Cora Lewis contributed reporting.
If you've been impacted by the storm in Texas or have a tip about rescue, relief, government, or aid efforts, call the BuzzFeed News tipline at (646) 589-8598. Find us on Signal, email, SecureDrop, and more here.
Outside Your Bubble is a BuzzFeed News effort to bring you a diversity of thought and opinion from around the internet. If you don't see your viewpoint represented, contact the curator at bubble@buzzfeed.com. Click here for more on Outside Your Bubble.